Bowdoin Senior's Friendship with Older Community Member Inspires an Advice Column from the Elderly to the Young
By Rebecca Goldfine
Maya Lamm '24 first started calling Beth Aldenberg through a local
phone-a-friend program during the COVID lockdown.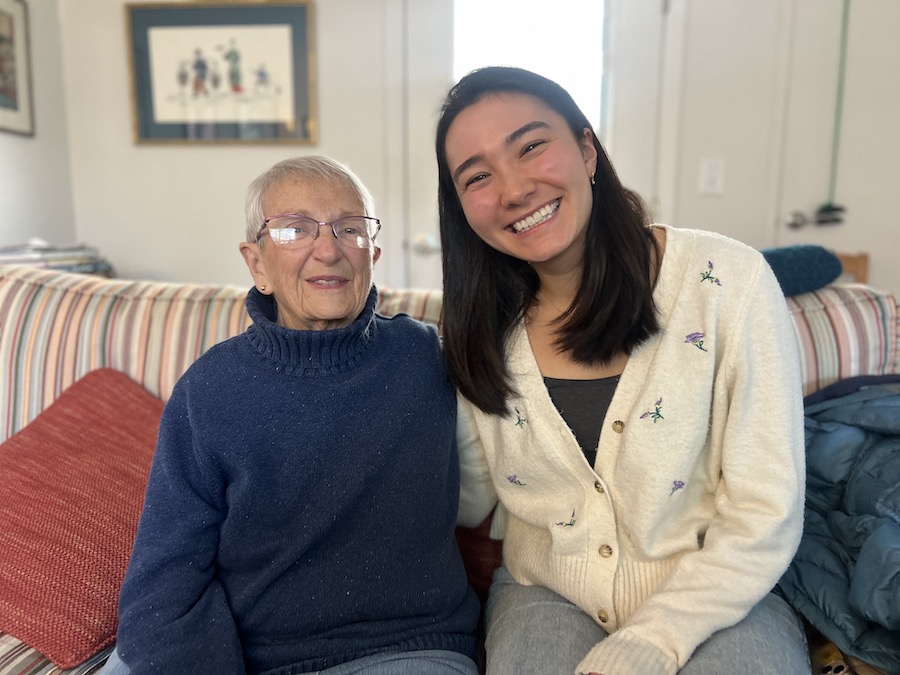 What began as weekly phone appointments quickly turned into a close friendship. When the pandemic subsided, their scheduled conversations progressed to regular lunch dates (their favorite spot is Applebee's), cultural outings, and long chats.
Their relationship inspired Lamm to launch an advice column in the The Bowdoin Orient called "We've Seen It All: A Column with a Twist." Students anonymously submit questions about school, friendships, jobs, relationships, or other life matters for Brunswick-area senior citizens to respond to, also anonymously. 
Lamm said she started "We've Seen it All" to share with her peers some of the unique gifts she has received through knowing Aldenberg. "I thought it would be cool to have college students send questions and get advice from people who have experienced these things already," she said. 
Many of her friends are envious, after all. "They say they want a Beth, too," she said. 
Some of the questions that have been submitted have to do with romance: "When do I know if my partner is 'the one'?" "How long should I wait before pursuing love again after being heartbroken?"
Some address hardship: "How do you deal with grief at school? I don't want my friends to worry, or my parents to feel that I'm ungrateful for not enjoying college."
For this particular question, an older person responded with a personal story: "I am currently suffering the loss of a child, and based on my experience, it is really important to be honest with yourself and with those who are the closest to you. Otherwise, you will carry an unnecessary burden and pass that burden along to others."
One of Lamm's favorite replies came from a woman with a reputation for being direct. In response to a student asking how to deal with overly concerned parents who call every day at school, she replied: "Change your phone number."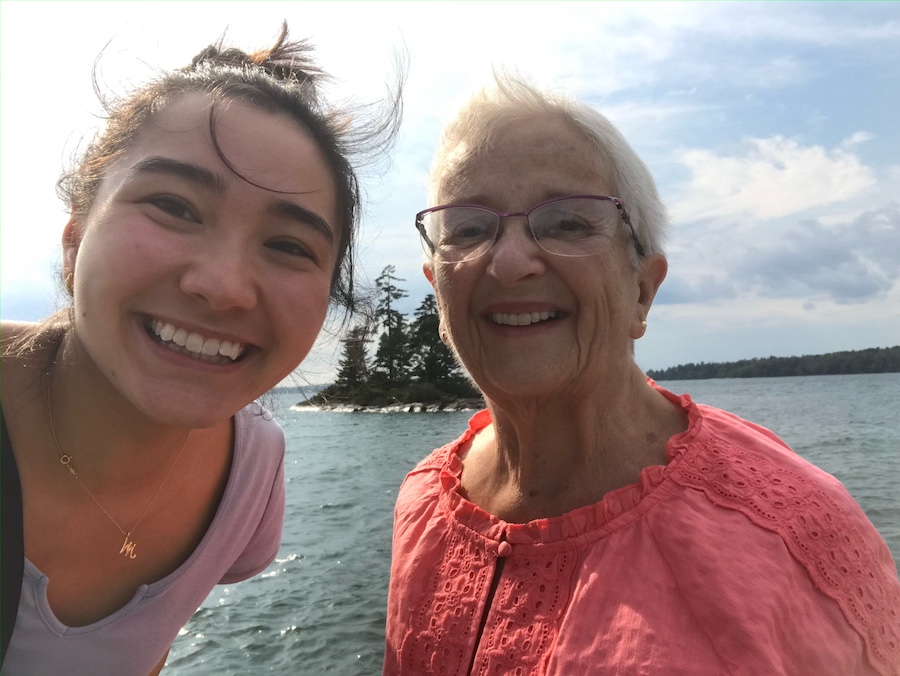 For this particular query, another responder took a gentler tack: "Ask your parents to cut back slowly. But remember—they have had you for years and it's traumatic for them with you gone. Forty years from now you'll be calling to check on them."
Lamm receives the questions through a QR code and sends them to a connection at People Plus, a local senior center in Brunswick, to distribute to its community members.
Lamm said that besides imparting wisdom, the column shows that people fifty or sixty years apart in age have more in common than they might think. Just like her and Aldenberg, she added. "I think we have more similarities than differences," she said. "Like our hatred for parallel parking!" 
An Enduring COVID Connection
To tell the story about their now three-year friendship, Aldenberg and Lamm got together at Aldenberg's Brunswick condo on a recent weekday afternoon. The two settled onto the couch.
Lamm began: During the spring of 2021, when first-year students were studying remotely off campus, she was living at a friend's aunt's house on Cape Cod. It was wintertime, she was missing Maine, missing college, and feeling generally adrift.
When the McKeen Center sent out an email to students saying that People Plus was looking for volunteers to call senior citizens, Lamm signed up.
She called Aldenberg within a few days. From then on, the two spoke at least once a week. "One of us would call the other one," Aldenberg said. "It was nice to have that relationship because Maya is such a gracious person, she's super. Everyone loves her."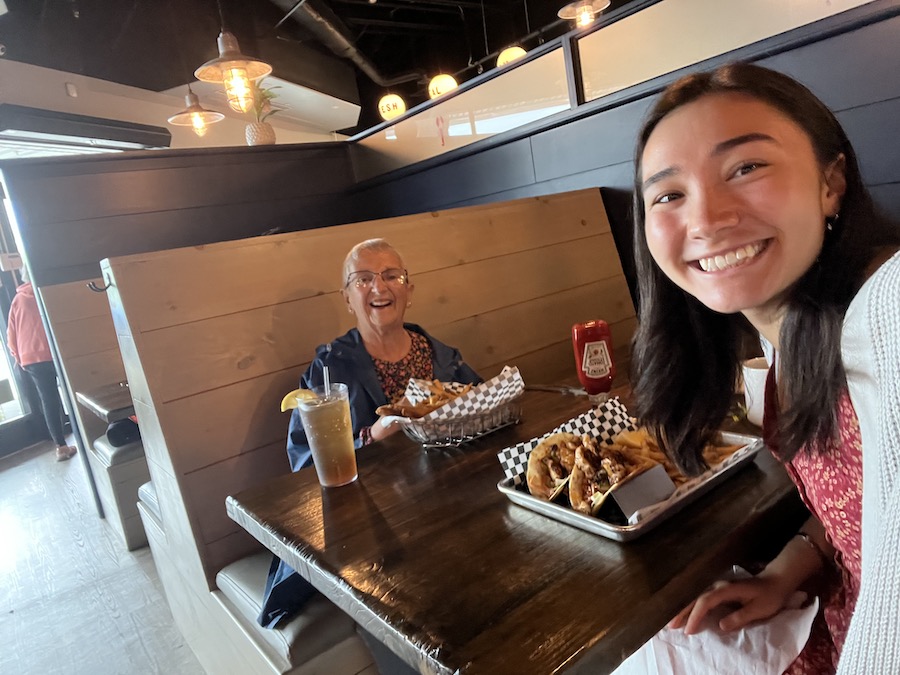 It was soon obvious that Lamm wasn't just reaching her hand out during a challenging time, she was steadying herself, as well. "The only time I would see people was at the post office to pick something up, and it was really isolating and I felt so removed from college and Brunswick," she said. "Beth made me feel like I was part of the community."
Over many hours, they spoke about their families, Aldenberg's fifty-five-year career as a nurse, what life was once like in Maine.
On their third phone call, Aldenberg said, "I love you," before she hung up. "I really needed that," Lamm remembered. "I felt so stunted. She's really been one of my best friends since college started."
When Lamm tested positive for COVID on her twenty-first birthday, forcing her into quarantine on campus, Aldenberg was the one friend who checked on her every single day, bringing pizza and cake. Another time when Lamm mentioned to her that her dorm room walls were bare, Aldenberg brought her some of her own artwork in frames.
Lamm credits Aldenberg for showing her a way to be in this world. "I love seeing how Beth interacts with people," she said. "And seeing how she talks about her children and grandchildren. Being with only college-aged kids, it's easy to get stuck in the world of people my age and hard to imagine life after college, but seeing Beth and her world has given me such a model."
Aldenberg says she also admires her younger friend. "She has a good ability with people, too. She is always gracious with people. She doesn't have a negative outlook at all. She genuinely likes what she sees." Lamm giggled at this. "You do! You like everything!" Aldenberg insisted.
The two are likely to share laughs when they're together during an outing. On a recent Sunday, they went to the orchestra and sat behind a restless teenage boy with floppy hair who must have been dragged to the concert by his family. "He couldn't sit still!" Lamm said. "We had a good laugh."
Aldenberg followed, "We were having a fit, I thought the people behind us would complain."
At eighty-seven years old, Aldenberg has a lot of stories and a remarkable memory. On this particular afternoon, she described working as a nurse in Brunswick and treating French-speaking Franco-Americans who worked at the local textile mill.
"That is another lesson I'd say I've learned from Beth," Lamm said. "Besides being a good human, she tells me about the history of the community. At Bowdoin, we tend not to talk about the past here."
They two also share an interest in health care. This was actually one of the reasons they were originally paired by People Plus. Lamm, a neuroscience and Asian studies major, said that hearing Aldenberg's stories has been helpful as she considers pursuing a career as a nurse, nurse practitioner, or some other type of health care provider.
One thing she is certain about: "I want to work with older adults," she said.
Published November 13, 2023