Bringing Home Their Memories
By Tom Porter
As the US observes Veterans' Day, we hear from Peter Chandler '83, who is telling the stories of American soldiers, including Bowdoin graduates, who are buried overseas. And what better place to start than the battlefields of World War I?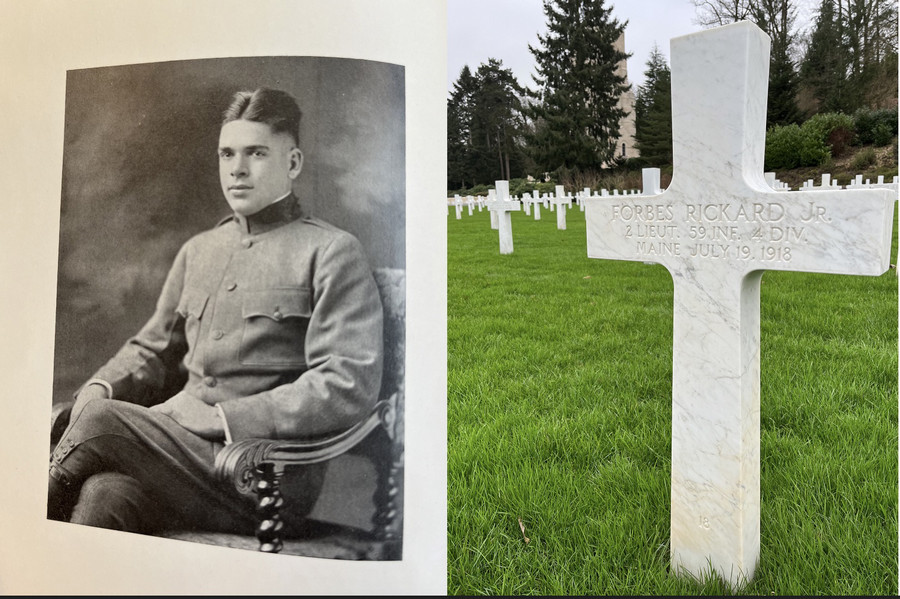 Forbes Rickard Jr., Bowdoin Class of 1917, was a gifted student, an athlete, and a renowned poet (the College has a poetry prize named for him). A young man keen to do his duty, he signed up to fight in World War I while the ink was still wet on his diploma.
Barely a year later, on July 19, 1918, Second Lieutenant Rickard of the 4th Infantry Division was killed in action in France, less than four months before the armistice that ended the war. He is one of seven Bowdoin graduates to die in that war who are buried in France. Rickard lies in the Aisne-Marne American Cemetery at Bealleau Wood in the north of the country, alongside more than 2,000 fellow Americans. Two hours' drive east of there is the largest American cemetery outside the US at Meuse-Argonne, where some 14,246 lie at rest, including more Bowdoin graduates.
High school history teacher Peter Chandler '83, who until recently was living and teaching in Colorado, has now made two pilgrimages to France to honor these fallen veterans as part of a project he started a few years ago called "Bringing Them Home," dedicated to honoring the memory and telling the stories of some of the 130,000-plus American veterans buried overseas.
As well as visiting the graves of the Bowdoin graduates, Chandler paid his respects to a number of soldiers from Boulder County, Colorado, where he lived and taught for many years. Back at his school, he developed a classroom project requiring students to pick a headstone and write a a short biography of a particular soldier, with the help of ancestry.com and the American Battle Monuments Commission website. Having now relocated to his native Maine, Chandler hopes to continue the project with educators back in the Pine Tree State.
"History is often taught from the top downward, where you learn a lot about armies and generals, for example, but very little about the ordinary people fighting the battles," said Chandler. "My vision is to bring history alive for young people, and in the case of this project, I want to bring home the memories of these Americans who, like Forbes Rickard, made the ultimate sacrifice and never made it back."
Published November 10, 2023