After a COVID Pause, Students Prepare to Publish the 150th Issue of "The Quill"
By Lily Echeverria '26
Bowdoin's oldest literary magazine is making a return. The Quill, founded in 1897, took a hiatus during the pandemic. Now, its editors are requesting submissions for the 150th volume.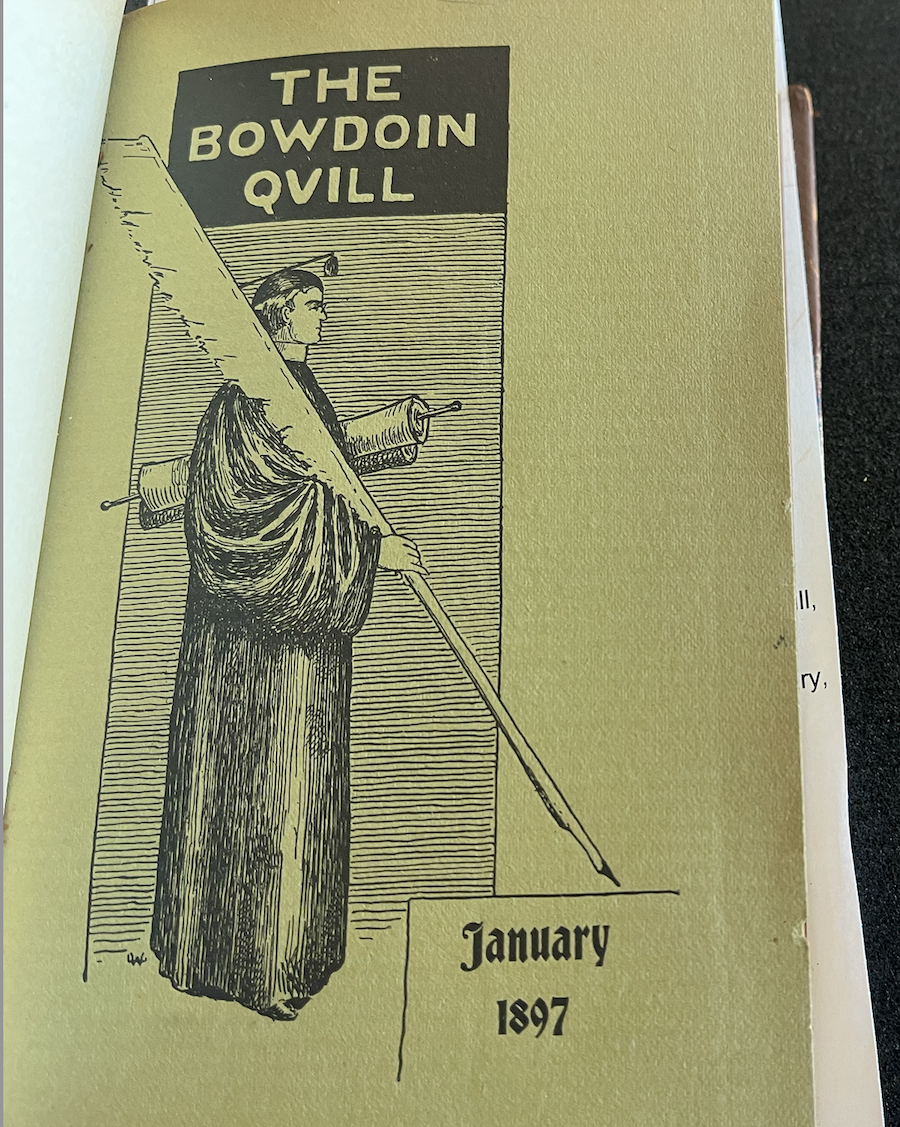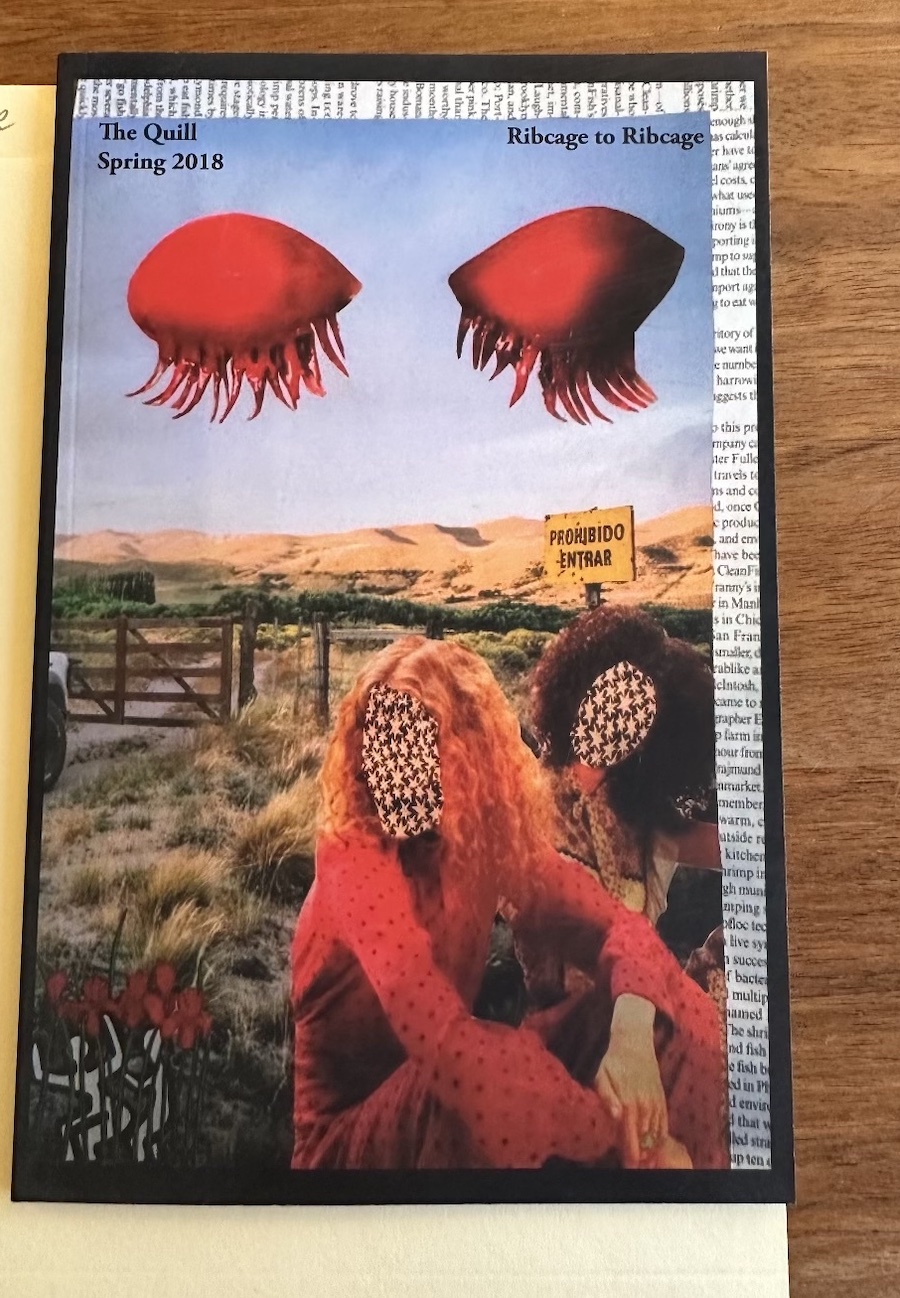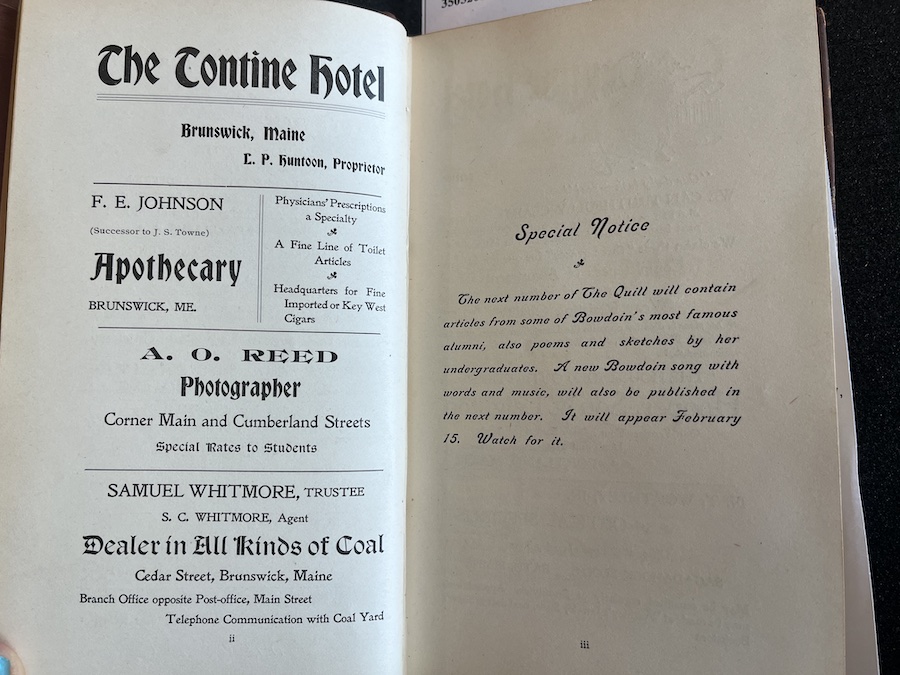 A message to the campus requesting creative writing submissions in any form by November 1 first alerted the community to The Quill's resurgence. "...Now, like an old lizard shaking off its skin, or a phoenix from the ashes, we have returned," the email announced.
For the first issue in several years, the student editors are seeking "poems, stories, essays, things that look kind of like poems, kind of like stories, plays, unsent love letters, compellingly arranged lines of code, scribbles on the back of Moulton light room napkins, translations, sea shanties, failed stand-up bits, your magnum opuses, your try-something-news."
Quill editor Mei Bock '24 said in a recent interview that the magazine reveals the sometimes unseen creativity of the community. "I think there is something really special here—the act of drawing together creative writing from a community that is really small," she said. "But it also feels sort of insulated—like everyone is doing their own thing and not telling each other about it."
Long before its official founding in 1897, The Quill was first printed in 1827 under another name, The Escritoir, for just that one year. Seventy years later, literary-minded students revived its legacy under a different title. 

Today, anyone can visit the George J. Mitchell Department of Special Collections & Archives in the library and access each old volume of The Quill, dating all the way back to its beginning. Pulitzer Prize-winning poet Robert P. T. Coffin's poems are published in the journal from his time as a student in the early twentieth century.
Bock spent time leafing through all of these pages this summer as she got more excited about restarting the publication.

"I spent some time there getting a sense of what it's been historically, and then from there it's been a lot of talking to people who have worked on it in the past, and getting people together now who want to make it what it will be," she said. "It's been really cool to try to build the continuity back."

To receive submissions from as wide an array of writers as possible, Bock and the other magazine editors are advertising in many ways and on many platforms. "We're trying to spread the word to creative writing professors and their classes, but we also want to reach beyond that," Bock said. "So many people write in their free time!"

They've begun marketing their mission on their new Instagram page, @theequill, and their website, students.bowdoin.edu/quill, and by sending an email to everyone at the College. They're organizing promotional events, such as setting up a table in Smith Union in October to collect a "daylong poem" for passersby to add their words to. 

The first volume of the year (with the goal being two per year) will likely be around forty-four pages.

"I honestly can't wait for the moment when we have a printed journal, and to be able to hold it," Bock said. "I've just been really lucky to get together such a great group of people, with so many cool ideas, to make something I never anticipated."

Submissions can be sent to quill@bowdoin.edu.
Published October 30, 2023