Podcast about Languages Features Polyglot Mohamed Kilani '21
By Bowdoin
Kilani is the guest on the latest episode of the podcast America the Bilingual.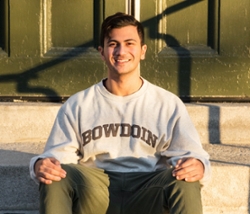 Interviewer Steve Leveen recorded the installment, "Meet a Spanish Teacher in Maine," on Bowdoin's campus.
Kilani, who majored in Hispanic studies and education, now teaches Spanish at Falmouth Elementary School in Maine. 
Besides Spanish and English, he speaks Arabic as well as an Iraqi dialect his parents spoke, and a bit of French and Russian. 
Leveen describes Kilani's life as a modern-day odyssey. He was born in Amman, Jordan, to Iraqi parents who had fled war and economic hardship. When he was a young boy, his mother and her two sons were granted asylum to the United States. So with his mother and his younger brother, Khalil Kilani '25, Kilani arrived in Dallas-Fort Worth, Texas, in 2009, but moved a few months later to Portland, Maine. 
Kilani said part of the respect he had for his own teachers is why he pursued a teaching career. And he loves languages and teaching languages.
"I think learning a language is an empathetic thing you can do for someone else. If you have a new immigrant community [nearby], it would be wise to learn a few phrases, learn about their community, see what they're doing. Maybe share that with them, so you can be friends," he told Leveen. 
Published September 20, 2023