New Library Director Peter Bae Seeks to Reinforce Bowdoin's Ties to the World
By Rebecca Goldfine
Peter Bae stepped into the role of library director in August, eager to join a liberal arts college for the connections and community.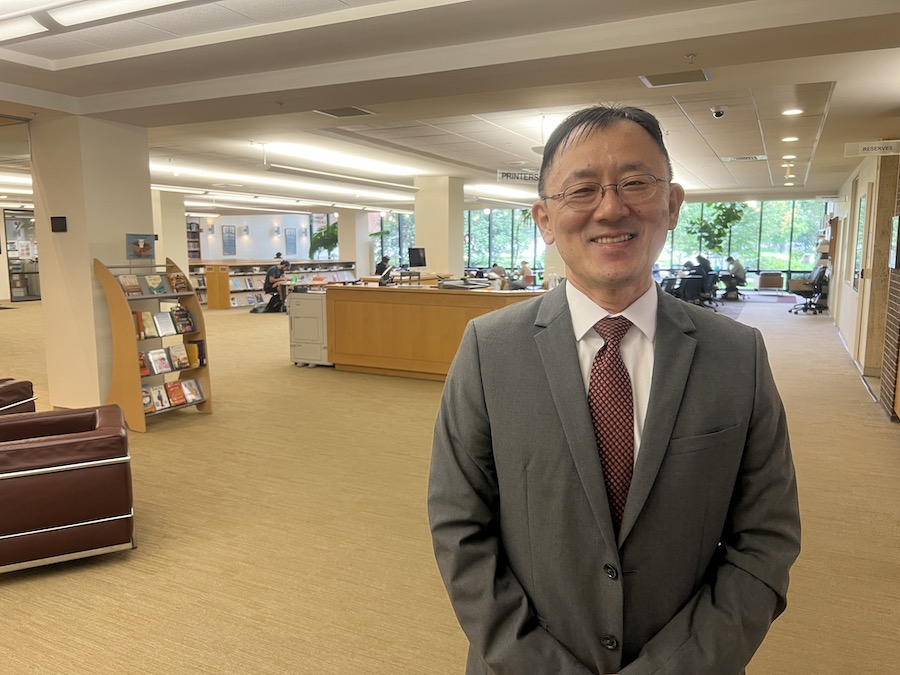 One of Bae's favorite novels is The Shadow of the Wind, by Spanish writer Carlos Ruiz Zafón, which he describes as "a book about books." Part of what he appreciates about the story is that the novelist explores the idea that books contain many souls—of the author, the editor, and all of its readers. 
"In a way, I see books as people," Bae said. "And we have thousands of books at Bowdoin, so we have at least that many people inside the library, and we are connecting those people with patrons."
He hopes that every Bowdoin student spends time in the stacks of Hawthorne-Longfellow Library, browsing the classic, eclectic, American, and international titles filling the shelves. "If you go to the stacks, you see a book published in 1848 next to one published in 2003. I want them to browse the books and see things they've never thought of and feel the presence of all those souls," he said, including many generations of students who preceded them over the college's last 229 years.
Yet Bae knows the staff is the library's most important resource, even more valuable than its collection. Faculty keep telling him "they go above and beyond," he said. "In a way, a small college in Maine, with our services, we are getting resources from all over the world. And we are dedicated to supporting students, so whatever they need, our librarians are ready to jump in." 
"I see the library as a matchmaker. We connect people with other people using information."
—Bowdoin College Library Director Peter Bae
Bae's own professional background is in resource sharing, and in his previous library jobs at Princeton and Columbia Universities, he established networks with libraries around the globe in places like Turkey, Lebanon, South Africa, and Zimbabwe. "We are a small college in Maine, but we can be connected to the entire world," he reiterated.
One of Bae's tasks at Bowdoin will likely be managing a library renovation or new construction, a need that was identified in a 2020 Bowdoin library report. When asked if he would like this to happen during his tenure, he said with a smile, "I would be thrilled!"
At Princeton—where he most recently was assistant university librarian for collection access, fulfillment, and resource sharing—he was part of a huge library renovation. During that process, he said, "I had five temporary offices," as it took a decade to complete.
Though it is early to discuss specifics about a new library here, he said he believes a priority for Bowdoin would be a flexible space that meets the needs of many. "There are those who wish to come and gather," he said, "and then we have hiders," those who like to find a nook in which to study and read. "I want to have spaces that satisfy all different kinds of people."
And while he thinks adding modern furniture and technological function to a new library is good, he also finds value in emphasizing the history of scholarship and celebrating the grandeur of older libraries. "The atmosphere, the sense it provides, makes it feel like you are part of a history, and in a way that helps you focus on your studies," he said.
Bae studied history as an undergraduate and graduate student, first at Kyungpook National University in Daegu (formerly Taegu), South Korea, and then at SUNY–Albany. After completing his PhD coursework in history at SUNY (researching, as a matter of fact, libraries during the Cold War), he changed direction and earned a master's degree in information studies. Throughout his education, he held student jobs at his university libraries.
"I enjoyed it a lot, and I found that, especially, seeing the smiles from the patrons once they got what they needed was so rewarding," he said. "And you get paid for it!"
The investigative work one does as a librarian is similar, too, to the kind of research a historian pursues, he pointed out. 
He recalls a time as a graduate student when he helped a biology professor find a report from an Iraqi scholar about the discovery of a new species of fish parasite in the Tigris River. "Without that article, we could not go further," Bae said. But they kept meeting dead ends.
After six months, Bae finally tracked down someone in Australia who was familiar with the Iraqi scientist's work and was able to get a letter to him into Iraq. Once he received the letter, the Iraqi researcher was eager to send the article to the American biologist. "When I saw the scholar smile, it was priceless," Bae said. 
"Basically, I see the library job as a people business," he continued. "The main reason I chose my career in libraries is because I love talking to people," which is also why he was drawn to the job at Bowdoin.
"At Columbia and Princeton, I felt like I was losing this connection with people because I was managing more staff. When this position came up, I thought, Bowdoin, it is such a strong community, I thought there would be a better chance to connect to students, and I try to connect to students as much as I can."
Published September 21, 2023