Published September 11, 2023 by Rebecca Goldfine
Attorney Phil Gregory '76 Notches Historic Climate Victory for Young People
Collaborating with the legal nonprofit Our Children's Trust, Phil Gregory '76 and a team of litigators represented sixteen young plaintiffs, all under the age of twenty-two, in the recent case Held v. Montana.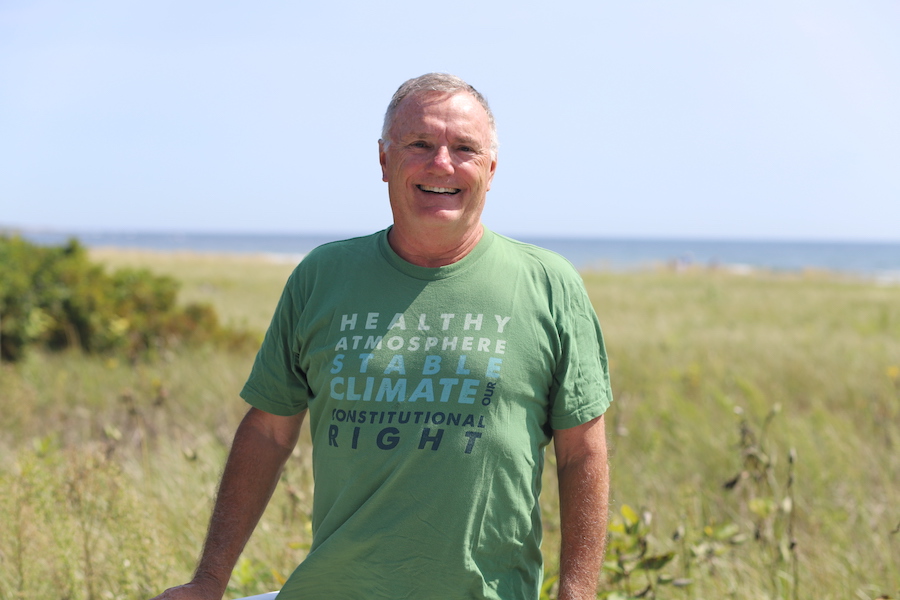 Nineteen days after winning this groundbreaking climate change case in Montana, Gregory sat on the deck of his Kennebunkport cottage, just a few feet away from grassy dunes and glistening sea. As he sipped water and occasionally waved to passing neighbors, Gregory explained why he believes the recent court win will boost efforts to curb climate change.
The lawsuit has made history in several ways: it is the first constitutional climate lawsuit—and the first youth-led climate case—to go to trial in the US; it's an unprecedented climate litigation victory in the US; and it's the beginning, Gregory expects, of successful challenges to the government's enablement of the fossil fuel industry and of climate change.
District Court Judge Kathy Seeley ruled in favor of the young people and their claim that the state had violated Montana's constitution, which since 1972 has guaranteed residents a "clean and healthful environment." Gregory pointed out that the "plaintiffs have proven that as children and youth, they are disproportionately harmed by fossil fuel pollution and climate impacts." 
On technical grounds, the decision means that the state must consider greenhouse gas emissions and climate change impacts when conducting environmental reviews and issuing permits. In recent years the Montana government ensured the opposite, by forbidding state agencies to consider climate impacts when regulating the state's fossil fuel industry.
2020 documentary Youth v. Gov
, streaming on Netflix, follows Our Children's Trust as it pursues its landmark federal case 
Juliana v. United States.
 (Phil Gregory '76 is a major character in the film, and even makes an appearance in a Bowdoin T-shirt!)
Based in Eugene, Oregon, Our Children's Trust is the only nonprofit law firm representing children who are holding their governments accountable for the climate crisis. This
However, Gregory and other lawyers say the repercussions will stretch far beyond Montana's bureaucratic processes, even in states that don't have environmental amendments in their constitution (although more states, including Maine, are considering them). "The case's findings of fact were based on the evidence," he said. "That is crucial. Judge Seeley is not an activist judge; rather she based her decision on the evidence presented in court."
The order demonstrates how the science of climate change—or more specifically, the analysis of the fallout from policies accelerating climate change—can have legal significance with broad implications for other cases. 
"Most of the experts who testified in Montana had not testified in court before," Gregory said. "It was amazing to have these world-renowned scientists tell the story of the work they've been doing for large parts of their career on the witness stand and feel so validated. Our experts said the trial was such an empowering experience, to be able to testify about the science in the court of law under oath, under cross-examination, and to do that for these youths."

In opposing the young citizens' case, the government of Montana countered that the state's greenhouse gas emissions are too small to make a difference in global climate change, and that the contested issue should be decided by the legislature, not the judiciary. But Gregory is confident the legal victory will be upheld in the Montana Supreme Court if the state appeals, which it is likely to do. "The state will appeal, but the evidence introduced at trial can't change," he said.

To make his point, he pulled up a thick wad of paper—the 103-page printout of the judge's decision—and began flipping through its 289 findings of fact. Many of these findings are devoted to the preponderance of science showing climate change is happening due to human activity. Other findings of facts state that climate change—and the severe wildfires, drought, and floods it brings—is harming children's health. When he reached page 65, Gregory paused at a boldfaced header stating that the defendants (Montana's government) are contributing to climate change and harming plaintiffs.

"The findings in Held will embolden judges," he said. "They will see the importance of science-based evidence. Then the question judges face is, do we as individuals have rights that prevent us from being deliberately harmed by the government? Can the courts protect people when the evidence is that the government is knowingly harming them? Of course they can."

This legal victory on behalf of Montana's youth is already having an impact beyond the courts. It offers a new reason for optimism, Gregory believes. "The first thing is that it gives youth hope," he said. "It gives Americans hope that something is being done by a governmental body. Also, in Montana, the ruling is having direct implications. It halts the state from authorizing new fossil fuel projects and lays down a mandate to review and revise existing environmental policies."
"When courts make these kinds of landmark decisions, it pushes policymakers to act," he continued. "So, while change won't happen overnight, it sets in motion a range of policy reviews and reforms that could significantly impact how we deal with the climate crisis. Lastly, this case galvanized public opinion and brought attention to the urgency of the climate crisis. As more people become aware and demand change, the political landscape shifts in favor of sustainable policies."

It is often young people who demand change, and our judicial system is the most powerful way minors too young to vote can have a voice, Gregory noted. (In Held, the plaintiffs were all under the age of eighteen when the suit was filed in 2020). So far, Our Children's Trust has represented children in climate change suits in all fifty states and helped young people take climate action in twenty nations. Currently, it has pending cases in Hawaii, Florida, Utah, and Virginia, and is also working on the recently revitalized federal case, Juliana v. United States. 
In June 2024, Gregory will be part of the trial team in Navahine F. v. Hawaiʻi Department of Transportation on behalf of fourteen youth plaintiffs seeking to obtain a first-of-its-kind judicial decree mandating the reduction of greenhouse gas emissions from transportation.

"These cases are being taught all over the world, at Oxford University, Hebrew University—our team gave a presentation in Japan," Gregory said. "These cases are being taught in every law school, at the undergraduate level, and at the high school level in some places, because the youth want to understand what is going on and want to know who is being effective at dealing with this problem."
Legal commentator Michael Gerrard, executive director, Sabin Center for Climate Change Litigation, said in an NPR interview about Held v. Montana: "I thought this was one of the strongest decisions on climate change issued by any court anywhere...In every respect, the court agreed with the plaintiffs that fossil fuel combustion is the main cause of climate change and [that] climate change is having all kinds of terrible health and environmental impacts which will get worse unless we stop those emissions."
Being Effective
Gregory first met attorney Julia Olson in Oregon, in 2010, soon after she had founded Our Children's Trust. He immediately saw the potential of her organization to contend with climate change through youth-led litigation and novel legal arguments. The organization also needed a trial lawyer with a proven record of success.
For the next few years, he worked pro bono for the organization while remaining a partner with the law firm Cotchett, Pitre & McCarthy. But then his first grandchild, Alice, was born in 2017, and he began to rethink his career. 
"If you read all this climate stuff—well, as Kurt Vonnegut says, 'The excrement is hitting the air conditioning,'" Gregory said. He worries about his small grandchildren's future. (Now he has three: John Jr. and Lincoln, ages two and three and a half, along with Alice, who just turned six and a half. The halves are very important, he noted.)
"Later on in life, when the climate wars have subsided, and Alice, or Lincoln, or John Jr. look at me and say, 'Papa, what did you do during this time?' I want to be able to say I was a guardian for them." Gregory paused. "The Montana decision isn't just about now; it's about the future for our children and grandchildren."
In February 2018, he left the law partnership to go out on his own and devote most of his time working for Our Children's Trust, still on a pro bono basis. His focus at that time was the high-profile case Juliana v. United States, which asserts that federal government action is causing the climate crisis, damaging essential public trust resources, and violating the youngest generation's constitutional rights to life, liberty, and property. While Juliana has hit some snags, it has recently found new life. 
Going to trial was always the aim of Our Children's Trust, Gregory said. "First off, a lot of people out there, including judges, don't understand the climate science and the repercussions of human activities attendant on fossil fuel emissions," he explained. "A trial allows expert witnesses, like we had in the Held case, to take the time to walk through and present the climate science under oath. And defendants will have a hard time finding a credible climate scientist to get up there and deny human-caused climate change. Presenting the science is crucial."
Still, in the thirteen years that Gregory and Our Children's Trust have been grappling with governments over climate change, they've had to redirect their strategy to secure their recent win. "From the onset, our campaign has been trailblazing. Each legal action strategically builds upon a subsequent action and decision," Gregory said. After coming up short with an argument based on a legal concept called the public trust doctrine, they regrouped in 2015.


Gregory returned to Maine to attend Bowdoin from 1972 to 1976, majoring in English and government. "I was raised to help other people, but Bowdoin instilled in me the common good, the idea of doing things for the greater community," he said. "That idea was very important while I was at Bowdoin, and the people at Bowdoin viewed themselves as going out into the world and making the world better."

While he has a coastal cottage in Maine, his year-round home is near Palo Alto, where he has a small vineyard that produces about 200 bottles of pinot noir a year. Besides winemaking, his hobbies include backpacking, especially with his three sons, and being outside in general. "I love the outdoors," he said. "And I love trying cases," he added, smiling.
When Phil Gregory was a baby, living with his parents in Wellesley, Massachusetts, his father and grandfather built a small cottage in Kennebunkport, Maine. Both of his parents grew up in Maine—his father is from Bucksport, and his mother was born in Biddeford. Later, his dad, who worked for Raytheon, was transferred to Lewiston, Maine, and Gregory spent second to fourth grade here, with many happy days at the beach. When his father was transferred to Mountain View, California, the family moved to Los Altos.
"We sat down and said, 'Okay, what should we do next?' That is when we came up with the idea of bringing cases under the constitution," taking advantage of rights articulated in both state constitutions and the US Constitution. Today, he and his team insist that young people and future generations have the right "to a healthy atmosphere and safe climate based on the best available science." More narrowly, they've focused on the state-created danger doctrine, where a government is liable if it affirmatively and knowingly placed the plaintiff in a position of danger and the plaintiff is harmed.

"What we have focused on is whether children are being harmed by the fossil fuel system. Of course they are—there is lots of medical information proving that. But also, did the government know that fossil fuels were going to or were harming children, and that the harms would get worse?" Gregory and his team say they can prove that, too, based on extensive research they've done at presidential libraries, state archives, and even in boxes stashed in the basements of former government workers.

Gregory says the young people involved in the climate lawsuits have reached out to Our Children's Trust after hearing about their work. And while it can be nerve-racking for a lawyer to put children on the witness stand, he said he was incredibly impressed with the young plaintiffs in Held. (All but four of the youngest testified at trial.) "I could never have done what they did," he said. "They were remarkable in telling their stories and tying their personal stories to what the state was doing."

"They inspired me and energized me," he continued. "They had remarkable energy and faith in Judge Seeley and the court system, and their faith was rewarded." 

It is his own faith in young people that keeps him optimistic about the future—despite the threats of climate change. "I'm very hopeful—because of the youth, they make me hopeful," he said. "They're not going to be fooled like my generation was fooled into believing fossil fuels and chemicals were the greatest things in the world."