Published August 04, 2023 by Tom Porter
What the Leach's Storm Petrel Can Teach Us
Biology professor Patty Jones is tapping into seventy years of data from the Bowdoin College Scientific Station (BSS) on Kent Island to spearhead a National Science Foundation-funded project. Under scrutiny is the Leach's Storm Petrel and why this hardy seabird is sometimes able to defy ecological norms in its ability to grow, reproduce, and live a long life.
Like most grant titles, this one is far from catchy: "Life history strategies within a population depend on cellular and organismal traits that underlie differences in resource acquisition and allocation" is the formal moniker. What it's really about is energy allocation, said Jones, who is also director of the BSS, which has seventy years' worth of data on the Leach's Storm Petrel. A storm-lashed strip of land in the Bay of Fundy, Kent Island has belonged to Bowdoin since 1936 and is used regularly by students and faculty for ecological field research.
"Basically, all organisms need energy to fuel the biological processes of life," Jones explained, these processes being growth, self-maintenance, and reproduction. "Put another way, organisms can allocate acquired energy to grow their body to achieve a larger size, to repair and maintain their body to live longer, or to reproduce and create the new bodies of their offspring."
However, she added, the amount of available energy is finite, so if more is invested into growth, for example, less is typically invested into self-maintenance and reproduction. This results in what Jones describes as "allocation trade-offs," where some individuals might be better at growing, some may be able to attain extreme longevity, and others are better at reproducing.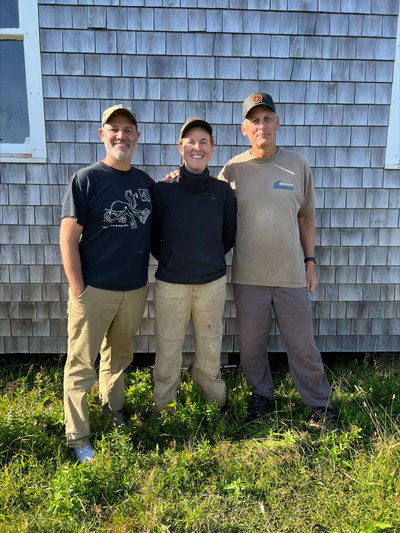 "While these patterns generally hold in animals, in many species scientists observe certain individuals who appear to be able to do it all with few consequences, but little is known about how this occurs."
The study of the Leach's Storm Petrel over the past seven decades has revealed that, while many of them do show the expected "allocation trade-off," there are many who have escaped it and are able to invest equally in survival, longevity, and reproduction. "Our work will explore the molecular and cellular processes that underlie the ability to avoid this trade-off," said Jones. "We're focused on a fundamental question in biology, which will help us to understand how molecular processes and organismal performance affect longevity."
Additionally, this work will strongly support undergraduate science education, she stressed, and will result in the development of inquiry-based scientific modules used in middle school and high school classrooms. The project, which formally gets underway in December, is funded to the tune of $406,700 over three years.