Published August 22, 2023 by Tom Porter
President Safa Zaki Delivers Inaugural Welcome to Families and Friends of Class of 2027
President Safa Zaki said she will always have a "special connection" to the Class of 2027. Zaki, who took up her post less than eight weeks ago, was delivering an arrival day welcome address to families and friends of Bowdoin's latest class year.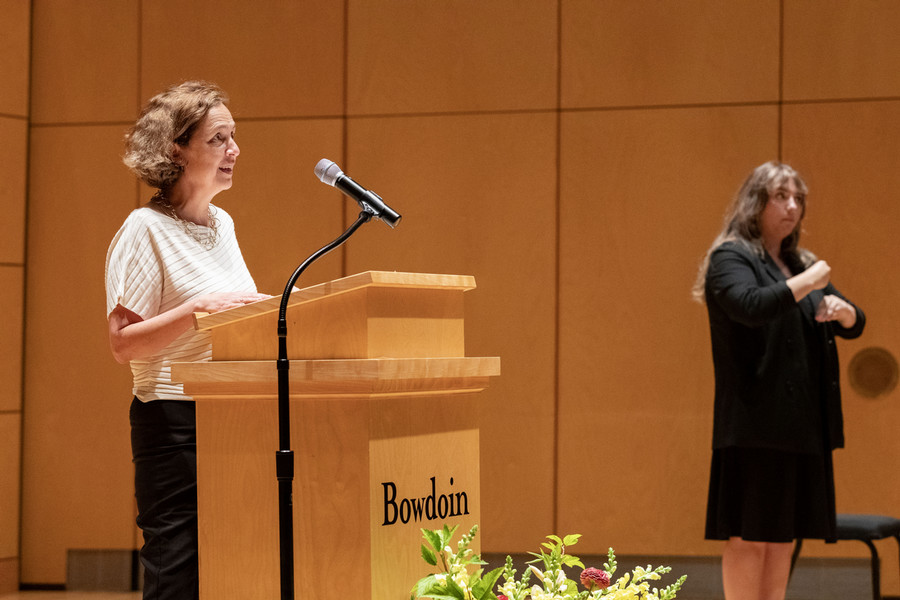 "This is my first year as president, and because of that, your students and I start our Bowdoin journeys together," she told the parents, family members, and guests who filled Kanbar Auditorium in Studzinski Recital Hall.
"Perhaps this is your first college drop-off, or perhaps you've been through this before. Either way, you likely have been having a huge range of emotions."
Zaki told the audience, who had spent much of the morning dropping off their newly arrived first-years and saying goodbye, that they should feel very proud.
"Bowdoin intentionally admits students who are accomplished and curious, who have heart and who are here to learn and grow with your help, support, and encouragement. Everyone in this class," she added, "has achieved so much already. I know I speak for all of us on the stage when I say just how enormously grateful we are that your amazing student is here with us."
She acknowledged that some members of the class had overcome significant obstacles to get here, not least "the really tough challenges and disruption and displacement caused by the pandemic."
After her address, Zaki turned the stage over to Dean for Academic Affairs Jennifer Scanlon and Dean for Student Affairs Janet Lohmann, who talked more specifically about opportunities for Bowdoin students both inside and outside the classroom.