WSJ Shows Support as Evan Gershkovich Faces 100th Day Behind Bars
By Tom Porter
As Wall Street Journal reporter Evan Gershkovich '14 reaches a hundred days behind bars in a Moscow prison, his employer sent strong messages of support, inviting readers to make their voices heard.
"Today marks 100 days since our friend and colleague Evan Gershkovich was detained while reporting in Russia," wrote WSJ editor-in-chief Emma Tucker in an open letter to the newspaper's readers.
"He remains in prison, falsely accused by the Russian government of espionage. The WSJ and the U.S. government vehemently deny this bogus allegation and are calling for his immediate release," she  continued.
The July 7 edition of the paper also invited readers to send their own messages of support to Gershkovich and his family and offered advice on how to get involved in the social media campaign calling for his release.
This grim milestone comes at the end of a week that also contained notes of cautious optimism for Gershkovich and his family following press reports indicating that the Kremlin may be open to the possibility of a prisoner exchange.
Several media outlets, including The New York Times, the BBC, and The Wall Street Journal, reported on July 4 that Kremlin spokesman Dimitri Peskov said "certain contacts" had been made in apparent reference to the situation.
But, added Peskov, such discussions would remain behind closed doors and should "continue in complete silence."
This came a day after the US ambassador to Russia, Lynne Tracy, was allowed to visit Gershkovich for the first time since mid-April, and only for the second time since his imprisonment in late March.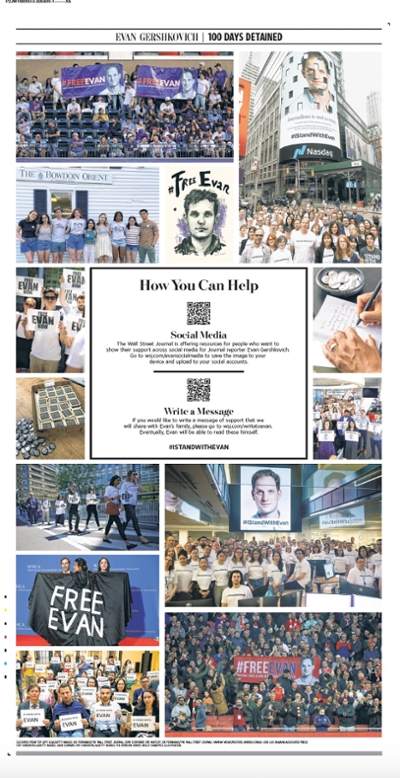 "Ambassador Tracy reports that Mr. Gershkovich is in good health and remains strong, despite his circumstances," said a State Department spokesperson quoted in the media.
Meanwhile, Russian embassy staff recently visited detained Russian national Vladimir Dunaev, who has been held in the US facing cybercrime charges since he was extradited from South Korea in 2021, according to the BBC.
Gershkovich was arrested on March 29 in Yakaterinburg, Russia, on espionage charges for which no evidence has been presented by the Russian authorities.
On June 22, a Moscow court rejected an appeal by Gershkovich's lawyers to release their client from pretrial detention, where, as things stand, he is set to remain until late August.
Since Gershkovich was detained, there have been numerous calls for his release and messages of support from Western media, US politicians, and former classmates and colleagues at his alma mater, Bowdoin College.
Read also "Bowdoin Community Rallies in Support of Detained Journalist Evan Gershkovich '14."
Published July 07, 2023