Published July 24, 2023 by Rebecca Goldfine
New Latinx Alumni Affinity Group Gathers Momentum
Over the past year, founding members of the Association of Bowdoin Latinx Alumni—ABLA for short—have laid the groundwork for an affinity group that will support and connect alumni and students for years to come.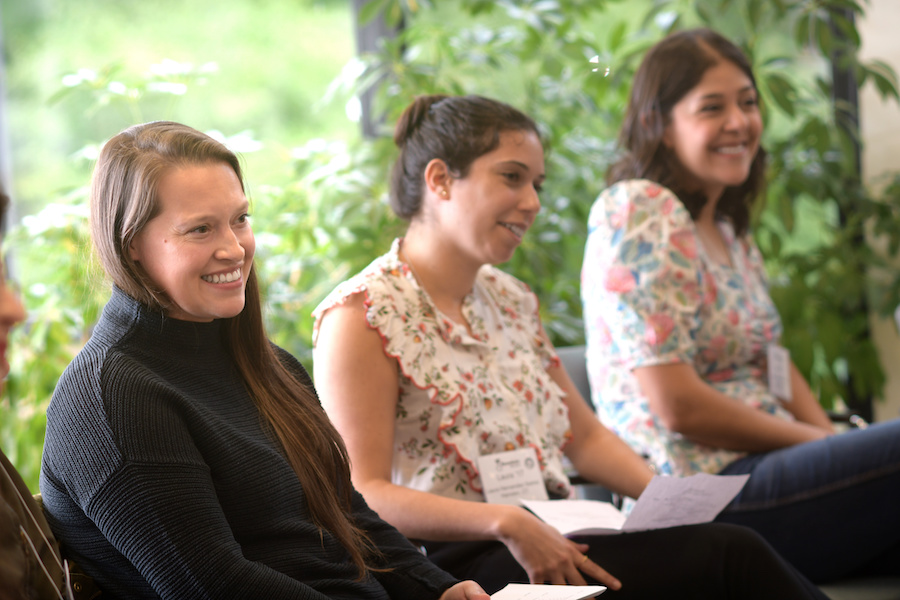 This June, during Reunion Weekend, several ABLA leaders held an official kick-off meeting on campus to invite other alumni, as well as students from the Latin American Student Association (LASO), to share their thoughts and get involved.
In his greeting, ABLA president John Vegas '93 said the launch was an exciting moment, born from many nights of long meetings with fellow alumni volunteers. "Part of our work is bringing people back to the College in a meaningful way," he said. "Bowdoin in many ways shaped us and played a prominent role in our development, and Bowdoin alums are willing to do anything if asked. But we haven't been asking."
He said that he and other Latinx alumni had spoken for years about wanting such a group. He recounted how he had just discovered that very weekend that Edward Naranjo '88 and he had overlapped in St. Paul for four years, when they were two Latinx executives working for Fortune 500 companies. Yet, he said, "we didn't even know we were in the same market at the same time."
He added, "That is an example of the kind of opportunity we have as we become more visible to each other as we continue building this great forum."
ABLA is part of an initiative by Bowdoin's Office of Development and Alumni Relations, led by Director of Multicultural Alumni Engagement Joycelyn Blizzard, to form stronger alumni communities among Black, Asian, and Latinx alumni. The official Latinx group grew out of listening sessions that Blizzard organized last summer. 
"The creation of ABLA is a necessary and wonderful addition to the alumni community, as it will improve the alumni experience for all alumni," Blizzard said.
Andrea Keenan '10, who is leading ABLA's campus connections committee, recalled receiving the emailed invitations to the listening sessions and mulling over whether to attend. "'I was busy," she said. "I thought, 'I don't have to do this.' But on the third email, I sat with it and thought, 'I love Bowdoin and I went through a lot at Bowdoin. I have things to say, and if not me, who?'"
She described her motivation to contribute also being sharpened by a recent Latinos for Education leadership fellowship that she had recently completed. "In it, I learned that we should lead from our identity and not squash it," she said. "Our identity should fuel us and drive us."
Once in the listening sessions, she quickly grew to appreciate Blizzard's stewardship of the project. "Joycelyn made quite an impression on me. She spoke truth to power, she was so transparent and bold. She made me want to come back, talk more, and be part of this community that she believed in," Keenan added.
In the many conversations that followed, Vegas, Keenan, Jimena Escudero '13, Laura Ibáñez '17, Ariele Gonzalez '08, Edgardo Sepulveda '15, Van Rendon-Vasquez '13, Megan Retana '19 and others devised a structure for the group based on three "pillars": celebrations, campus connections, and community. 
Ibáñez said these pillars address wishes voiced by both alumni and students. "Alumni wanted to celebrate each other and their accomplishments, to connect with current students, and to form and maintain a community outside Bowdoin," she said. "So if you are in a town or city anywhere in the world, you know who else is there who is Latinx you could reach out to and have someone to talk with."
Keenan, as chair of the campus connections committee, said she is interested in strengthening ties between alumni and students. Part of this is based on hearing from current students, and part stems from her own experience as a Mexican American navigating Bowdoin.
"This was something I found lacking at Bowdoin," she said, "That is, a way to connect students with alumni [who identify as Latinx] who have gone through the Bowdoin experience. Students, especially first-generation, want more career connections."
Current LASO president Oscar Calle '25 told the group that while Bowdoin's career counselors helpfully advise students to reach out and foster connections among working professionals, this can feel daunting for some.
"A lot of us don't know how to network," he said. "Or find that networking with people who don't look like us can be very intimidating, especially at the start. So just talking with people and networking with people with similar backgrounds and who had similar experiences at Bowdoin could help us transition in the short and long run and build our networking skills."
Vegas recalled how his own arrival at Bowdoin in 1989 via Puerto Rico had given him a significant culture shock. "I was born in New York to a traditional Puerto Rican family and spoke Spanish at home," he said. His parents had moved to the Bronx to raise a family, but decided to return home in 1975 to escape the borough's violence.
However, at Bowdoin, he soon found his place, thanks to a "welcoming and receptive" community. "Bowdoin was a magical place for me and I was able to find my way through it," he said.
Still, he noted how identity follows you everywhere. And at Bowdoin, "coming from a working-class family, there seemed to be other students ultra well prepared, coached, and counseled. If I had had more guidance from Latinx alumni, it might have given me more confidence earlier in my career." 
Ariele Gonzalez '08, who heads ABLA's community committee, said her task is personally meaningful to her, "because I struggled a bit with finding and creating my community when I was here at Bowdoin, and I am excited to help foster that for alumni outside of Bowdoin."
Escudero, ABLA vice-president, said that having this community might replicate some of the benefits she reaped from LASO when she was a student. "It was a special community to me," she explained. As a Colombian "growing up in the area of Massachusetts I was in, I didn't know a lot of other Latino students. It was not really until I went to Bowdoin that I had that. So after Bowdoin, I looked for ways to find that again. I was always looking for more ways to connect to a broader Latino culture."
Retana, who is looking forward to working with ABLA's celebration committee, said her group's mission is to highlight the accomplishments of Latinx alumni. She recounted how impressed she had been by Bowdoin's AF/AM/50 event in 2019, when the College celebrated fifty years of the African American Society (now Black Student Union), as well as Africana Studies and the John Brown Russwurm African American Center.
"It was an amazing weekend," she said, drawing back many Black alumni, including some who had not returned since graduating. "There were talks and panels and presentations. Eventually we want to do something like that as well," she said. 
ABLA members are inviting Latinx alumni to join one of the group's three committees as they begin this critical journey. Sign up here.