Published July 04, 2023 by Tom Porter
Bowdoin Graduates to Showcase Their Talents at the Edinburgh Fringe
At least two Bowdoin graduates will be crossing the Atlantic later this summer to perform at the world's largest performance arts festival.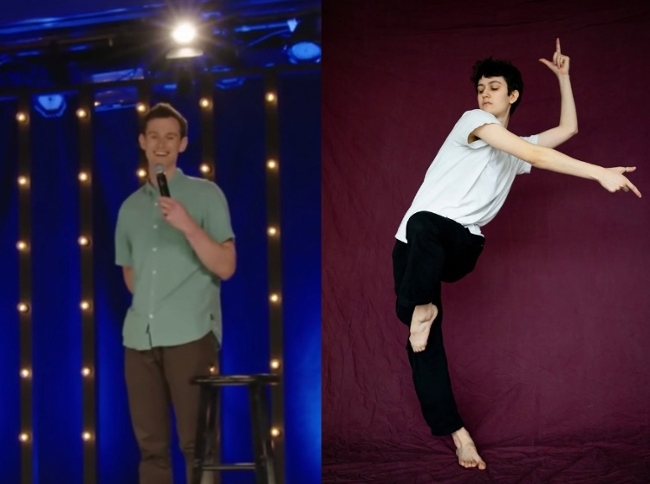 Stand-up comic Lucas O'Neil '12 and choreographer Lou Sydel '22 will be performing in two quite different shows at the Edinburgh Fringe in August.
English and theater major O'Neil is debuting his solo show, "Emotional Man," in which he examines his anxious family and his role within it. The show is described as a "a witty and insightful examination of the people and places that shape who we are and who we become without them."
(Watch Lucas O'Neil at Comedy Central Stand-Up.
Lucas O'Neil: Why I appreciate British stand-up shows over American ones.)

Sydel, who majored in theater and dance, will be at the Fringe with his colleagues from the "Clownz with Apple" theater company.
They are putting on a dance show called "Purgatorio," which is described as a surrealist techno dreamscape inspired by Dante Alighieri's epic fourteenth-century poem, "The Divine Comedy."
As a Bowdoin senior last spring, Sydel choreographed Hook, Line, and Sinker, an original musical adaptation of a European folk tale about a water nymph who falls in love with a human.
"Both Lou and Lucas are bright, talented artists who made the most of their time at Bowdoin by developing their own unique styles of performance in class projects, shows, and independent studies," said Professor of Theater Davis Robinson, who taught both O'Neil and Sydel as students.
"It's so exciting to see them take their work to the next level at the largest performing arts festival in the world. Fingers crossed for big crowds, appreciative audiences, and rave reviews—they've earned it!"