Published June 14, 2023 by Tom Porter
Two Bowdoin Faculty Members Receive Fulbright Awards to Pursue Research in Europe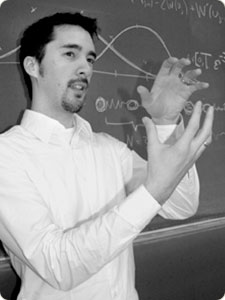 From Brunswick, Maine, to Brunswick, Germany
Associate Professor of Mathematics Chong will be working with the Technical University of Braunschweig in north central Germany—coincidentally, the city is also known by its anglicized name of Brunswick. Chong will be furthering his research on the mathematical analysis of high impact in origami lattices. Simply put, said Chong, the project explores applying the principles of origami to engineering processes, possibly to enable the construction of materials that would lessen the impact of a collision—something that would have huge implications for the automobile industry by improving passenger safety.
"Professor Michael Herrmann of the TU Braunschweig is an active leading expert on this topic," said Chong, "making him an ideal host for the project." Furthermore, he added, the experience will be an invaluable cultural exchange on many levels. "Undergraduate research is less common in Germany, and I plan to bring my extensive experience in advising undergraduate research to the TU Braunschweig." Chong said he also plans to enroll his children in local schools in Germany and to be an active member of the local schools through volunteering (for example reading English stories to schoolchildren).
Chong is receiving what's known as a "flex award" from Fulbright, enabling fellows who are unable to spend an entire academic year overseas to visit a country twice, for shorter periods, over two or three years. Chong will be in Germany during the summers of 2024 and 2025, although his collaborative project with Professor Herrmann begins remotely this summer.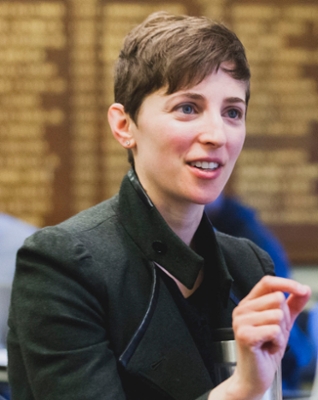 An Alsatian adventure: Associate Professor of History Roberts is a scholar of eighteenth-century France looking at the intersections of cultural history, the history of science and medicine, and the history of women and gender. She will be spending the 2023–2024 academic year at the University of Strasbourg in the historic region of Alsace, located on the German border but also close to Switzerland.
"I'll be conducting archival research and writing my book manuscript Health Wars: Making and Breaking Medical Authority in France, 1730–1820," said Roberts. "I am especially excited to have the opportunity to collaborate and exchange ideas with my colleagues at the University of Strasbourg, where there are a number of excellent historians of science and medicine." Roberts said, although she has been researching history for the past twenty years, she has never had the opportunity to be directly affiliated with a French university before and is looking forward to making the most of it.
Roberts' stay in France is also being funded by a grant from the University of Strasbourg's Institute for Advanced Study.
"As Fulbright Scholars, Professors Meghan Roberts and Christopher Chong will find rich support for their scholarly work, new colleagues to engage with as interlocutors, and enriching life experiences in new environments," said Bowdoin College Dean for Academic Affairs Jennifer Scanlon, "all of which will serve the Bowdoin community well on their return. We wish them the very best!"
Chong and Roberts are among eight hundred American scholars this year awarded fellowships through the Fulbright US Scholar program, enabling them to teach and study abroad, most of them over the course of the next academic year. Notable Fulbright alumni include sixty-two Nobel Prize laureates, eighty-nine Pulitzer Prize recipients, and seventy-eight MacArthur fellows.