Northern Ireland Filmmakers Planning Documentary about Sen. George Mitchell '54, H'83
By Tom Porter
Standing in the new special collections learning lab of the Bowdoin library, George Mitchell '54, H'83 reviewed a photograph of himself in 1980 as a newly minted US Senator, standing outside the White House next to a smiling President Jimmy Carter.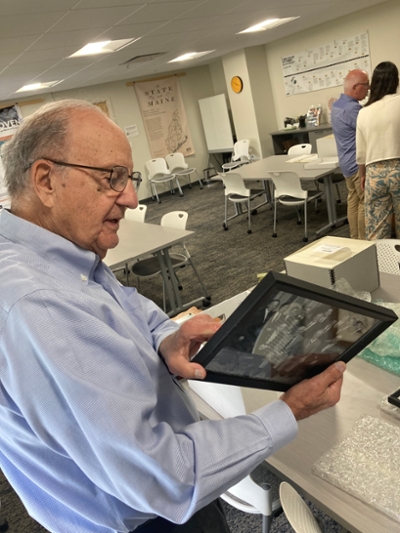 For the former senate majority leader, it was a trip down memory lane as he surveyed the boxes of archived material placed on tables around him, all relating to his long life and career.
Mitchell returned to the Bowdoin campus earlier this week for the first time in six years, accompanied by two filmmakers from Northern Ireland, where Mitchell is highly regarded for his role in bringing peace to the troubled province a quarter of a century ago.
As a special US envoy, Mitchell played a key role in brokering the landmark 1998 peace accord, known as the Good Friday Agreement. The deal, which followed two years of negotiations under Mitchell's chairmanship, ended three decades of violence in Northern Ireland, a period known as "the Troubles."
Film producers Andrew Tully and Stephen Douds are working on a feature-length documentary about the life and work of Mitchell, which they hope to have completed within fourteen months, in time for the 2024 summer film festival circuit.
As they plan the project, a visit to campus to review the extensive Mitchell papers—stored in the Bowdoin library's Special Collections & Archives—and to spend time with the man himself, made perfect sense, said Douds, who was also joined by New York-based colleague Maggie Carroll. "Our task in documenting his long and rich public service and especially visualizing key moments of that service will be enhanced by drawing on the senator's papers, photographs, and filmed appearances, so many of which are held in Bowdoin College. The meticulous cataloguing that has already taken place indicates the esteem in which Bowdoin holds George Mitchell and their significance in bringing the story of his work to audiences around the world."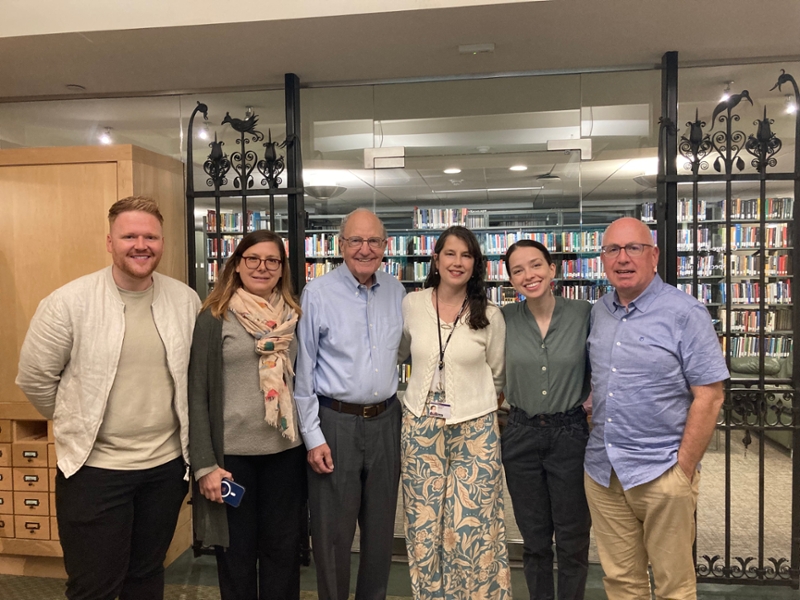 Douds and Tully are with FinePoint Films, which is making the documentary in association with Queen's University in Belfast, where Mitchell served as chancellor for ten years. "We were delighted to accompany the senator and to meet the team who maintain his extensive archive there," added Douds. "We can't wait to return."
A key member of that team is archivist Anne Sauer. "The Mitchell papers are an extraordinary resource, both in breadth and depth, spanning the senator's lengthy career," she said. "With over 1,000 linear feet of material—correspondence, speeches, memoranda and reports, photographs, audiovisual recordings, and memorabilia—the collection is a rich resource for study of the senator's work, from his time in the senate to his work as special advisor for the Northern Ireland peace process."
Mitchell turned over his papers to Bowdoin in 1995, said Sauer, and has been adding to them ever since.
Published June 16, 2023