A Particular Kind of Strength
Published by Elise Gibson for Bowdoin Magazine
When Safa Zaki, the newly named president-elect of Bowdoin, was being interviewed by members of the College's presidential search committee, a certain quality struck her that felt compelling, a value that she hadn't heard expressed quite in that way. And it was exciting. Bowdoin calls it the common good, an idea central to its mission that began, literally, with its first president.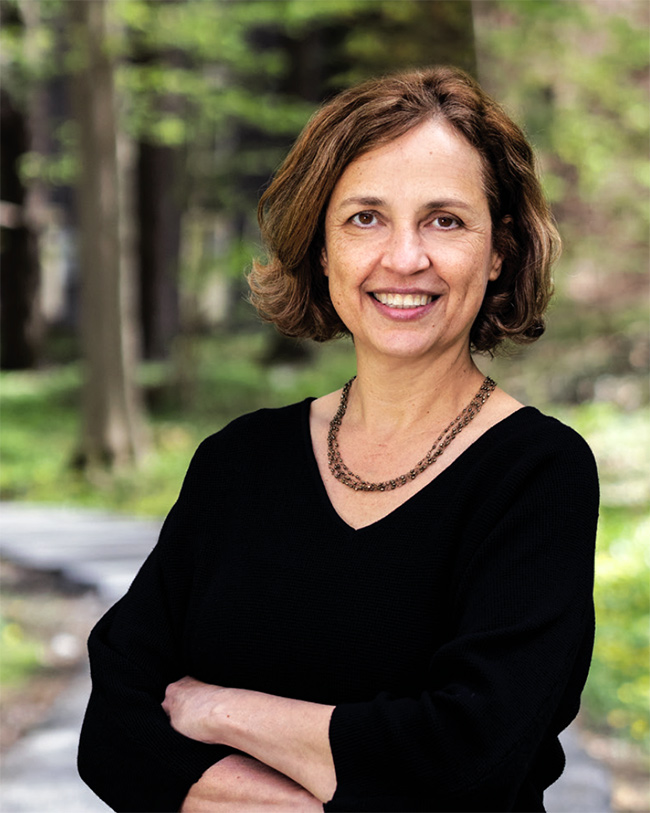 "It was the thing that drew me in during the search process. You could see it reflected in the questions the search committee asked. And then, as I did my own research, you could see it reflected in so much of the College," Zaki says. Many institutions, she notes as an example, offer experiential education, so that students can further their own education by doing good work in the community. "But at Bowdoin, it's about doing good for its own purpose rather than because it's a growth opportunity for you," Zaki observes. "It's a particular framing that I found very compelling."
That initial impression was underscored in real time on March 9, when Zaki, having accepted the offer to become Bowdoin's sixteenth president, came to campus to be introduced to the community. After addressing the assembled crowd in Smith Union's Morrell Lounge, she wanted the chance to chat with students informally. As she walked through the dining hall, she asked students what they loved about Bowdoin. After naming Bowdoin's famously wonderful food (of course!), they gave a more nuanced answer. "Nearly every single one said it was the people. The faculty, the staff, the other students. That just struck me," she says. "It really draws you in. You want to go to a place where they say the people is the reason they're there."
A few weeks later, Zaki is back at Williams College, thrust right back into the thick of her duties as dean of faculty, a position she has held for three years. As a senior officer at this liberal arts college in the northwest corner of Massachusetts, she faces a full-to-bursting calendar of meetings and end-of-academic-year duties. Still to come are the head-spinning rounds of farewells, the packing up, and then a dramatic shift to Brunswick, Maine, and her historic role as the first woman president of Bowdoin College.
"Remarkable" is her word for it all.
Zaki, the John B. McCoy and John T. McCoy Professor of Psychology, has spent most of her career at Williams, joining the faculty in 2002 as assistant professor and then quickly moving up the academic ranks to full professor in 2010. Caught between the world she's known for twenty-one years and the role she's about to step into, Zaki seems awed. "I wake up in the morning and I think, 'Really? I get to do that?' It's hard to wrap my head around," she says. "It really is such an honor."
At the end of a long April workday, Zaki is in her third-floor office of Hopkins Hall, an imposing, H. H. Richardson brick edifice that has been renovated into an open, light-filled administration building. In person, Zaki is soft-spoken and focused, serious but also at ease in conversation. As she considers the arc of a career that has led her to this moment, she speaks metaphorically about the importance of doors: those she has opened, those that have been opened for her, and the many new doors that being president of Bowdoin will allow her to open for others. "I am deeply committed to finding ways to continue to open doors for people," she says. "I wouldn't be where I am today if people hadn't done that for me." Most compellingly, she thinks about how opening those doors to students of promise can change the world.
She also points with gratitude at the battles that women in academia fought for many decades to pave the way for a woman to lead, as she has at Williams, and then to become president of Bowdoin. "And now I've got to do this in a way that makes good use of this opportunity," she says.
Global Citizen
If Zaki seems humbled by her success, she shouldn't be. She has worked hard for it her entire life. Born in Egypt, she is the youngest of four children in a family that believed strongly in education. Her father was a statistician by training and worked in operations research for the United Nations; her mother taught economics; both set a high bar for their children. "They had this kind of unfailing belief in who we could be," she says. As a UN family, the Zakis moved around. Zaki's earliest memories are of living in Jordan, then Egypt, Tanzania, and Trinidad and Tobago; later, her parents moved to Curaçao. "Growing up in different places, I watched my parents' openness to learning from new people and new customs," she says. "That openness was a core value they modeled for all four of us."
At sixteen, she landed a scholarship to attend American University in Cairo, where she began her studies with the intention of teaching at the university level. It was a path she had set as a young child. "I always knew I was going to be a professor," she says. "My father had been a professor at one point, and he talked about it with such admiration for the craft of teaching and researching that it felt to me like a very noble life goal."
As much as she admired her father, though, when she decided on an academic direction, she chose psychology. "We did a lot of math growing up. I mean a lot. So it was a little bit of a rebellion for me to choose psychology," she says. She laughs now at the irony, since her research in cognitive science is based on building computational models—all math.
"I am deeply committed to finding ways to continue to open doors for people. I wouldn't be where I am today if people hadn't done that for me."
She actually discovered the field of psychology as a teenager. At a house where she was babysitting, she found a psychology textbook, which she pored over every moment she could. "I'm fascinated by the human mind," she says. "That's the kind of psychologist I am. I study how the mind works."
After her undergraduate degree in Cairo, Zaki went on to graduate work at Arizona State University in psychology, in the subfield of cognitive science. In those pre-internet days, it was a formidable challenge for international students to navigate the application process and meet the deadlines despite unreliable mail and other logistical roadblocks. In the end, her adviser at American University eased the process by recommending her to a colleague at Arizona State. For Zaki, that was another door opened. (That colleague in Arizona, by the way, became her adviser and was among the colleagues who wrote to congratulate her on her Bowdoin appointment.)
She firmly established her scholarly career by landing a postdoc fellowship at Indiana University, which, as she says, has one of the best cognitive science programs in the country with a who's who of faculty. "Indiana University was like the golden ticket. I had access to some of the great minds in cognitive science," she says. "It changed my life."
"The wonderful thing about that postdoc was the time and space it gave me to work on research and publish my findings," she says. "I am so grateful for that opportunity."
Those years were also filled with family. In 1995, Zaki married Huff Templeton, a fellow graduate student at Arizona State. When the couple moved to Indiana the next year, he went to work for the university's Center for Entrepreneurship and Innovation and taught classes in the business school. During their five years there, they started a family and began juggling their schedules to care for their two children. Despite the brief six-week maternity leaves that were common at the time, Zaki looks back fondly on those days. "It was a good life for a young mother. I did some teaching, but most of my focus was research, which I did when the kids were sleeping. You know, programming late at night," she says.
How the Mind Works
Like much academic research, Zaki's work is complex, technical, and difficult for those outside her field to fully understand. In lay language, here is how she explains her area of focus: "In my field, we're trying to figure out how humans do this remarkably amazing thing, which is that when we look at the world, we know what it is we're looking at. We see a cup, we see a pen, we see a familiar face, and we know who or what we're looking at. That capacity is our ability to categorize. And humans do it so effortlessly that we think there's nothing to it. And so we think there's nothing to study. But, in fact, we are doing this remarkable feat. When you try to build machines that do what humans do so easily, we realize just how amazing our cognitive architecture is. And that's what I study."
Zaki creates computational models to test ideas about how that categorization happens and then builds models that mimic human cognition. "It sounds like artificial intelligence (AI), but that's not what I'm interested in. I'm interested in humans and what makes them tick." Over the years, she has studied the systems involved in memory, amnesia, Alzheimer's disease. "My research is about understanding which brain systems are responsible for categorization," she says. "It's about, what do these systems look like? How do they operate? What kinds of variables affect them?"
At Williams, at least until she became dean of faculty, she combined teaching with research, often collaborating with students in her Concepts and Categories Lab. "The best teaching I did in the lab was walking students through complicated, experimental design or going through their code. The best teaching I did in the classroom engaged with the research; some of the ideas generated there landed in my research," she says. In particular, she values the experience of teaching undergraduates. "There's something about that freshness of perspective that young minds have that I found really helpful in my research and teaching," she says. "I was teaching things at the forefront of my field, and students were part of the conversation." She hopes at some point during her presidency at Bowdoin, she'll be able to teach again.
Stepping into College Governance
It's only in the past three years that Zaki has been out of the classroom and working full time in college administration. Before that, she had served on or led numerous campus committees, including the committee that sets campus budget priorities. She helped the college steer its way through serious challenges, including the Great Recession and the pandemic.
Zaki soon found that working on a budget committee was like second nature to her. Her parents, it seems, regularly called meetings in which the entire family had a say in how the household money was spent. "My parents would say, this is how much we have as income, these are our expenditures and our priorities. I thought everyone did that as a family," she says with a laugh. "It was actually very good training."
Through that experience she has developed a leadership style that she describes as collaborative. "Leading isn't about deciding on a direction and getting everyone to go behind you. It's about forging a path together and finding ways to elevate people's strengths so that they can lean on those strengths. That's my philosophy," Zaki says. "You have to be open to changing your mind. I think that kind of leadership takes a particular kind of strength, and it's something I aspire to."
In particular, Zaki watched closely a few years ago as the new Williams College president Maud Mandel transitioned into the presidency there. "She has a way of being available and consulting and listening that I thought was inspiring," Zaki says.
When she was asked about leadership role models her list was long, but she summarizes it as a kind of personal philosophy. "Leaders are all around us. They're in different places in the organization, and I think you learn leadership skills from all of them," she says. "You've got leaders in dining services and leaders in classrooms and leaders among the students in your lab. Those are all people who have chosen to make a difference and take on additional responsibility. I have admiration for all of those people."
Perhaps her greatest inspiration came from her older brother, Sherif. He was a celebrated molecular pathologist for the Centers for Disease Control and Prevention, where his skill as a disease detective led him to identify sources of mysterious outbreaks, like those caused by the Zika virus and anthrax. When he died in an accident in 2021, Zaki was moved by the outpouring of grief and respect. "I realized how much impact he'd had on so many young scientists and colleagues, people he'd helped along the way, people he had opened doors for," she says. "I realized just how much I wanted to make a difference, to make sure that I lived my life in a way that felt meaningful."
"Leaders are all around us. They're in different places in the organization, and I think you learn leadership skills from all of them."
Welcome to Bowdoin
After President Clayton Rose announced last year that he would be stepping down at the end of this academic year, a presidential search committee set up listening sessions to find out what the Bowdoin community wanted in a new leader. Board of trustees chair Scott Perper '78 described it this way: "At the core we heard, 'The next president will be an innovative and collaborative leader whose values are aligned with a college that has an unwavering commitment to academic excellence, to the principles of diversity and inclusion, and to the common good.'" In introducing Zaki to Bowdoin on March 9, President Rose said, "Our search committee and our board have found exactly the right person to lead Bowdoin College into its next chapter."
As for Zaki, she describes "the honor and privilege of leading one of the world's most distinguished liberal arts colleges" as a "dream job." She, too, finds her values aligned with Bowdoin's. "Their actions reflect their commitments," she says, noting that the College's commitment to diversity is reflected in its allocation of resources for financial aid.
"I believe that talent is more widely and equitably distributed than access to top colleges," she says. "Bowdoin has done great work to make sure that the people who arrive are able to take part in the curriculum and the life of the College. But I suspect there's more work to be done."
Zaki is a champion of liberal arts colleges. She describes them as transformational places where students have the freedom and opportunity to stretch out and discover their calling whether in the classroom, on the playing fields or theater stages, or in casual conversations.
"If you think about the problems we face in today's society, from structural racism to climate change to how new AI technologies will change the world, you quickly realize that in order to tackle them, this next generation will have to come at them from different angles. These aren't just engineering problems; they're problems that intersect." If she were hiring at a company that was trying to address these problems, she says she'd look for someone with the kind of well-rounded education that Bowdoin provides. Zaki's own children are recent graduates of Williams and Middlebury, and both have gone on to jobs in software development.
As she thinks about how she'll begin her presidency this summer, Zaki says her first intention is to get to know both the College and the town, to meet many of the people who have sent her welcoming emails. And then she plans to listen. "I want to hear from individuals how they've been experiencing the institution, the challenges and opportunities," she says. "I think that's the right approach in the beginning. I think it's going to take a while until I fully have the sense of the people I'm leading."
As she and her husband settle into their new surroundings, Zaki hopes to find time to pursue her personal interests. She enjoys gardening, although she doesn't always succeed in the way she'd like. "Brunswick is in the same climate zone as Williamstown, so I'll be equally bad at it there," she says with a laugh. She is, however, an accomplished all-around cook and baker. Moroccan salmon, a recipe given to her by her sister, is one of her signature dishes. She also bakes her own pita bread and, as a result of having teenagers (and their friends) around, she says, "I've made a lot of pizzas in my life!" In Brunswick, Zaki hopes to gather friends and colleagues around her table. "I believe in the power of food and community," she says. "I do want to open our home and get to really meet people."
Any specific agenda for her presidency, then, beyond making sure the people around her feel respected and appreciated, will wait until she's gotten to know her new home. After all, that's how she was taught so long ago as her family moved from country to country.
"Each time we landed in a new place, the most important thing was to have an openness to the people we met, and an openness to their own traditions and ideas and issues," Zaki says. "And that's how I intend to begin."
---
Elise Gibson is a freelance writer in western Massachusetts and the former editor of the Smith Alumnae Quarterly.
Jessica Scranton is a photographer based in Boston. Find her work at jessicascranton.com.
---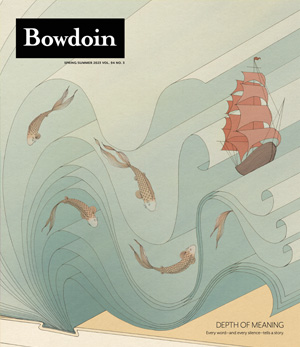 This story first appeared in the Spring/Summer 2023 issue of Bowdoin Magazine. Manage your subscription and see other stories from the magazine on the Bowdoin Magazine website.