Published May 07, 2023 by Rebecca Goldfine
Senior and Alumna Are JETting to Japan with Prestigious Program
JET works with fifty-five nations around the world, accepting qualified foreigners to work in schools, boards of education, and government offices throughout the country for one year. More than 90 percent of participants are hired to teach English to elementary, junior high, or high school students. 
Vyjayanthi Ratnam Selinger, Bowdoin's Stanley F. Druckenmiller Associate Professor of Asian Studies, said she's thrilled for both Berhanu and Wellschlager. She noted that Berhanu has been waiting a while to pursue her dream.
"She was selected once to JET, in 2020, and had to pass up on this opportunity because of the pandemic," Selinger said. "She's long wanted to work with youth in Japan." As a Mellon Mays undergraduate fellow at Bowdoin, and an Asian studies major and psychology minor, Berhanu researched mental health in Japanese pop culture.
"Bethany spent many years thinking about how to engage with youth, thus is admirably prepared for a teaching position," Selinger added. Since graduating, Berhanu has been working as a scholar coach with the Schuler Scholar Program in Chicago, tutoring high school students from underrepresented groups.
Wellschlager is an English major and education minor, with an interest in becoming a literature teacher. (Selinger noted that "he may as well be a comparative literature major given his interest in global literatures and in Japanese.")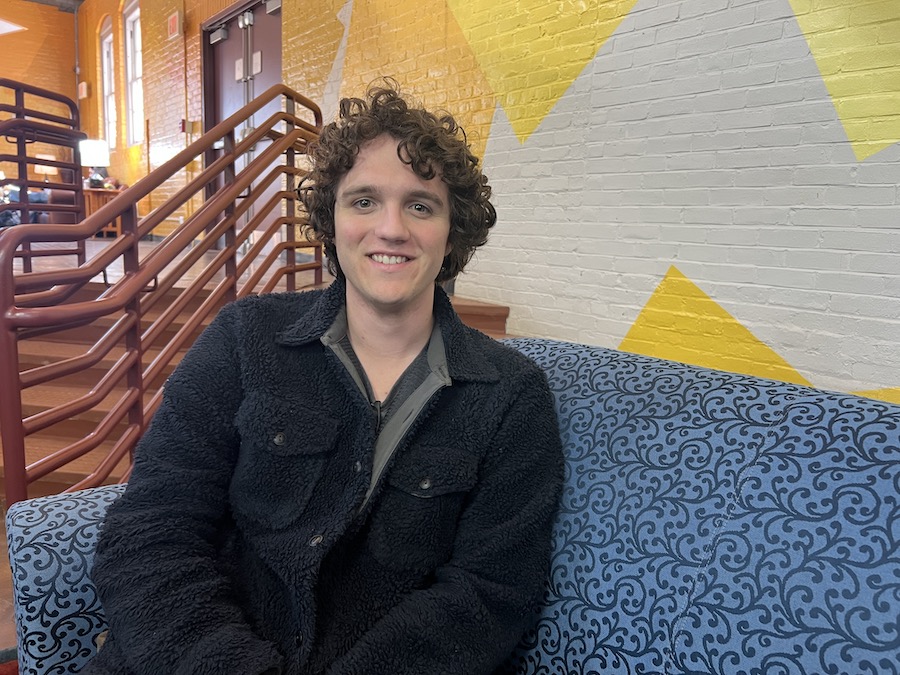 Growing up, Wellschlager's first exposure to Japan was through video games. In this way—and by watching videos of people playing the games—he absorbed the language, picking up words and phrases.
When he arrived at Bowdoin, he was matched with Hiroo Aridome, senior lecturer in Japanese language, as his first-year advisor. Aridome took Wellschlarger under his wing and brought him to the Japanese open house. There he met older students (including Berhanu) and realized he had found his place.
"It was the community and the people," he said. Though the Japanese department is relatively small at Bowdoin, it is tight-knit and supportive, with dedicated students and faculty.
Since his first days at Bowdoin, Wellschlager has progressed through all the Japanese classes, from beginner to advanced. The instructors make what could be a challenging language easy to learn, he added. "It's never hard or inaccessible because of how well Aridome-sensei, Morita-sensei, and Selinger-sensei scaffold the lessons." 
Over the past four years, he's regularly visited the weekly language table and been part of the active Japanese Student Association. "The community realizes that language learning always happens together, and at Bowdoin there's a real sense of being in it together and working through it together."
Wellschlager does not yet know where he will be placed or what his teaching job will be in Japan. But he's looking forward to having an experience overseas (he missed out on studying abroad as a junior because of COVID).
"I want to develop my language skills and get that immersive experience," he said. "I love languages, and I think it will be an awesome experience to gain a new perspective on English" as he teaches his own language to Japanese students.
Selinger noted that Wellschlager has already developed significant teaching skills, both as a Multilingual Mainers tutor of Japanese to elementary school students in Brunswick and as a tutor with Upward Bound at Bowdoin.
"He has been helping high school students discover their own passions and voices through his work with the Upward Bound program. I have no doubt Jack will do the same in Japan because of his genuine belief in every person's growth with daily incremental effort," Selinger said.
She added, "His future goal is to teach. I can't think of a more thoughtful teacher."