Published May 25, 2023 by Tom Porter
Pearl Harbor Victim and Bowdoin Alum to Be Laid to Rest in Maine
Stanley Willis Allen '39 was serving as a naval aviator on the USS Oklahoma when his life was tragically cut short on December 7, 1941.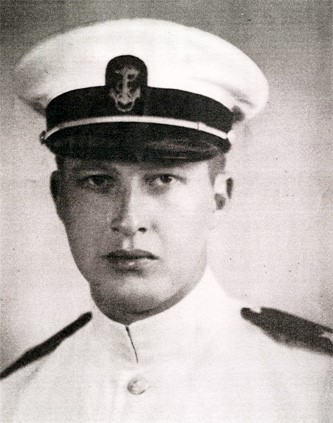 As was the case with most of the 429 men on the ship who were killed in the Japanese attack on Pearl Harbor, Allen's remains lay unidentified for nearly eight decades, buried as "unknowns" in a Honolulu cemetery. In June 2021, thanks to advances in forensic technology, the Defense POW/MIA Accounting Agency (DPAA) identified the remains of Ensign Allen, and he will soon be heading to his final resting place. The majority of his "unknown" shipmates have now also been identified.
A Maine native, Allen was born in 1916, and, according to an obituary published in The Portland Press Herald, was serving with the observation squadron on the Oklahoma when he was killed. He was awarded a Purple Heart for his bravery.
Allen, we are told, had "hoped to eventually have a career in the hotel restaurant service [and] spent seven summers working at the Bethel Inn, Bethel, Maine."
Before attending Bowdoin, he spent a year as a cadet at the United States Military Academy in West Point, NY. He enlisted in the US Naval Reserve in Boston in October 1940. Allen is survived by his closest living relative, his first cousin Beverly Prosser Gelwick of Harpswell.
Burial with full military honors will be held at the New Maine Veterans' Memorial Cemetery in Augusta, on Tuesday, July 18, at 1:00 p.m. Arrangements are by Stetson's Funeral Home in Brunswick, where condolences, memories, and photos may be shared.
Edward Burton, Bowdoin Class of 1991, is a historian with the DPAA, the federal agency that traces and recovers the remains of missing US personnel, such as Stanley Willis Allen, from past conflicts. Read this 2022 Bowdoin Magazine profile of Burton.