Published May 25, 2023 by Bowdoin News
Five Faculty Members Promoted to Full Professorships
Five faculty members have been promoted from the rank of associate to full professor based on their excellence in teaching, distinction in scholarly or artistic engagement, and service to the College. 
The appointments, which are effective July 1, 2023, were announced in a letter from President Clayton S. Rose sent to each of the professors at the recommendation of Senior Vice President and Dean for Academic Affairs Jennifer Scanlon following reviews in their respective departments and by the Committee on Appointments, Promotion, and Tenure.
"I'm delighted to recognize these five faculty members, each of whom is so talented in their respective field of study and equally dedicated to sharing that work with their students," said Dean Scanlon. "Promotion to full professor highlights their individual commitments and the invaluable contributions they make to the College and the Bowdoin community."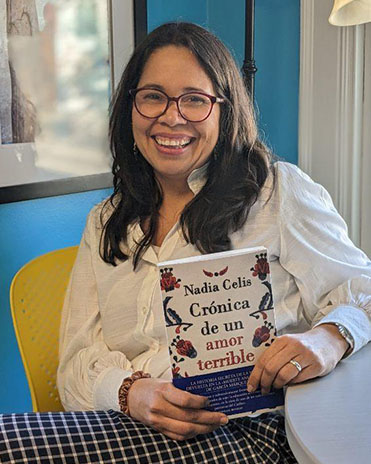 Professor of Romance Languages and Literatures and Latin American, Caribbean, and Latinx Studies Nadia Celis
Nadia Celis's research focuses on Caribbean literature and culture, with an emphasis on gender and intimacy. Her latest book,
Crónica de un amor terrible. La historia secreta de la novia devuelta en la muerte anunciada de García Márquez
(Penguin Random House, 2023), tells the story of the real woman behind the female protagonist of Marquez's novel 
Chronicle of A Death Foretold.
 Celis is currently working on another book about Márquez, on whom she has published numerous articles in academic journals, magazines, newspapers, and other media. Her article "Entre el 'crimen atroz' y el 'amor terrible': Poder y violencia en 
Crónica de una muerte anunciada
 de Gabriel García Márquez" won the 2018 Victoria Urbano Award for best critical essay from the Asociación de Estudios de Género y Sexualidades AEGS. Celis's first book,
La rebelión de las niñas: El Caribe y la "conciencia corporal,"
won the 2016–2017 Nicolás Guillén Award for outstanding book in philosophical literature from the Caribbean Philosophical Association. She is also coeditor of the 2011 
Mayra Santos-Febres y el Caribe contemporáneo
. Her articles and chapters on Caribbean women writers have been published in a variety of academic journals, including 
Latin American Literature Today, Revista de estudios colombianos and Revista Iberoamericana.
Celis earned a BA in 2000 in linguistics and literature from the Universidad de Cartagena, Colombia, and her MA and PhD in Spanish from Rutgers University in 2007. That same year, she joined Bowdoin's faculty as assistant professor of Romance languages and literatures. She was promoted to associate professor in 2014 and assumed a joint professorship in the Department of Romance Languages and Literatures and the Latin American, Caribbean, and Latinx Studies Program in 2020.
"In my latest book, 
Chronicle of a Terrible Love
, I made the transition from a purely academic writing into creative nonfiction," she said. "The reception has been great, and I have truly loved expanding the conversation about my feminist concerns with power, love, and violence to a wider audience. This move has consolidated my commitment to public humanities, and it is also influencing my teaching."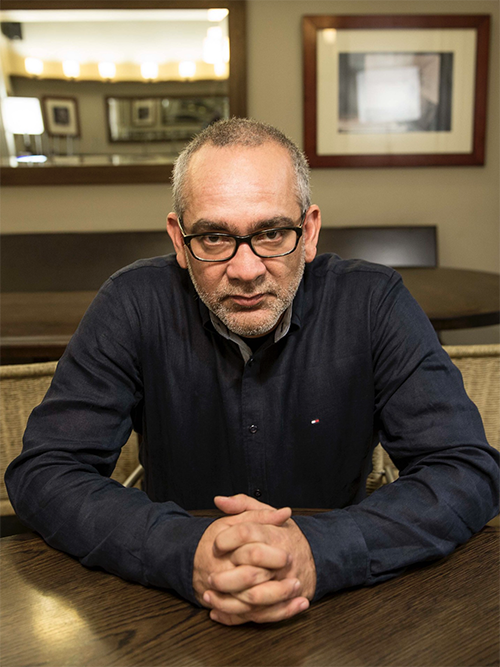 Professor of Romance Languages and Literatures Gustavo Faverón Patriau

Latin American novelist, scholar, and journalist Gustavo Faverón Patriau arrived at Bowdoin in 2005. He is the author of two novels,

 

Vivir Abajo, which was recently listed by the influential Mexican journal Letras Libres among the most relevant Latin American books of the twenty-first century and ranked among the best Peruvian novels of the last seventy years by Peruvian newspaper

 

El Comercio,

 

and

 

The Antiquarian,

 

which will soon add Russian to its long list of translated languages.

 

His forthcoming novel, Minimosca, will be published simultaneously in Spain and Latin America in 2024.

 

Faverón

 

has also written three scholarly books,

 

Rebeldes,

 

Contra la Alegoría, and

 

El Orden del Aleph,

 

the second edition of which will be presented at book fairs in Madrid, Gijon, and Barcelona this summer.

 

He has also written

 

a volume of his selected work as a journalist,

 

Puente Aéreo,

 

and edited

 

Bolaño Salvaje

 

and

 

Toda la Sangre: Cuentos Peruanos de la Violencia Política. Much of his work has been translated into other languages,

 

including Arabic, English,

 

French, German,

 

Italian, Japanese, Mandarin, and Turkish. His

 

academic work focuses on the limits of visual and linguistic representation, the representation of mental illness, and the work of Jorge Luis Borges
. 
Faverón

 
earned his BA at Pontificia Universidad Católica del Perú and his MA and PhD at Cornell University. 


"All the books—the novels and essays—that I´ve written since I started teaching at Bowdoin have been inspired by the courses I have taught here and by conversations I´ve had with my students, in courses and independent studies," said

 

Faverón. "I still get emails from former students who want to continue those conversations, five, ten, fifteen years after they graduated. In time, I´ve come to realize that the teaching-learning experience can be naturally inspiring both ways: Teaching is learning too, and the more you understand it, the better and happier you get at doing your job."
Professor of History Page Herrlinger
History scholar Page Herrlinger arrived at Bowdoin in the fall of 1998, having earned a bachelor's degree at Yale University and a master's and doctorate at the University of California–Berkeley. A Russia specialist, Herrlinger researches the diverse and evolving ways that individuals in modern Russia have understood the role of God and faith in their lives and communities, and how their beliefs gave them a framework for acting, understanding change, and structuring society. Her recently completed book, Holy Sobriety in Modern Russia: A Faith Healer and His Followers (Cornell University Press, 2023), scheduled to be released August 15, tells the story of the grassroots spiritual movement associated with the charismatic lay preacher and healer known as "Brother Ioann" Churikov (1861–1933) and the community's resilience in the face of persecution under both Russian Orthodox and socialist rule. Herrlinger's scholarship has been supported by the National Endowment for the Humanities (NEH), the American Philosophical Society, and Bowdoin faculty research grants. A Bowdoin teaching fellow in the 2019–2020 academic year, Herrlinger has served twice as project codirector in recent years, with Research Associate in Art History Natasha Goldman, for an NEH summer seminar, "Teaching the Holocaust through Visual Culture," for middle and high school teachers. For this past year Herrlinger has been on sabbatical—a highlight of which, she says, was a month-long trip through the Balkans—with the support of a course development grant from Bowdoin.

"As a historian of modern Russia and Europe, I cover a lot of disturbing subjects in my classes, including the unprecedented violence associated with the World Wars, Stalinism, the rise of fascism, and the Holocaust," said Herrlinger. "As demoralizing as this work can be, engaging deeply with the dark legacies of twentieth-century Europe serves for me and my students as a powerful reminder of the need for institutions that actively promote tolerance, respect, diversity, and equity."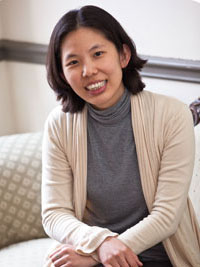 Professor of Asian Studies and English Belinda Kong
Belinda Kong's teaching and research focus on contemporary literature by Asian American and Asian diaspora writers. She earned her PhD and MA in English language and literature at the University of Michigan, and her BA in English and philosophy at the College of William and Mary. Joining Bowdoin's faculty in 2005 as assistant professor, she was appointed associate professor in 2012, and became the John F. and Dorothy H. Magee Associate Professor of Asian Studies and English in 2017. Kong's latest book, SARS Stories: Affect and Archive of the 2003 Pandemic (Duke University Press), which "examines Sinophone cultural materials and perspectives" about the SARS pandemic, "particularly those arising from epidemic epicenters in mainland China and Hong Kong during the outbreak period," is to come out next year. Her first book, Tiananmen Fictions Outside the Square: The Chinese Literary Diaspora and the Politics of Global Culture (Temple University Press, 2012), is being translated into Russian. Kong has also published many articles in scholarly journals and in books, including in Modern Chinese Literature and Culture and The Oxford Encyclopedia of Asian American Literature and Culture. This semester, she taught "Asian Dystopias" and co-taught "Asian America and Empire: History, Society, and Literature" with professors Connie Chiang and Nancy Riley. In the past Kong has taught "Asian America's Margins," "Asian American Literature," "Global Asian Fantasy Fiction," "New Fictions of Asian America," and "Imagined Asias."

Kong recently reflected on how the pandemic has affected her work. It "has taught me to adopt a more human-oriented and reparative approach to both my research and teaching, to think of what I do as something that touches real people with complex experiences, stories, and feelings," she said. "My hope is that my work will continue to create spaces of belonging for and return dignity to those who have historically been marginalized, especially Asians in western diasporas."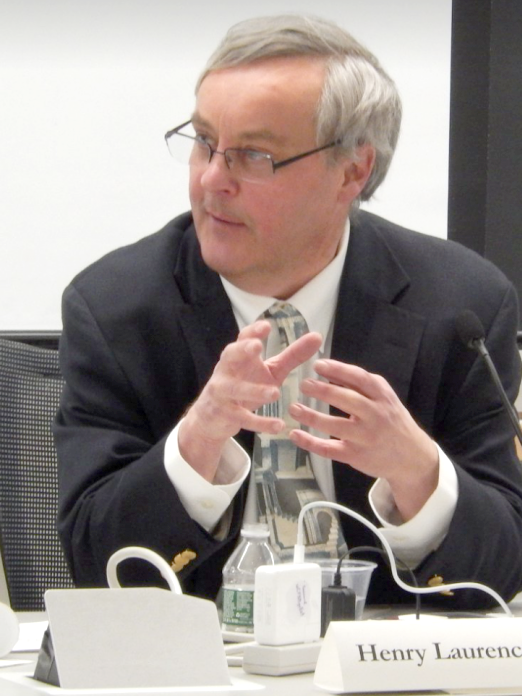 Professor of Government and Asian Studies Henry C. W. Laurence
Political scientist Henry Laurence joined the Bowdoin faculty in 1997 and teaches classes on Japanese and British politics. Laurence's research and teaching interests are broadly concerned with the interplay of governments and markets, and he has written and spoken on subjects ranging from censorship to Brexit, the monarchy, and the political economy of Pokémon Go. His teaching includes broad surveys of comparative politics and media politics, notably in Britain, Japan, and the US, as well as seminars on political economy including "Governments, Markets and Morals." His most recent book is The Politics of Public Broadcasting in Britain and Japan: The BBC and NHK Compared (Routledge, 2023), and he is also the author of Money Rules: the New Politics of Finance in Britain and Japan (Cornell University Press, 2001). Laurence earned his bachelor's degree at Oxford University's Oriel College in 1985. He worked in investment banking and took a one-year course on contemporary Japan for business professionals at London University's Imperial College before heading to Harvard University, where he earned his doctorate. Laurence was an advanced research fellow at Harvard's Program on US-Japan Relations in 1996–1997 and has continued his affiliation, presenting "Public Broadcasting in the Age of Fake News: Will NHK, NPR or the BBC Save Democracy" in 2018. He was also a visiting research fellow at the University of Tokyo's Institute for Social Sciences in 2000–2001. Laurence has also twice been a research associate at the Nissan Institute for Japanese Studies, St. Antony's College, at Oxford (2007–2008 and 2016–2017) and served on the editorial advisory board of the Journal of Digital Media and Policy. In July 2023, as well as becoming a full professor, Laurence assumes the chair of the department of government and legal studies.

"I'm honored by this promotion and regard myself as very fortunate to be doing the job I love with such wonderful students and colleagues," said Laurence. "My research explores how media organizations can either sustain or undermine democratic values, so it couldn't be more timely."