Dangerous, Difficult, and Now Nearly Impossible: Independent Journalism in Russia
By Tom Porter
Reporting from Russia was difficult enough before the recent arrest and detention of Evan Gershkovich '14, said Daisy Sindelar. Now it's harder than ever.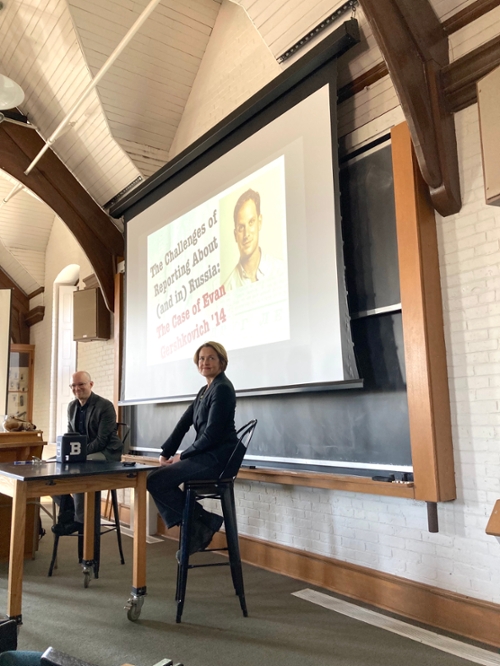 Sindelar was until last September vice president and editor in chief at Radio Free Europe/Radio Liberty (RFE/RL), one of the largest global news organizations working on the ground in repressive reporting environments. She has decades of experience covering Russia and Eastern Europe, both as a correspondent and as an editor.
"He is exactly the type of journalist you want on the ground in Russia," she said of Gershkovich. "Russia needs so much explaining, and he has compassion, empathy, and a love of the culture. Storytelling needs to be told from the ground," emphasized Sindelar, who in addition to her twenty-one years with RFE/RL also served as director of Current Time, an independent Russian-language television and digital news channel, managing editor of The Moscow Times, and editor in chief of its sister publication, The St. Petersburg Times.
Sindelar was speaking to members of the Bowdoin community on a recent campus visit to discuss the challenges of reporting from, and about, Russia, particularly in light of the arrest of Gershkovich, who currently sits in a Moscow jail facing espionage charges—a case that is widely regarded as part of a crackdown by the Kremlin on press freedom.
It's a crackdown that has been underway for years under Vladimir Putin, said Sindelar, as both foreign and independent Russian journalists have faced increasing intimidation through criminal charges, "foreign agent" laws, and even violence. This trend has worsened since Moscow's invasion of Ukraine in 2022, depriving Russian audiences of their right to be informed and Western audiences of access to the sort of nuanced, ground-level reporting that's needed to understand the situation.
Gershkovich's reporting on the war would not have pleased the Kremlin, she said. As an example, she referred to a portrait of Putin and his inner circle, "detailing the layers of de-sanitizing that information from the front line in Ukraine must go through before it reaches Putin's desk." It did not paint the Russian leader in a flattering light, she added.
Life under Putin has been hardest for independent Russian journalists, most of whom have now left the country and are operating in places like Latvia, Germany, and the Czech Republic. "They can be targeted in a number of ways if they fall foul of the Kremlin," explained Sindelar, and can find themselves charged with criminal acts like working for a foreign agent.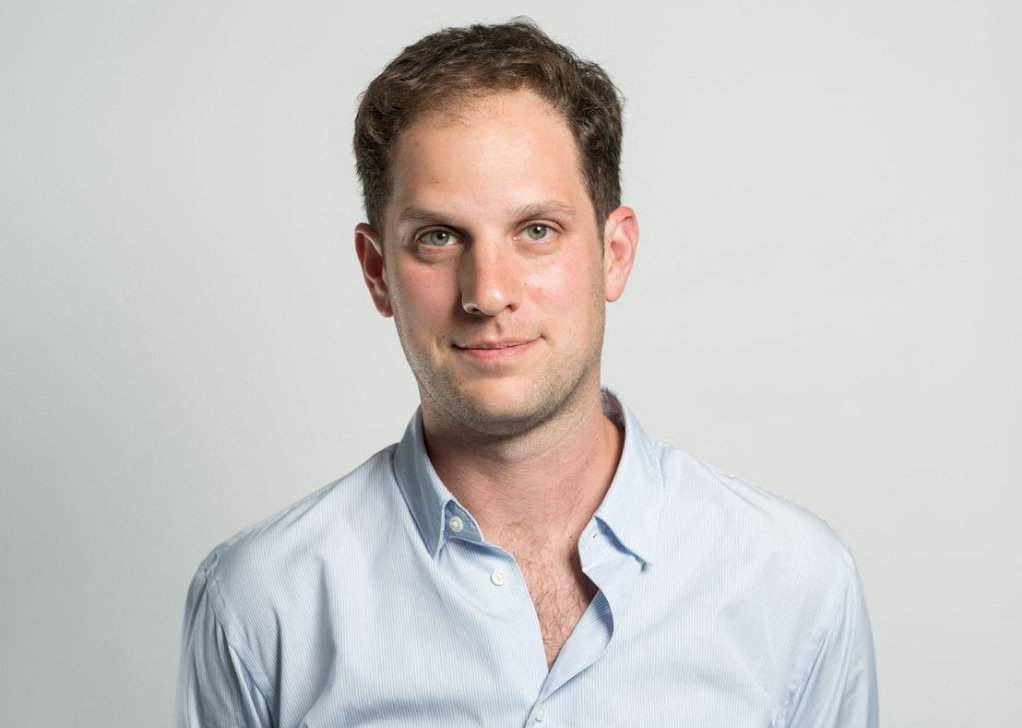 Gershkovich's arrest has caused even more journalists to leave Russia, including foreign ones, said Sindelar, who pointed out that RFE/RL recently moved most of its Russian bureau to Riga, Latvia. This has effectively given more of a free hand to state-controlled Russian media outlets. "It's Putin's dream scenario," she added. Independent journalism inside Russia is now almost impossible, explained Sindelar. "Talking to people in the street is risky but pretty much the only way of trying to find out what people think. However, don't identify yourself as a journalist. Just say you're a blogger."
While the independent media must continue their efforts to report the truth about Russia, Sindelar also had a word of warning regarding the way in which this reporting is done: "It's not easy to admit this out loud, but we need to meet Russians where they want to be met. Humiliating them is not the thing to do. We should stay engaged and try to find bridges of communication."
Sindelar's discussion was moderated by Senior Lecturer in Russian Reed Johnson. "We were fortunate to have Daisy Sindelar come and provide a broader context for Evan Gershkovich's arrest," he said. "As someone with three decades of experience in the region, she has been a longtime observer of larger processes around press freedom and the difficult, even dangerous, work that reporters have been doing to bring us accurate information from repressive societies."
The event was sponsored by the Department of Russian, with the generous support of a loyal Bowdoin family.
Published May 03, 2023