Published May 17, 2023 by Bowdoin
Bowdoin Rowing Wins a Boatload of Medals at Top Regatta
Bowdoin's rowing teams pulled off an extraordinary weekend of racing at the 84th Annual Dad Vail Regatta, winning gold, silver, and bronze medals.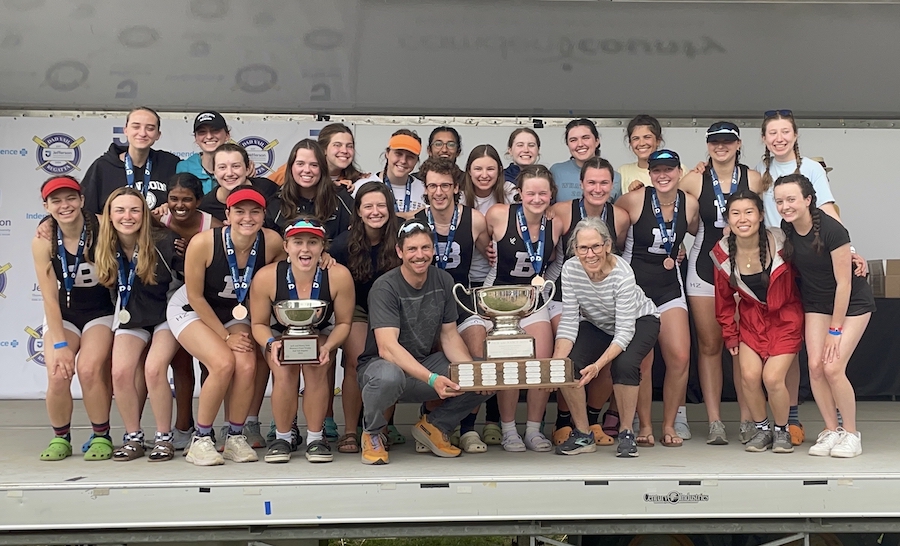 Over 270 teams from colleges and universities across the US and Canada competed in the event, which took place on the Cooper River in Pennsauken, New Jersey, May 12-13. The Dad Vail is one of the largest collegiate regattas in the United States.

Bowdoin entered six events and won medals in five of them—"a showing that highlighted the strength and depth of the Polar Bears," Head Coach Doug Welling and Assistant Coach Ry Hills said in a statement.
The weekend culminated with the women's teams tying MIT for overall points, beating Georgetown University and Boston University, which tied for second. This is the first time the Bowdoin team has won the Jack and Nancy Seitz Women's Points Trophy.
"The strong and consistent effort of every member of the Bowdoin rowing team contributed to making these championship crews go fast," the coaches added. It's a "remarkable accomplishment for the Bowdoin rowing program. It is also a testament to the teams' support, work ethic, dedication, and drive."
Both eight-member and four-member crews, plus their coxswain, raced. In the novice women's eight race—in which all crew members are in their first year of collegiate rowing—Bowdoin sprinted to a gold medal with a time of 7:06.802, which would have earned them fifth place in the varsity event. They came from behind to fight off strong crews from Army, Pittsburgh, and Georgia Tech.
The men's varsity four race was one of the largest events, with twenty-seven competitors. Following a strong time trial and semi-final, the Polar Bears finished second in the grand final, one second behind Fairfield University and ahead of Lafayette, Embry Riddle, Loyola-Maryland, and Drexel.

The Bowdoin men's varsity eight crew started the day of finals racing with a hard-fought third-place finish in the third final, behind University of Delaware and just a hair (2/100 of a second) behind the Army's crew, and ahead of Georgia Tech, Villanova, and Franklin & Marshall.

The men's novice four team found new speed in every outing, racing to a bronze medal in a field of twenty-six entries. In their grand final, they finished third behind Western Ontario University and Rollins College, and ahead of Colgate, Lafayette, and Marietta.

Bowdoin's women's collegiate junior varsity four crew threw down a strong sprint in the last five-hundred meters to earn a bronze medal behind Lafayette and MIT. Their field of thirteen boats included Iona, Thomas Jefferson, and University of Vermont.

Finally, the Bowdoin women's varsity eight competed against ten crews in the open (D1) category. They closed out two days of competitive racing with a bronze medal finish in the grand final, stopping the clock at 6:56.937. Boston University and Georgetown took the top slots, with Western Ontario, University of Vermont, and Iona trailing.

This coming weekend, Bowdoin rowing will travel to Oak Ridge, Tennessee, for the American Collegiate Rowing Association National Championships. They will be racing the men's and women's varsity eights, men's varsity four, and women's novice eight.