Published April 12, 2023 by Tom Porter
Sportscaster Dale Arnold '79, P'07 Hangs Up His Microphone
After more than forty years behind the microphone, twenty-four of them reporting on Bruins games for NESN, legendary broadcaster Dale Arnold '79, P'07 is calling it quits.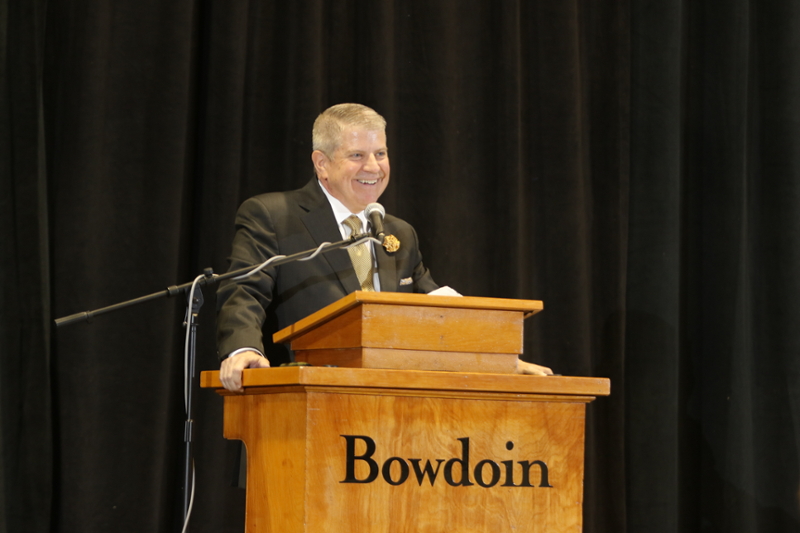 He announced his retirement during the Bruins' final regular season home game on April 11. The team paid a video tribute to Arnold, which included shout-outs from hockey greats Cam Neely, Patrice Bergeron, Ray Bourque, Don Sweeney, Charlie Jacobs, and Gord Kluzak.
Arnold's broadcasting career took off directly after he graduated from Bowdoin, according to a report published in The Boston Globe and on the news site boston.com. He began as the radio voice of the AHL's Maine Mariners in 1979, before moving on to the New Jersey Devils in 1986 and then returning to New England in 1988.
"A versatile broadcaster, Arnold is the only person to have called play-by-play for five Boston professional teams (Red Sox, Patriots, Celtics, Bruins, and Revolution)," said the report. "He also called collegiate events like Boston College football and Hockey East competition."
"I majored in psychology at Bowdoin, because I wanted a backup plan," Arnold said on the NESN broadcast. "But I knew the only thing I ever wanted to do was work Boston Bruins games on radio or TV. But the chances of a kid from a small town in Maine getting one of those jobs were pretty slim. Guess what? Whatever you want most wants you—and it worked."