Published April 21, 2023 by Rebecca Goldfine
Dedication of New Barry Mills Hall Offers Opportunity to Honor Fourteenth President, Barry Mills
Hundreds of people—including many friends and family of Barry Mills—gathered in the new event space in Barry Mills Hall on April 20 to celebrate the opening of Bowdoin's newest academic building.
Guests included Barry's wife, Karen Gordon Mills, sons George and Henry, his brother and sister-in-law, David and Nancy Mills, and his sister-in-law Virginia Gordon. His oldest son, Will, and other loved ones watched the ceremony via livestream.
Bowdoin's thirteenth president, Robert H. Edwards, and his wife, Blythe Bickel Edwards, joined the celebration, along with several former board chairs and many current and emeriti trustees. The crowd was rounded out with alumni, students, faculty, and staff—most with a personal connection to the previous president.
President Clayton Rose, who was first to speak, remarked that while it was exciting to announce the completion of Barry Mills Hall, the occasion provided a much more significant opportunity to recognize Mills and all he has done for the College. 
"The years of Barry's presidency were some of the most transformative in our history," Rose said. Mills served as Bowdoin's president from 2001 to 2015. "It is almost impossible to measure the impact of his fourteen years, but I will try by touching on a few highlights."
Rose began by noting the tremendous impact Mills has had on many individuals: "Barry changed thousands of lives and the trajectory of the College by improving access to a Bowdoin education and expanding racial and economic diversity among students."
Other accolades:
During Mills's tenure, students receiving financial aid grew by 25 percent, and in 2008, amid a national financial crisis, the College replaced all student loans with grants.
Students of color more than doubled, from 13 to 30 percent.
Applications grew 66 percent, from 4,172 to 6,935.
The liberal arts curriculum was redefined for the twenty-first century, including launching the Digital and Computational Studies Program, which will be housed in Barry Mills Hall. 
The endowment more than tripled, from $433.2 million to $1.39 billion.
Nearly fifty capital improvement projects were completed on campus.
Rose ended his tribute by expressing the gratitude many feel for Mills. "Thank you for your wisdom, your vision, your courage, your strength, your care, your compassion. Thank you for a lifetime of leadership and service that has transformed Bowdoin College," he said.
In his remarks, Scott Perper '78, chair of the board of trustees, used the opportunity to remind the assembled guests about two Bowdoin graduates in the news—Evan Gershkovich '14, the Wall Street Journal reporter wrongfully imprisoned in Russia, and Justin Pearson '17, who was expelled from the Tennessee General Assembly and later reinstated.
"They came to Bowdoin while Barry was president to continue their personal journey, to think critically, to hone clear communication skills, to chase and do the right thing, and to work for the common good," said Perper. "We and the world are seeing the power of their work, of their individual strength, and what was shaped because of the culture Barry's important leadership created here at Bowdoin. I hope as the years go by...that this building will be a place where young people will continue their development to be brave, to work hard, [and] to make a difference in this world."
When Mills stepped to the lecturn, he spent a few minutes acknowledging the contributions of the president who preceded him and the one who followed him.
"When Bob Edwards came to Bowdoin in 1990, he realized this place needed to have ambition and energy, and he moved the place forward," Mills said. "The changes that occurred during his presidency were transformational for the College and really positioned Bowdoin for the twenty-first century."
He next turned his attention to Rose, admiring how he had led Bowdoin safely through the pandemic. He also praised his commitment to ensuring the College is "a place that works for all students and faculty, regardless of where you come from."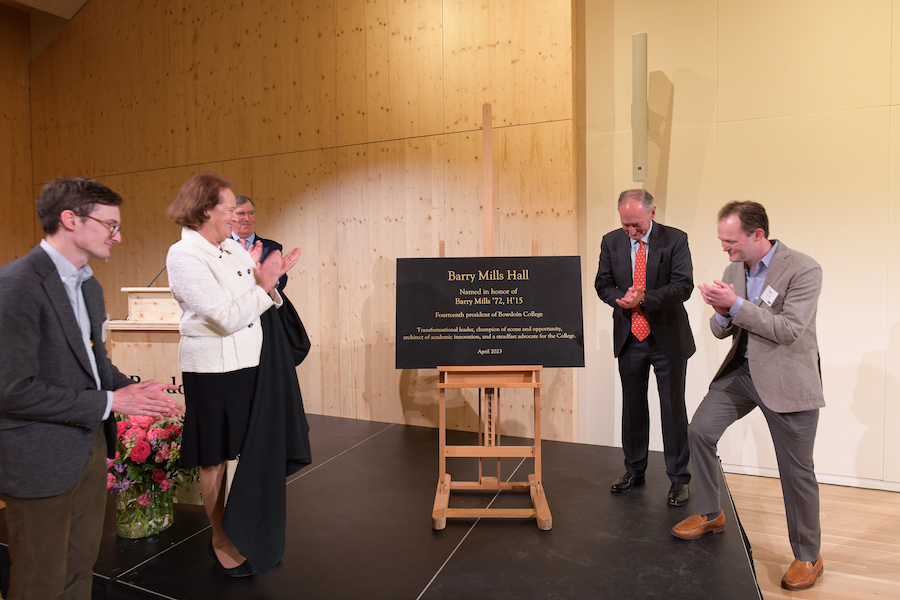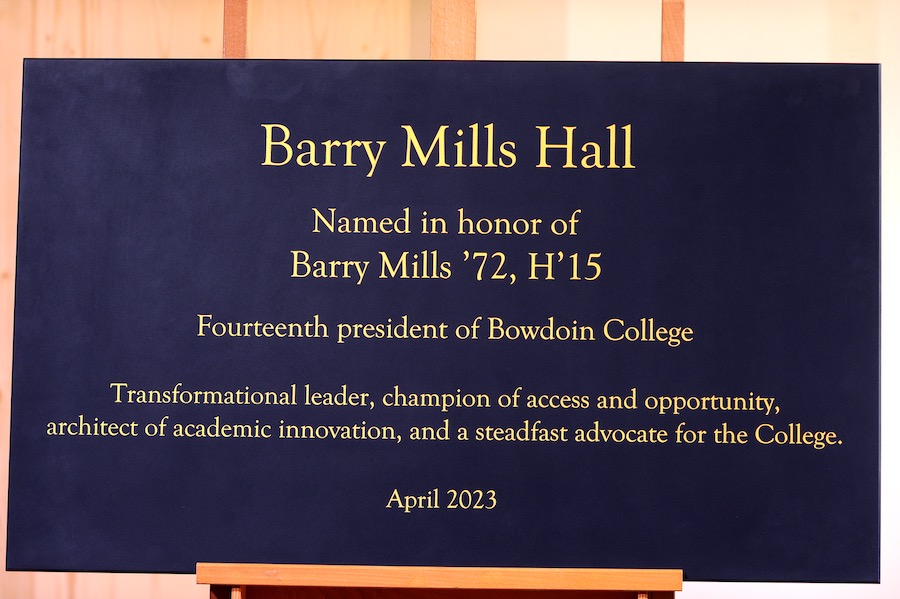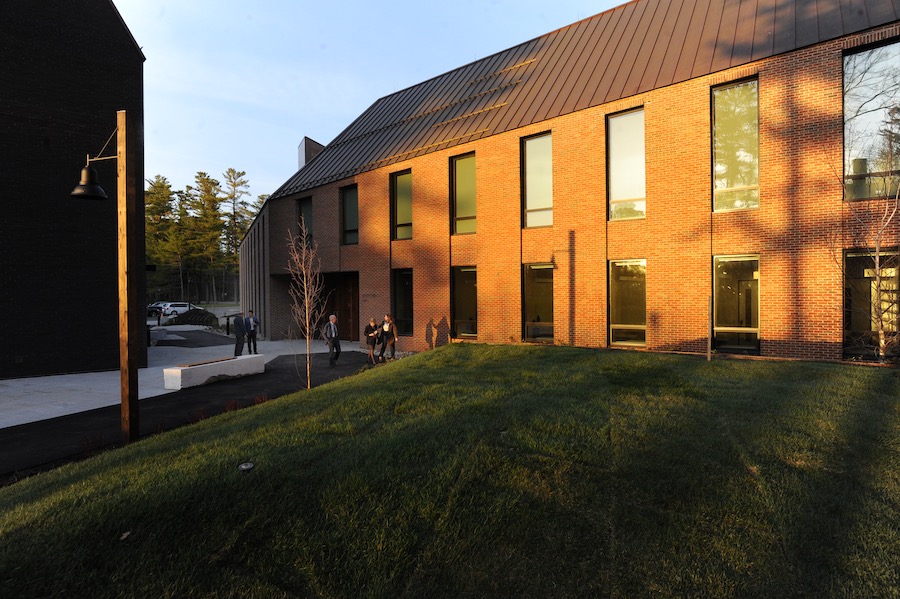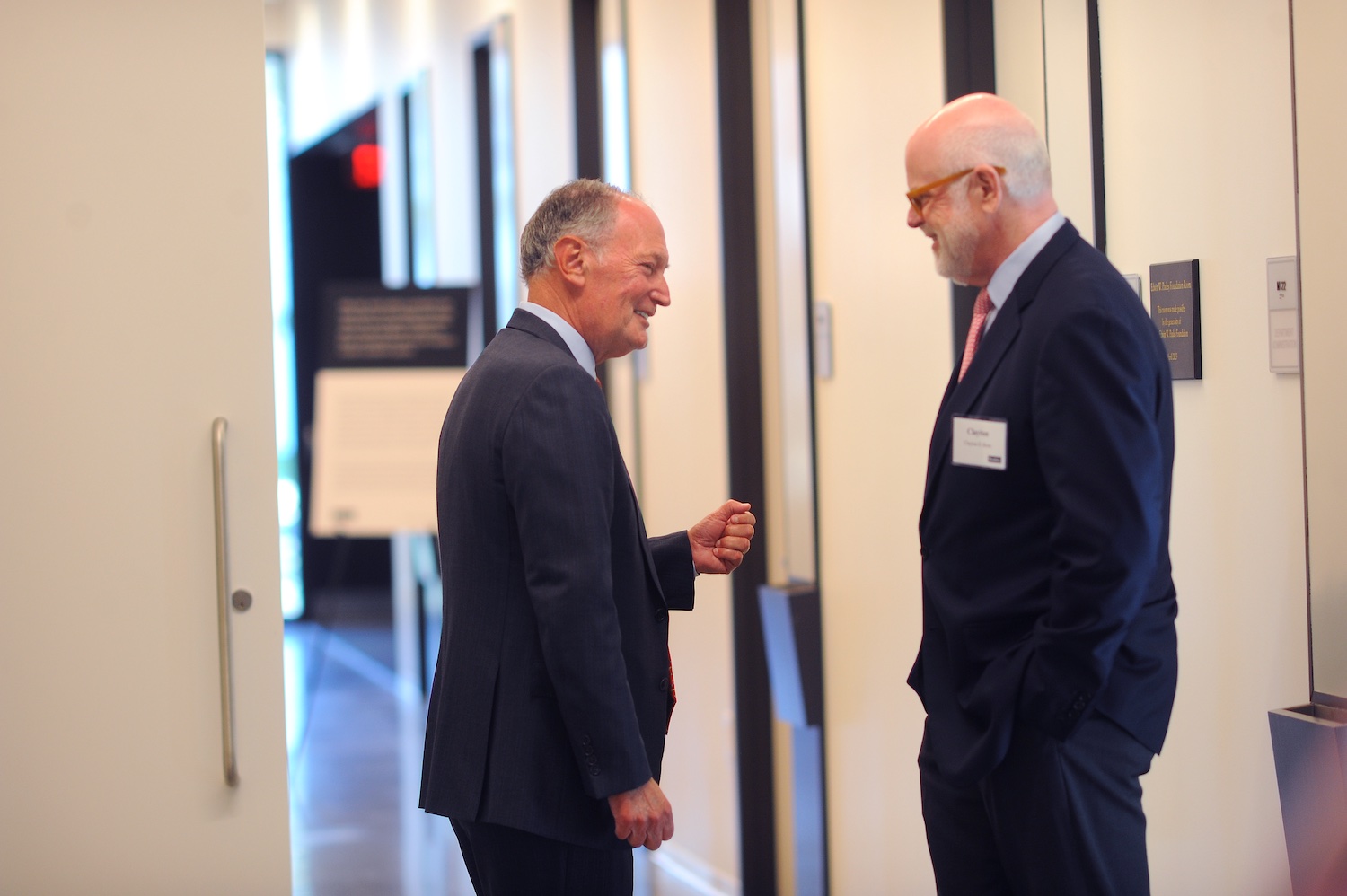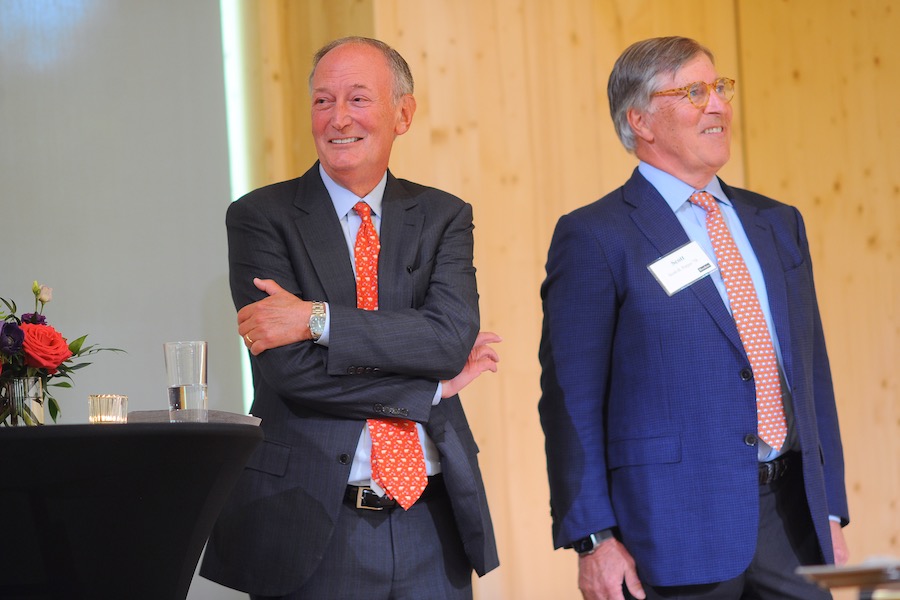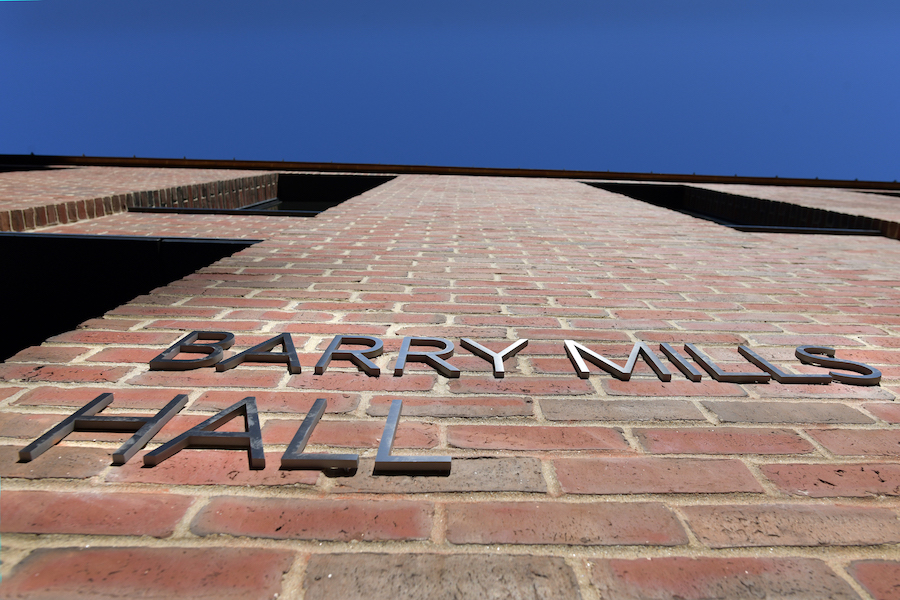 Mills also recognized Rose's push to cultivate a college culture that engages with and challenges many different ideas and issues. "This is vitally important to the future of higher education and to the liberal arts," Mills said. "Clayton identified this early on and had the courage to stand up and say it."
Mills then mused about the new building, saying it represents ingenuity, innovation, risk-taking, and sustainability—"That is what this building is about and that is what the College is about."
But what is more impressive than a new building, he continued, is what happens inside it. "Faculty here do incredible work with our students," he said. "These are people devoted to our students and to their research. Providing them the ability to work in these kinds of spaces only guarantees that those folks will continue to do important work."
While teaching and learning comprise the fundamental mission of the College, Mills noted another attribute he thought particularly pronounced at Bowdoin. "Bowdoin is in many ways very, very special. This is a place where we believe in the enduring value of friendships...and understand the importance of being connected and staying connected and supporting each other."
"When I think about this building, it has all the components of what this college is about: teaching and learning and the importance of personal connections," he said. "So I couldn't be more proud. Thank you for this very special honor."
Barry Mills Hall
In his remarks, Rose thanked the architecture firm, HGA, which designed the groundbreaking Mills Hall, and the contractor, Consigli Construction Co. The new structure is made with cross-laminated mass timber (CLT), which has a lower carbon footprint—and a higher strength-to-weight ratio—than steel. As a new building material, it is generating excitement in Maine for its potential to revitalize the state's forest industry. 
"This is one of the first buildings in the country to use CLT," Rose said. "It is the future, and I hope you agree it is beautiful."
The hall, which will house the Digital and Computational Studies Program and the Anthropology department, has technology-friendly classrooms, a state-of-the-art cinema studies classroom, offices, and study spots. It also includes a large event and catering space that can seat three hundred people. 
Rose thanked the two college committees that helped envision and oversee the multiyear project. He gave a special shout-out to A. LeRoy Greason Professor of Art Mark Wethli, who has been involved in every facility project since 1992, including the latest campus projects—Barry Mills Hall and the John and Lile Gibbons Center for Arctic Studies, which will open in a few weeks. Wethli will be retiring this year after teaching at Bowdoin for thirty-eight years.
"We will miss your eye, your aesthetic sense, your sense of how the campus fits together, and your good judgment," Rose said. 
He also thanked Matt Orlando, senior vice president of finance and administration, who helped shepherd the project. And he shared his appreciation for several generous donors who made the building possible, including Stan Druckenmiller, trustee Karen Walker, David Baxter '59, Barney Osher '48, H'00, and Kevin Hillyer P'25, through the Edwin W. Pauley Foundation.
Photos by Fred Field