Crayfish Explored: Bowdoin Senior Publishes Ecology Research in Academic Journal
By Tom Porter
The ecological behavior of crayfish may sound like a very specific field of study, but it has important wider implications regarding the ways climate change could impact the environment, said Sophia Adami-Sampson '23.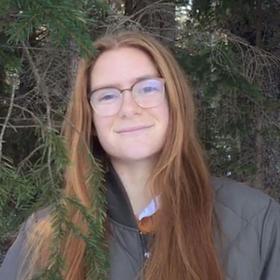 Her research, recently published in the Journal of Freshwater Ecology, looks at how invasive and native crayfish compete with one another for food and shelter by analyzing a body of water in northern Michigan. The nonnative, invasive crayfish she encountered there were most likely introduced into the ecosystem by fishermen who used them as baitfish, said Adami-Simpson.
"Crayfish are very aggressive as an invasive species because they are what we call 'ecosystem engineers,' meaning they can come into an environment and have a huge effect on all the other fish and aquatic plants, as well as insects," she explained.
"Crayfish often live in streams with moving water, what we call 'flow regimes,'" she continued, "and we found that the invasive ones are most successful in competing, feeding, and sheltering when the regimes are at the most extreme low flows and the most extreme high flows. This makes us think that going forward the invasive crayfish will be more dominant because we're expecting more frequent extremes of high and low flows due to the impact of climate change."
This type of behavior, she said, is likely to increase the frequency of what scientists called "trophic level cascades," when entire ecosystems can be thrown off balance as one predator becomes too powerful. Furthermore, she added, climate change is expected to exacerbate this trend as warming temperatures cause the northward movement of many species, including the invasive rusty crayfish Adami-Sampson has been examining. The outlook is not entirely bleak, however, she explained, as efforts are underway to remove some of these invasive species, and native populations are typically able to rebound.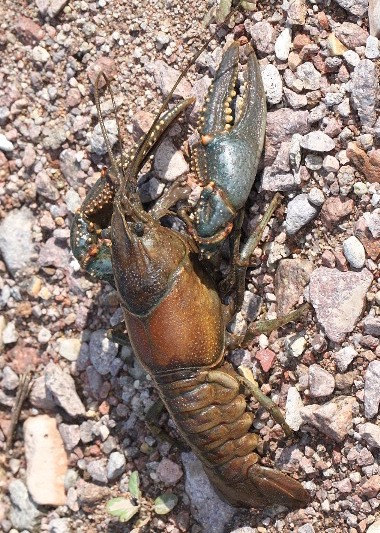 Her study was based on research she originally carried out during a marine science semester at Bowdoin's Schiller Coastal Studies Center in 2021. "The work I did there gave me the experience necessary to be accepted into an REU program at the University of Michigan last summer," she added. REU, which stands for research experience for undergraduates, is an NSF-funded initiative enabling students to pursue competitive summer research projects in science, engineering, or math.
Adami-Sampson also has another paper due to be published, based on some pioneering research she has done into microplastic concentration in Maine coastal waters. She authored a study that was the first to identify the level of microplastics found in farmed oysters in Casco Bay. That particular paper will be posted in the Marine Pollution Bulletin, she said.
"To have one paper published already and another in the works is definitely exciting and good for the résumé," said Adami-Sampson, who is a Bowdoin Outing Club leader as well as being a keen actor and director with the student Masque and Gown theater company.
"Sophia is an excellent scientist and researcher," said Katie DuBois '11, Bowdoin's Doherty Marine Biology Postdoctoral Scholar and Adami-Sampson's faculty mentor. "It is a major accomplishment to publish a study in a scientific journal, especially as an undergraduate student. I'm excited to see where Sophia's passion for the natural world and ecological conservation takes her next."
Adami-Sampson does not know yet whether she will attend grad school next year, but it's definitely on her radar. "Either way," she said, "I would probably like to pursue a career in conservation biology."
Published April 24, 2023