Published March 06, 2023 by Tom Porter
Meet Thunderbolt, a World War II Bomber Pilot's Canine Companion
When he began his internship at the Massachusetts Historical Society last summer, Ian Morrison '24 wanted to produce a podcast about some aspect of World War II, but he had no intention of focusing on a dog.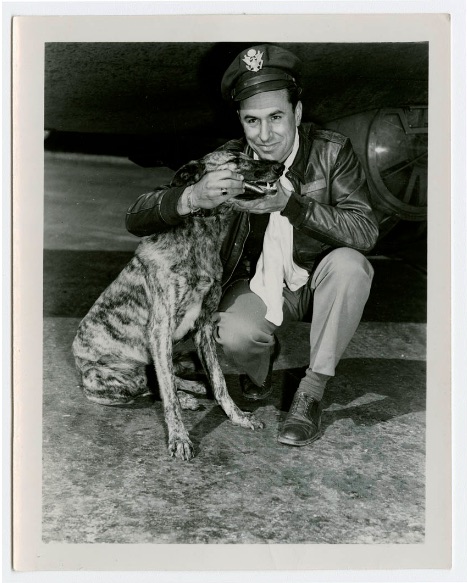 In fact, the history and Francophone studies major had never heard of Thunderbolt. "Initially, I was drawn to the story of his master, Lieutenant Robert Payne, whose papers are in the MHS collections," explains the history and Francophone studies double major.
Payne was a US bomber pilot flying B-17 "Flying Fortresses" out of England in 1943. "I am very interested in the Second World War," says Morrison, "so I wanted to work with Payne's papers to learn more about the war through his personal experiences." As Morrison combed through the archives, he encountered the story of Payne's dog, Thunderbolt, mentioned in letters, newspaper clippings, and other materials—it was a story that really captured the public imagination at the time, he says.
During the thirty-five-minute podcast, we learn how Payne befriends this scruffy, eighty-two-pound mongrel that had started hanging around the airbase. Payne names the dog Thunderbolt, in honor of the P-47 Thunderbolt fighter escorts that would accompany bomber crews like Payne's on their raids over occupied Europe. Thunderbolt and Payne become constant companions, says Morrison, the dog even occasionally joining the crew on practice flights.
One day in November 1943, twelve of the twenty-two Fortresses in Payne's unit failed to return. "Gremlin Buggy"—Payne's aircraft—was among them. The officer was on his nineteenth mission. Thunderbolt was grief-stricken, waiting for days for his master's plane to show up and sleeping on Payne's bed surrounded by his possessions. Thunderbolt's war was not over yet, however. The animal was eventually adopted by one of Payne's fellow officers, following him to mainland Europe in 1944, where the dog was reportedly wounded in action.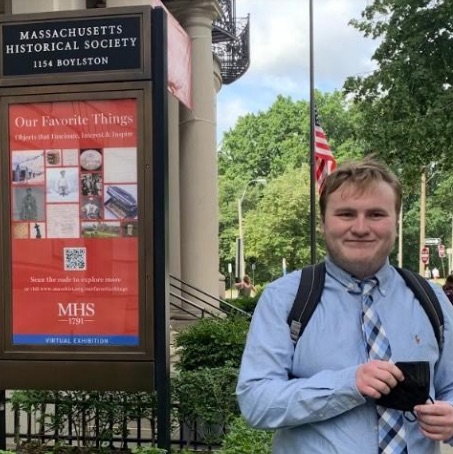 There is a happy ending, of sorts, says Morrison. Thunderbolt survived the war, as did Payne, who ended up in a German POW camp after being shot down (several of his crew were killed). The two were reunited in 1946 and Thunderbolt lived with Payne and his family in the US for five years, until the dog was hit by a dump truck and killed.
"I now have a greater appreciation for the level of work that goes into making a podcast," says Morrison. As well as poring through material in the MHS archives, his research included interviewing two historians about the role of dogs in human history. Morrison also had to learn audio recording techniques.
During his internship, which was funded by Bowdoin's Office of Career Exploration and Development, Morrison came under the guidance of Bowdoin history graduate Kanisorn "Kid" Wongsrichanalai '03, who is director of research at the MHS. "It was great to connect with a fellow Polar Bear," says Morrison, who intends to pursue a master's in library science after Bowdoin. Listen to Morrison's podcast.