Published March 14, 2023 by Tom Porter
Bowdoin's Heurlin on Worsening US-China Relations
In light of the recent downturn in US-China relations, Associate Professor of Government and Asian Studies Christopher Heurlin was invited to share his views on Fox's LiveNOW streaming channel.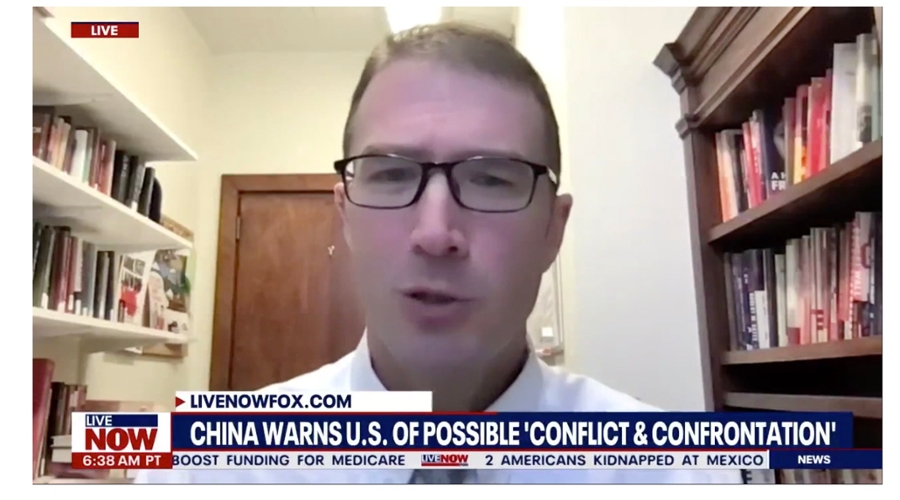 China's foreign minister Qin Gang last week warned Washington of "conflict and confrontation" if it does nothing to improve diplomatic relations with Beijing, amid ongoing disagreements between the two nations over Taiwan, COVID-19, and Russia's invasion of Ukraine.
"This is in some ways the next step, or the next event, coming out of the Chinese spy balloon incident," Heurlin recently told FOX's Senior Digital Journalist Josh Breslow, referring to the shooting down by the US last month of a suspected intelligence-gathering device over North America.
Heurlin, who this semester is teaching the course Capitalism and State Power in China, said Beijing's perspective on this incident is that it shows Washington's "true attitudes and intentions" toward the country and demonstrates how the US is "unnecessarily suspicious of China."
Heurlin said he was also concerned by recent remarks made by President Xi Jinping to a Chinese business group, when he accused the US of being "partially responsible for some of the economic headwinds that China is facing in terms of... export controls [and] tariffs on Chinese goods." This was "fairly significant," he added, because "it's the first time as far as I know that Xi Jinping has called out the US by name, instead of referring to it more obliquely or implicitly, as 'certain countries.'" Watch the interview.