Published March 24, 2023 by Rebecca Goldfine
Bowdoin's Herstory Month Illuminates Women in the World Today
Women's Herstory Month, which takes place in March, is Bowdoin's unique take on Women's History Month. It emphasizes the many incredible lives, stories, and contributions of women today, as well as throughout history.
The main organizer—the Sexuality, Women, and Gender Center (SWAG)—worked with partners across campus to schedule a vibrant and diverse program.
"SWAG is really excited to offer meaningful engagements for our community this year for Women's Herstory Month," said Kate Stern, director of SWAG and associate dean of student affairs for inclusion and diversity. "The collaborations that have come forward as Women's Herstory Month has strengthened over the years are really exciting."
This year those collaborations include partnering with the Maine Jewish Film Festival to screen the documentary My Name is Andrea in Kresge Auditorium on March 29 at 7:30 p.m. The film is about feminist writer and activist Andrea Dworkin, who denounced the pervasiveness of rape culture and violence against women in our society.
The following day, March 30, the Gender, Sexuality, and Women's Studies Program (GSWS) and the Cinema Studies department will screen the movie Pariah, which tells the coming-of-age story of a Black lesbian teenager. The screening will be followed by a conversation led by two faculty: Keona Katrice Ervin, associate professor and program director of gender, sexuality, and women's studies, and Tanya Goldman, visiting assistant professor of cinema studies. The event starts at 7:00 p.m. in the Beam Classroom. 
"At Bowdoin, we're able to celebrate Herstory Month as a way of drawing attention to the fact that so much of what we know of as history and storytelling does not center marginalized voices. Telling 

more

 

and different stories is one way we can work to end the oppression, particularly of women, that impacts our lived realities." Rachel Reinke, director of gender violence prevention and health education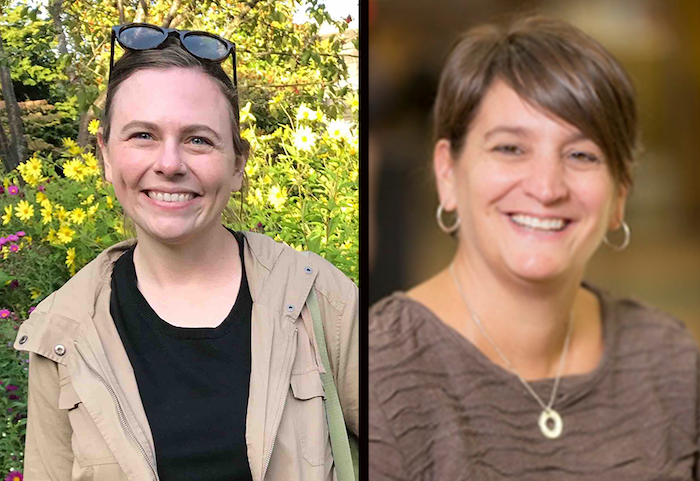 Ervin also participated in another Herstory event—she made a welcomed appearance at Feminist Punk Pub Night on March 2 to read poetry. The night—which was organized by SWAG student directors Esther Park '23 and Maya Dowling-Wolfe '23, WBOR DJ Emma Olney '25, and Student Activities—featured music, live performances, readings, and a "feminist Trivia" game.
Film was a dominant theme in the list of events. Cinema studies earlier in March sponsored a visit from filmmaker Nina Menkes. She discussed the "male gaze" through her 2022 film Brainwashed: Sex-Camera-Power and spoke about her work to establish greater inclusivity and diversity within the entertainment industry.
One of the annual highlights of Herstory Month is RISE: Untold Stories of Bowdoin Women, a production written and directed by the student group fEMPOWER. Student actors narrate real stories submitted anonymously by Bowdoin women. The stories both celebrate women and convey personal struggles with sexual violence, dating abuse, childhood sexual abuse, mental health, racism, suicide, disordered eating, and more.
"RISE is one of the most amazing things Bowdoin has to offer the world," Stern said. "By focusing on student voices, it is really powerful and important." This year's performances took place March 3 and 4.
Stern said she's also looking forward to an upcoming event that she and Reinke organized in collaboration with Oliver Goodrich, director of the Rachel Lord Center for Religious and Spiritual Life. Local religious leaders from Jewish, Christian, and Muslim faiths—Rabbi Lisa Vinikoor, Rev. Kharma Amos, Rev. Katie Holicky, and Zainab Altuma—will convene for a panel discussion on March 31, 12:00 p.m., at 24 College Street, to speak about "Feminist Sexual Ethics." They'll address the topics of women's choices around sex, sexuality, and pregnancy, among other subjects.