Published March 09, 2023 by Tom Porter
Alumni Offer Advice, Share Stories on Careers in Journalism
Three Bowdoin graduates, all distinguished journalists, came to campus recently to discuss their varied professional paths and offer career advice to anyone thinking of going in that direction, especially the field of financial journalism.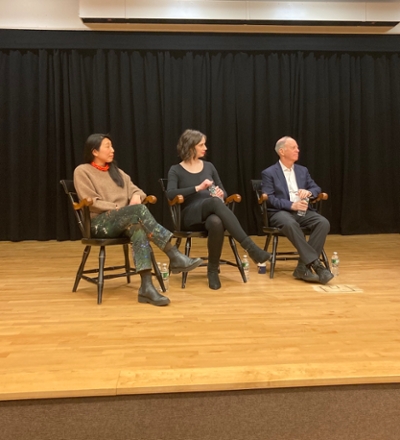 Andy Serwer '81, P'16, P'20 is regarded as one of the world's leading business journalists. He is currently editor at large at Barron's, covering a wide range of topics. Katie Benner '99 covers the Justice Department for The New York Times and was part of a team that won a Pulitzer Prize in 2018 for public service for reporting on workplace sexual harassment issues. Serwer and Benner are both Bowdon College trustees. Beth Kowitt '07 is currently a Bloomberg Opinion columnist covering corporate America.
They were invited to appear before an audience of mostly Bowdoin students on March 5 in Kresge Auditorium, for a panel discussion facilitated by The Bowdoin Orient and the Polar Investment Club on careers in journalism and financial reporting.
Panelists had quite different stories to tell when asked about how they got into the field of journalism. Kowitt's track was the most traditional, she said. "I always wanted to be a journalist," she explained. After Bowdoin, where she majored in English and sociology and wrote for the Orient (where she ended up a coeditor), Kowitt headed to Columbia University's Journalism School. "My feeling about journalism school is that it's not necessarily a requirement for the job, but for me it was definitely the right move," she said. Kowitt then joined Fortune Magazine, where she worked for more than fourteen years before becoming a senior columnist at Bloomberg.
"You have to really want it and show that you want it." Andy Serwer '81.
Katie Benner described herself as the "opposite of Beth," having no idea what she wanted to do after Bowdoin, where she majored in English. "There were classes and professors I liked, but I had no professional aspirations." After graduation, Benner spent time teaching English in Beijing, where she found that, among the expatriate community, journalists were the ones she liked the most, "because they liked talking to people and being in the city. They didn't live in gated communities with maids." Her first real foray into journalism, she said, was when she wrote a piece for The Portland Press Herald about how the 9/11 attacks had impacted Americans living in Beijing. From there, Benner gained an entry level position at the financial news website CNN Money, where she learned the basics of journalism, "like how to pitch stories, how to interview people."
Andy Serwer admitted he too didn't have much direction at Bowdoin, where he majored in history. After a brief spell in a clerical job at the Securities and Exchange Commission, he ended up at business school ("My brother went to law school," he said, "so I couldn't do that!"). Serwer said his favorite thing to do at business school was to "sit on the steps in the sunshine with The Wall Street Journal, reading stories about people who were buying these companies and fighting each other. 'This is good,' I thought." He turned down a job offer from an investment bank and headed to the Columbia journalism school to pursue a master's. With two graduate degrees under his belt, Serwer then joined Fortune Magazine as a "junior junior fact checker." Serwer ended up spending twenty-nine years at Fortune, where he rose to the rank of managing editor and where both Benner and Kowitt worked for him at various times.
When asked to offer advice for any prospective journalists, Serwer said it may sound obvious but it's crucial to be a "self-starter... You have to really want it and show that you want it." It's also important, he said, to have published writing samples to show. With the availability of online publishing platforms like Substack and Medium ("where you can write about whatever the hell you want"), Serwer said "there's no excuse" for not having clips.
"My feeling about journalism school is that it's not necessarily a requirement for the job, but for me it was definitely the right move." Beth Kowitt '07. 
Benner said prospective journalists should not necessarily feel pressured to try to go straight to work at a high-profile outlet like The New York Times from college. It can be a good idea to learn your trade at a local or regional level, she added. "You're going to make mistakes," she said, so learn the ropes first. "When I arrived at the Times aged thirty-seven, I knew what I was doing." A background in financial journalism is also very useful, she explained, because it's so  fact-based. At the end of the day, a company either makes money and products, or it doesn't, said Benner.
This doesn't mean, however, that business journalism is lacking in human drama, added Kowitt. "Money is fascinating, right? It drives people to do crazy things. There's no shortage of interesting stories," she explained. "It's about the narrative, finding the character, and there are so many characters in the world of business."