After Tough Times, Campus Radio "Still Dancing"
Published by Tom Porter
Times were tough for college radio stations during the COVID 19 pandemic, said Jackie Seddon '23, and WBOR was no exception.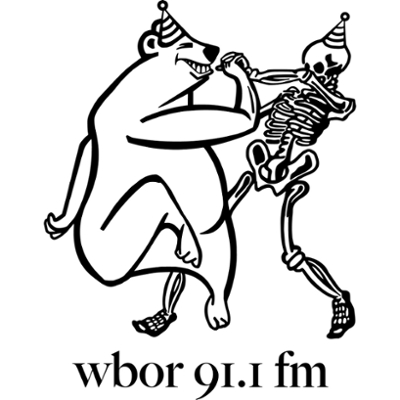 With lockdown in full force and the station unmanned, the transmitter on the sixteenth floor of Coles Tower was turned off during the second and third quarter of 2020—the first time in the station's 80-year history this had happened for an extended period of time.
WBOR returned to the airwaves in the fall of 2020, which was a challenge because to keep its Federal Communications Commission (FCC) broadcasting license, a station has to stay on air continually and fulfill other regulatory requirements, such as airing regular public service announcements, explained Seddon, a disk jockey and member of the station management team.
"It's tough when 95 percent of staff are off campus, and only first years and Res Life students are around. Luckily one of the station managers, Luke [Porter '23], was on campus with Res Life so he was able to get into the studio and set up these lengthy playlists we had prepared." Each playlist was 24-hours long, she said, and contained the required announcements. "We were able to set the station to run for seven days at a time, which enabled us to work within the College pandemic rules and the FCC requirements."
WBOR knows from bitter experience the importance of following federal regulations. The station fell foul of the FCC in 2006 for poor record-keeping. The organization had not been diligent enough about keeping track of its PSAs and nearly had its license to broadcast pulled.
Meeting the Challenge
Mason Daugherty '25, another member of the management team, admitted it can be a challenge adhering to strict professional standards at a station run by volunteers who all, let's face it, have a lot on their plate already. "Due to the nature of being a College station, we have a turnover every year and often knowledge is lost because it's not passed down. Which leaves a lot of work for the incoming management."
That's something that Daugherty and his colleagues have been trying to tackle, creating what he calls "a central hub of knowledge" and implementing training and management systems that make it easier to follow the rules.
Key to achieving this, explained station manager Emily Herndon '23, is raising the profile of the station and encouraging students to get involved—no mean challenge in an age of personalized playlists, streaming platforms, and dwindling radio listenership. "We hit the ground running at the start of the year," she said, "got people early, engaged with them, trained them, and got them on the air, which would then encourage their friends to listen."
WBOR staff were clearly visible at student fairs in the fall, flying the station flag and handing out a range of merchandise. "We got t-shirts, stickers, mousepads, posters, a range of stuff," said Herndon, "and we've just hired two new art directors so we're excited for a new range of merch to drop in the spring. It's all about making campus radio cool!" (One design the team came up with last summer depicts a skeleton dancing with a polar bear next to the ironic slogan "radio's dead but we're still dancing!")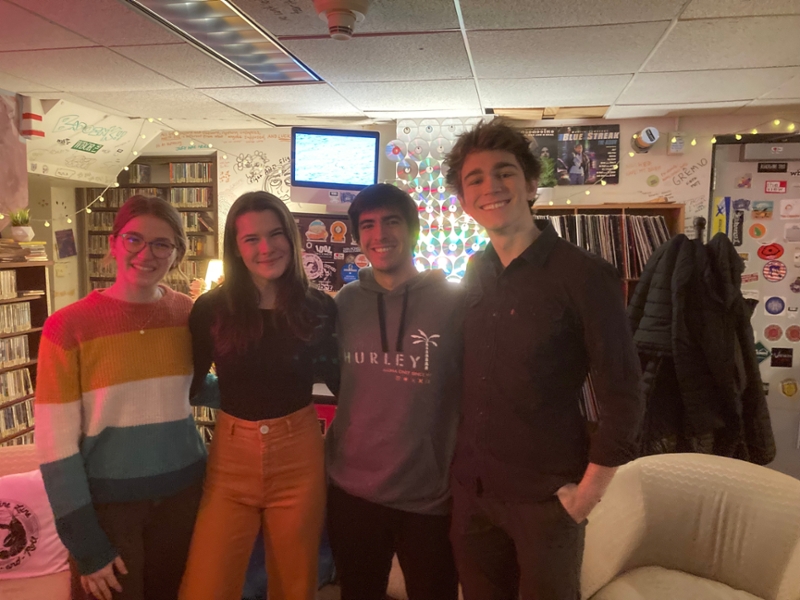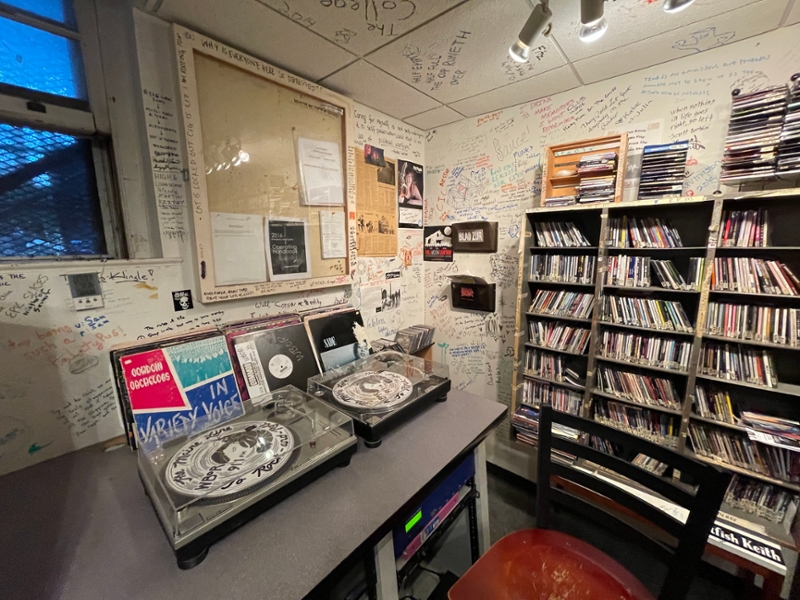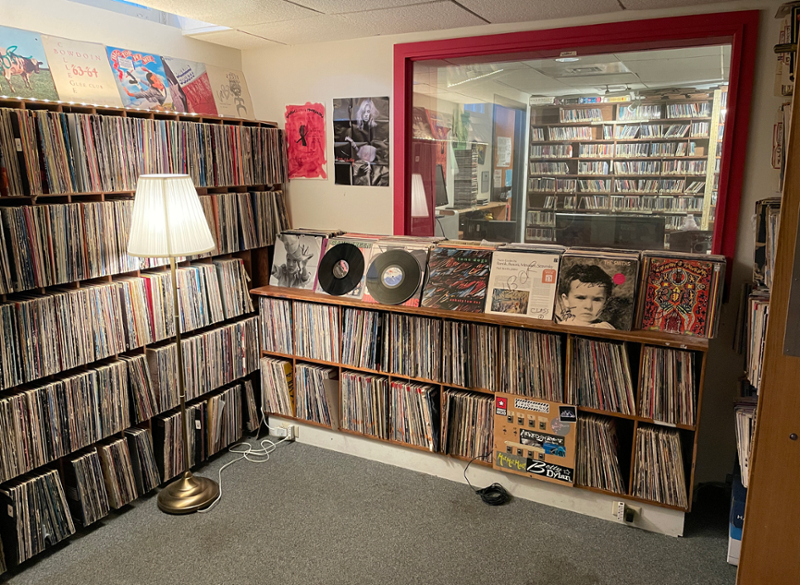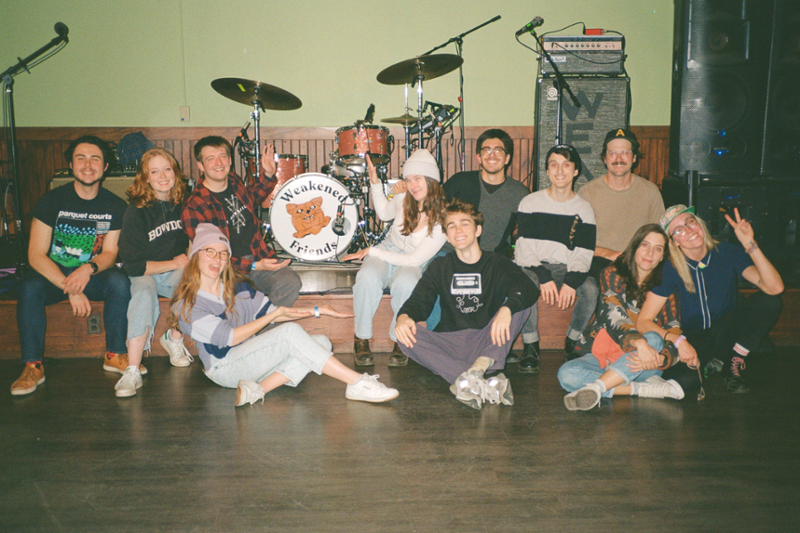 Reaching New Heights
These efforts paid off and WBOR now enjoys record levels of student participation, said Daugherty. "We recently processed new DJ applications, giving us a total of 189 DJs across 130 shows producing 131 hours of content per week. Around ten of these are community DJs," he added, "but the vast majority are undergraduates."
Part of what makes WBOR cool, said Herndon and her colleagues, is the space itself—an intimate, low-lit, subterranean hangout in the Coe basement, complete with a coffee table and comfortable chairs. The walls are lined with CDs, vinyl, and music posters, with the DJ's broadcasting booth visible behind a soundproof glass partition. "We've been showing people how to use our newly renovated turntables so they can make use of our fantastic record collection," said Herndon. "My parents recently came down here and my dad was really excited to find a record from the '80s he knew. He was like 'this is so cool.'"
Music and Other Offerings
Listeners to WBOR can expect to hear a range of music throughout the week, including rap, electronic, pop, jazz, blues, bluegrass, world music, and even movie soundtracks. A fair amount of on-air time is also given over to the spoken word, with students discussing various issues, including a weekly program featuring staff from the Bowdoin Orient student newspaper. The station also recently broadcast a live interview with President Clayton Rose.
Another element the current management team has implemented is live music. "We recently brought in a band from Portland called Weakened Friends who gave a performance at Jack McGee's pub," said Seddon. "We also interviewed them live in the studio." Additionally, there is a small performance space in the WBOR studios where student bands have done live gigs on air, said Daugherty. "There's large pool of musical talent at Bowdoin that deserves an outlet," he stressed.
"WBOR now enjoys record levels of student participation. We recently processed new DJ applications, giving us a total of 189 DJs across 130 shows producing 131 hours of content per week." Mason Daugherty '25.
Daugherty, Herndon, Seddon, and their colleagues on the management team all began as DJs at the station and said they were drawn to WBOR by a shared love of music and the prospect of spinning records for their friends and the wider Bowdoin community (the FM signal covers the greater Brunswick area while the digital stream on wbor.org can, of course, be accessed anywhere).
Furthermore, as well as gaining experience in how to run a radio station, they regard what they do at WBOR as a great opportunity to develop leadership skills that could be useful in many careers.
"Where would we get this experience other than here?" said Daugherty. "None of us has a background in radio. We're just interested enjoyers of music."