Published February 06, 2023 by Mira Pickus '25
New Faculty Book Launch: Professor Henry Laurence Shares Insights on Broadcasting in Britain and Japan
Laurence, associate professor of government and Asian studies, recently gave a talk at the Bowdoin library about his new book, The Politics of Public Broadcasting in Britain and Japan: The BBC and NHK Compared.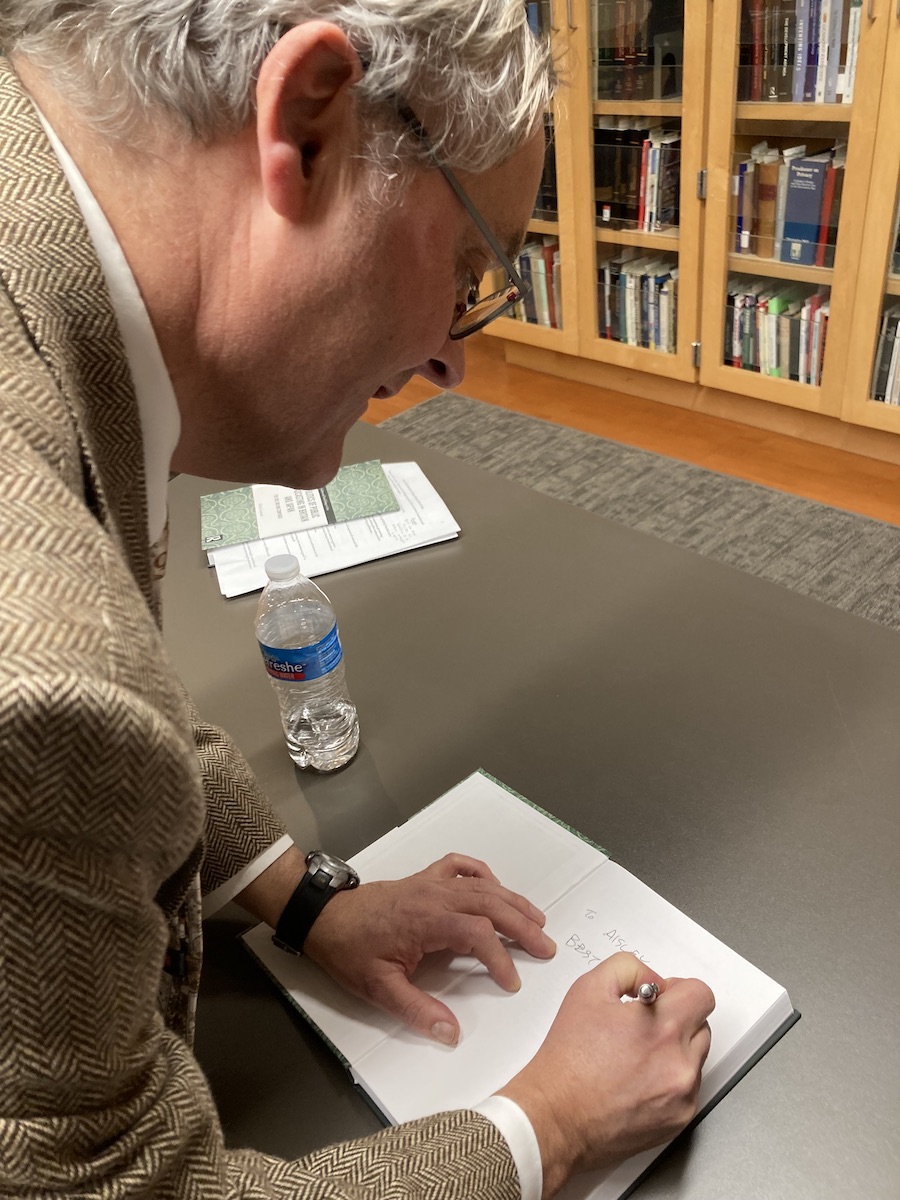 When Laurence began his research on the BBC (the British Broadcasting Corporation) and Japan's only public broadcaster, NHK (Nippo Hoso Kyokai), he intended it to be a short project on news gathering.
The fruits of this "short project" can now be read in his new book, published by Routledge. 
At a recent event to celebrate the launch, Laurence explained that he was drawn to investigate the two news organizations in part because of the enormous clout they wield. Both the BBC and NHK exceed their roles as trusted news organizations, operating also as "incredible economic engines" and "two great artistic institutions," he said.

As the title of his book suggests, much of Laurence's work engages in an analysis of the BBC's and NHK's shared goals and differing practices. For instance, while both platforms remain committed to impartiality and cultural reflectivity, they function—especially with regard to their governments—distinctively from one another.
The BBC works as a "watchdog" news source. Not privatized and never receiving government funding, it is free to pursue investigative journalism that tackles divisive and controversial topics, including abortion, race, and poverty. The NHK, on the other hand, Laurence dubs a "guide dog," or more provocatively, a "lap dog" institution. In seeking to faithfully convey its government's message, promote social stability, and publicize an "idealized version of Japanese-ness," NHK plays a certain collaborative role alongside Japan's government.

But Laurence cautions against seeing the BBC and NHK as emblems of either country's values. "It's not about cultural differences between the UK and Japan," he clarified. While reporters for NHK face greater censorship, the journalists are not submissive citizens. In his interviews with Japanese reporters, Laurence noted that many "chafe at the restrictions."
Conversely, while the BBC has published challenging content, it is still prone to moments of prejudice and traditionalist thinking. Laurence cites the "brouhaha" that erupted when a single Muslim woman won The Great British Bake Off and the suspension of the airing of the Jimmy Savile documentary, a piece that exposed the TV celebrity's pedophilic crimes.

While Laurence draws attention to the complexities of these broadcasting programs, his broader takeaway is an acknowledgement of the sheer influence the BBC and NHK have had on their countries and the global community.

"Gemma, my daughter, says I have to have hot takes," Laurence admitted to the room.

So, he left his audience with this one: "Radio was more transformative than the internet. [… And] the BBC and NHK could not be replicated anywhere in any other country, nor could they have been founded in any other time period."