Published February 08, 2023 by Bowdoin News
Google Doodle Day: Lyne Lucien '13 Artwork Highlighted amid Black History Month
Search and you shall find the work of award-winning Haitian artist Lyne Lucien '13 on Google—no key words necessary.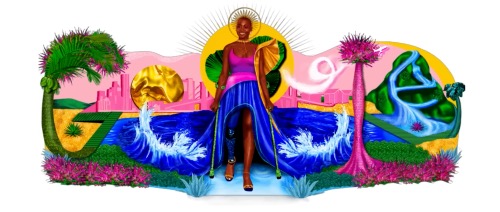 In observation of Black History Month, the global search engine featured artwork by Lucien as the Google doodle for Wednesday, February 8, 2023.
Doodles are the fun and sometimes spontaneous changes Google makes to its logo to celebrate holidays, anniversaries, and the lives of famous artists, pioneers, and scientists.
Lucien's Google doodle celebrates Haitian American model and advocate for people with disabilities, Mama Cax, who challenged the fashion industry's standard of beauty by proudly showcasing her prosthetic leg on the runway. 
Lucien says her work is rooted in community and inspired by her vibrant upbringing in Haiti where she absorbed complex details found in her surroundings, from the elaborate paintings that drape taxis to the unique ways in which Haitians incorporate patterns in their wardrobe.
If Lucien's work looks familiar, you might remember her artwork from the cover of Bowdoin Magazine's spring/summer 2022 issue.

She has also created works for NBC's Today Show, New York Magazine, NPR, and Tripadvisor. 
If you missed it, Google archives its homepage doodles here; read more about Google's doodles.