Published February 23, 2023 by Chris Zhang '25
Ethan Kent '98 Discusses Remaking Spaces with the Placemaking Movement
The long-delayed inaugural event of Bowdoin's new
urban studies program
took place on February 14 with a campus visit from Ethan Kent '98, executive director of
PlacemakingX
, an organization that advocates for public spaces.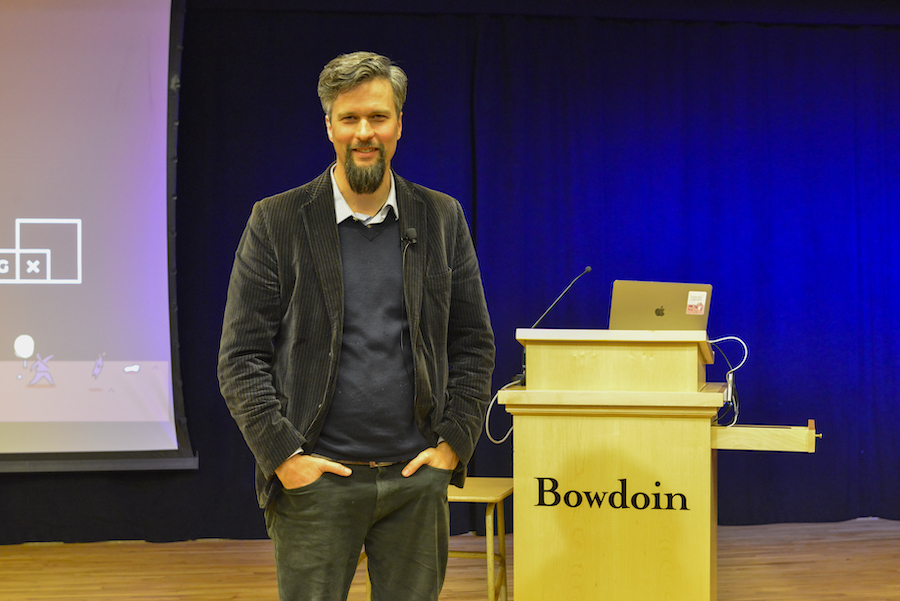 The highlight of Kent's trip was his evening talk in Kresge Auditorium, in which he described his campaign to reimagine and redesign public spaces, arguing that they can lead to healthier, more inclusive and loving communities.

Organized by urban studies faculty and cosponsored by several academic departments, Kent's lecture highlighted Bowdoin's new urban studies minor established in 2020.

In his talk, Kent spoke about the concept of placemaking, how it changes the way we shape our shared public spaces, and how it can enable community members to be cocreators of the world beyond their homes. Placemaking, he argued, requires an interdisciplinary approach to prioritizing human connection over individual needs and even aesthetics.

"Placemaking is really about challenging and unleashing the power of everyone to be participants in creating their public realm," Kent said.

Having grown up with a father committed to environmental action and public spaces, Kent said he naturally developed an affinity for urban planning and placemaking. At Bowdoin, he wrote his first college paper on the concept and graduated with a coordinate major in sociology and environmental studies and a minor in economics.
After graduation, he earned his master's at Antioch University-Seattle's Center for Creative Change, with a focus on environment and community. Then he joined Project for Public Spaces, a New York City nonprofit, where he worked for nearly 22 years.

With Project for Public Spaces, Kent worked on hundreds of projects. Some of the more notable ones include redesigning congested intersections in New York City for public use—including Times Square and Astor Place. In 2013, he advocated for a community-centered reinvention of Congress Square Park in Portland, Maine, to preserve the city's valuable open space.

From his work, Kent has discovered that "people are really eager to connect, and learn from, and support each other in every part of the world. Equally important to realizing that, is while we have a lot in common, our differences are exciting, too."
The vast community of placemakers Kent has encountered during his twenty years with Project for Public Spaces prompted him to mobilize and strengthen placemaking as an international movement, he said.

With this mission in mind, he cofounded PlacemakingX in 2019, aiming to create a network for the many different professions, demographics, and regions connected to the global placemaking movement. Currently, PlacemakingX includes more than 1,500 people from eighty-five countries.

Three professors affiliated with the urban studies program—Assistant Professor of Sociology Theo Greene, Associate Professor of History and Asian Studies Rachel Sturman, and Senior Lecturer in Environmental Studies Jill Pearlman (who taught Kent when he was a student)—said that featuring a Bowdoin alumnus who has worked in the bourgeoning field of placemaking fittingly celebrates the new academic program at Bowdoin. They also wanted students to learn from Kent's human-focused approach to imagining public spaces.

"The human connection found in public spaces and places is more important than ever, in a world where so many of us walk around oblivious to one another, with AirPods in our ears and our faces buried in our phones," Pearlman said.