Published February 27, 2023 by Tom Porter
An Unlikely President: Bowdoin's Rudalevige on Jimmy Carter's Legacy
When Jimmy Carter ran for US president in 1976, said Andrew Rudalevige, he was in many ways an unlikely candidate.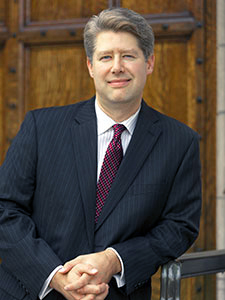 Carter, a Democrat who went on to serve as US president from 1977 to 1981, was a former governor of Georgia at that point and hardly a national name, said the Thomas Brackett Reed Professor of Government.
Rudalevige was speaking as a guest on Maine Public Radio's weekday phone-in program Maine Calling, which on February 23 explored the career and the legacy of the ninety-eight-year old Carter, as the nation's thirty-ninth president entered hospice to receive end-of-life care.
While Carter may not have been dramatically popular in 1976, explained Rudalevige, he did possess "a very clear-eyed view of how the nominating process had changed [and] how you could become president in a fragmented nominating process." Rudalevige reminded listeners how, after the "disastrous" 1968 Democratic convention in Chicago, much of the nominating procedure was "taken out of the hands of party insiders and moved to a more public primary process." Carter, he explained, took the opportunity to go from state to state and do some grassroots campaigning, beating better-known candidates like California governor Jerry Brown and Senator Henry "Scoop" Jackson from Washington state.
Rudalevige was joined on the show by David Hales—former diplomat, environmental policy leader, and College of the Atlantic president, who served in the Carter administration; and attorney Harold Pachios—past chairman of the Maine Democratic Committee, who served in the Johnson Administration and in many other top federal positions over the decades. As well as Carter's presidency, they discussed his lifetime of public service, his impact on Maine, and what he was like as a person.