Published January 17, 2023 by Tom Porter
Bowdoin's McCarroll on JD Vance and "White Exceptionalism"
Bowdoin's Director of Writing and Rhetoric Meredith McCarroll turns the spotlight on Hillbilly Elegy author, venture capitalist, and freshman Republican Senator from Ohio JD Vance in a recent article she wrote for New Lines Magazine.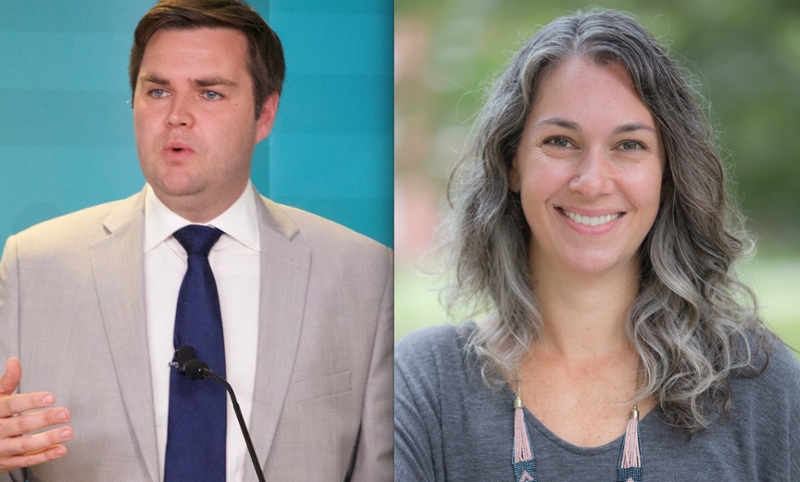 McCarroll, herself an acclaimed author and essayist, explores how Vance, "as a chronicler of hillbilly culture and incoming US senator, positioned himself as a representative of people he despises."
She also notes how Vance, as an example of a kind of "white exceptionalism," portrays himself as someone who, through his own ability, rose above his rural, white, poverty-stricken background and achieved success. "Vance's rise from Middletown, Ohio, to Yale Law School—supported by his grandmother and the GI Bill—is told, by him, as a bootstraps narrative of independence and hard work. His rise from lawyer to bestselling author occurred as he leaned into the role of the naïve hillbilly," writes McCarroll, who is also a lecturer in English.
At the same time, she observes, Vance also regards many of America's poor white population as responsible for their own hardships. "He got up and out on his own accord. Now that he has done so, his response is to blame the poor for their poverty, blame the addicted for the opioid crisis, and blame Appalachia itself for the extraction of its resources." Read more.
Meredith McCarroll is author of Unwhite: Appalachia, Race, and Film (University of Georgia Press, 2018) and coeditor of Appalachian Reckoning: A Region Responds to Hillbilly Elegy (West Virginia University Press, 2019.