The Responsibility is Personal
Published by Doug Cook for Bowdoin Magazine
Claudia Marroquin '06 is a Bowdoin success story. A first-generation student who came to the US from Guatemala with her mother and sister when she was young and grew up in the Koreatown section of Los Angeles, she joined the Office of Admissions in the fall of 2010, became dean in 2021, and along the way has worked to reduce the barriers that exist around access to higher education.
We spoke with Marroquin—the first Bowdoin graduate to lead the office of admissions in more than thirty years— about the challenges of her work, the importance of kindness, and the role her personal story plays in assembling each Bowdoin class.
BOWDOIN: Why is it important to convey your personal story when you interact with prospective students? 

MARROQUIN: It's been important to share my own experiences, my background, my upbringing—partially because students may not envision someone in leadership to have had the same experience. It's easy for students to be afraid, and they might feel like they're the first ones going through this. For me, there's an ability to connect with students around that, but it's also important for those who may not share any of my experience to know that they will end up interacting with folks who have a very different lived experience.
BOWDOIN: What would be the most surprising thing readers might learn about the admissions process here at Bowdoin?
MARROQUIN: Counselors often ask if we actually spend time getting to know these young people. I think there are assumptions about the work, that there are formulas, that it's mechanical, that we go through so much so quickly. Yes, we do a lot of work in a finite amount of time, but we all care not only about the College, but also about these young students and about getting to know them as best as we can. I think the thing that surprises people the most is that I'll remember things about them, especially when I welcome them at the beginning of the academic year. Over the years, the admissions office has prided itself on the fact that it's not just a process for us. We take it personally. We treat everyone with respect, and we try to learn about their lives. We feel a responsibility to connect with students and also to see them for who they are.
BOWDOIN: What informs the process for assembling a class? What is the College looking for in a student and in a class as a whole?
MARROQUIN: Part of our review process is looking for students who are prepared for the academic experience. We know that college is going to be hard, and they will experience moments of failure. But at the end of the day, we really want them to grow and be successful during their time at Bowdoin. So we are looking to make sure we have students who are prepared for the rigors here, and who also want to be in this type of environment—who know that when you're in a class, you can't hide and you're going to be expected to share your ideas. And that's not every student we're reviewing.
I also think a formula for success at Bowdoin has a lot to do with the intangible qualities that a student brings. You can be incredibly smart and still struggle at Bowdoin if you're not motivated, if you're not willing to take risks, if you're not willing to be in a really engaged community. We also often have conversations about upholding the values of Bowdoin, while giving ourselves the space to really create a new Bowdoin—to help the College move in the direction that it's looking to go in the next few years. This can be both in terms of diversity at the College, and also the "intellectual fearlessness" and ability to embrace uncomfortable ideas and concepts that Clayton [President Rose] talks about. Yes, academics are always really important, but so are the character pieces around how a student is actually going to take advantage of everything here and what they will put into the experience. Those matter quite a bit for us.
BOWDOIN: What is the most important advice you have for young people as they think about applying to the College? When should that process begin?
MARROQUIN: I always tell students they're going to get asked tons of questions from people they know about where they're applying, what they want to major in, what they want to have as a career, and so on. As they're thinking about those questions, they should really be thinking about what brings them joy and fun and pleasure, because they're going to end up spending a lot of time pursuing their goals.
If they want to become a doctor, they're going to spend a lot of time in a lab. They're going to be spending a lot of time studying, and they have to actually really love not only the chemistry and the biology pieces of it, but also the human interactions. I always tell students to not just think about the title, but also about the activities that are actually bringing them joy. Because when you start to mix those two together, that's where you end up being successful not only in your academic space, but also hopefully as an adult in day-to-day life, when things can be really hard.
BOWDOIN: Bowdoin talks a lot about character and kindness as among the important qualities it looks for in an applicant. How do you measure these?
MARROQUIN: There aren't necessarily rubrics to measure kindness. The way we seek it out and evaluate it in the applications is really in the empathy and awareness students have—they can see beyond themselves and recognize that whatever they might be struggling with or facing in their current life, their viewpoint isn't the only one. I keep coming back to these same pieces that demonstrate a student who has kindness, that they can see the failings and weaknesses, but also the strengths of others. And they can have these poignant moments of recognizing that someone who they had preconceived notions about is actually a human being. That is at the core of kindness—having empathy and seeing beyond yourself.
BOWDOIN: You've become a champion of removing barriers for students who might not otherwise consider Bowdoin an option—things like dropping the application fee for first-gen and aided students, in addition to need-blind, no-loan admissions. This is personal for you.
MARROQUIN: It is, and I think it's been not only a mission of mine, but for everyone who works at Bowdoin. We see ourselves as being able to provide opportunity, even when a student may not have considered an experience like this for themselves.
I think about my own experiences growing up when I read applications and recruit students. Without financial support, I would never have been able to even dream about college. I remember when I was seventeen working with an organization in L.A. and being encouraged to apply to ten schools that were outside of California, along with the California schools. The cost of each of those applications easily added up to $700, if not more, and my mom made about $28,000 a year. There was no way I would've been able to apply to the schools that I did, had I not been provided fee waivers or had someone tell me I could actually get a fee waiver. For me, it always does go back to thinking about how I navigated this process and some of the assumptions that I made, and thankfully having advisors at that point who told me, "Actually, no, there are other ways." To change a process or a policy to make it more inclusive and to allow students to dream a little bit is definitely a personal thing for me.
BOWDOIN: The College announced this summer that it was expanding need-blind admissions to international students. Why is this important?
MARROQUIN: At the College, we are constantly talking about equity and making sure that we are looking closely at longstanding policies and really questioning them. Extending need-blind admission to international students was one policy that several of us in the office had wondered about over the years, and it became even more of a top priority for admissions as we looked at how interconnected the world is, the challenges international students faced during the pandemic, and how college can truly be an international experience. Trying to ensure that we treat all of our students the same in the admissions process really became a focus for me this past year.
BOWDOIN: Access and equity are priorities of From Here, the College's ongoing comprehensive campaign. That's got to be a big boost for admissions.
MARROQUIN: There are so many conversations and articles around the cost of college and how unaffordable it is for so many families, and how it's becoming more and more unaffordable. We've always prided ourselves on having tremendous financial aid for students and their families who need it. Whether they're very low-income or middle-income families trying to make things work, the work of the campaign allows us to continue to educate students from all walks of life.
The promise of a Bowdoin education has long been that if you have the motivation and the willingness to put in the effort and have earned your place at Bowdoin that we'll be able to support you. I think the other big piece around equity is that the experience students have on our campus should not be limited by their own personal backgrounds. One way we've tackled that is to remove the summer earnings requirement for students under a certain income level. We know that they're already working incredible amounts, often to support their families, and we don't want to burden them with an extra responsibility. Support from the campaign helps us expand what we are able to do.
BOWDOIN: Comprehensive aid is another part of the campaign. How does that help?
MARROQUIN: When students and families think about the cost of college, it's usually tuition, room, and board. The things that they're going to be billed for. But we know that college is about so much more than that, and comprehensive aid can help with things like allowing our students to take unfunded or underfunded internships, to pursue fellowships, to have the ability to study abroad and know that the cost is not going to limit and prohibit them from pursuing an important academic interest. It also extends to emergency situations where a student may need to go back home because of a family member's unexpected surgery.
Comprehensive aid means they don't have to choose—they can actually do that. It is about the opportunities that prepare them for success beyond Bowdoin, but also for life experiences.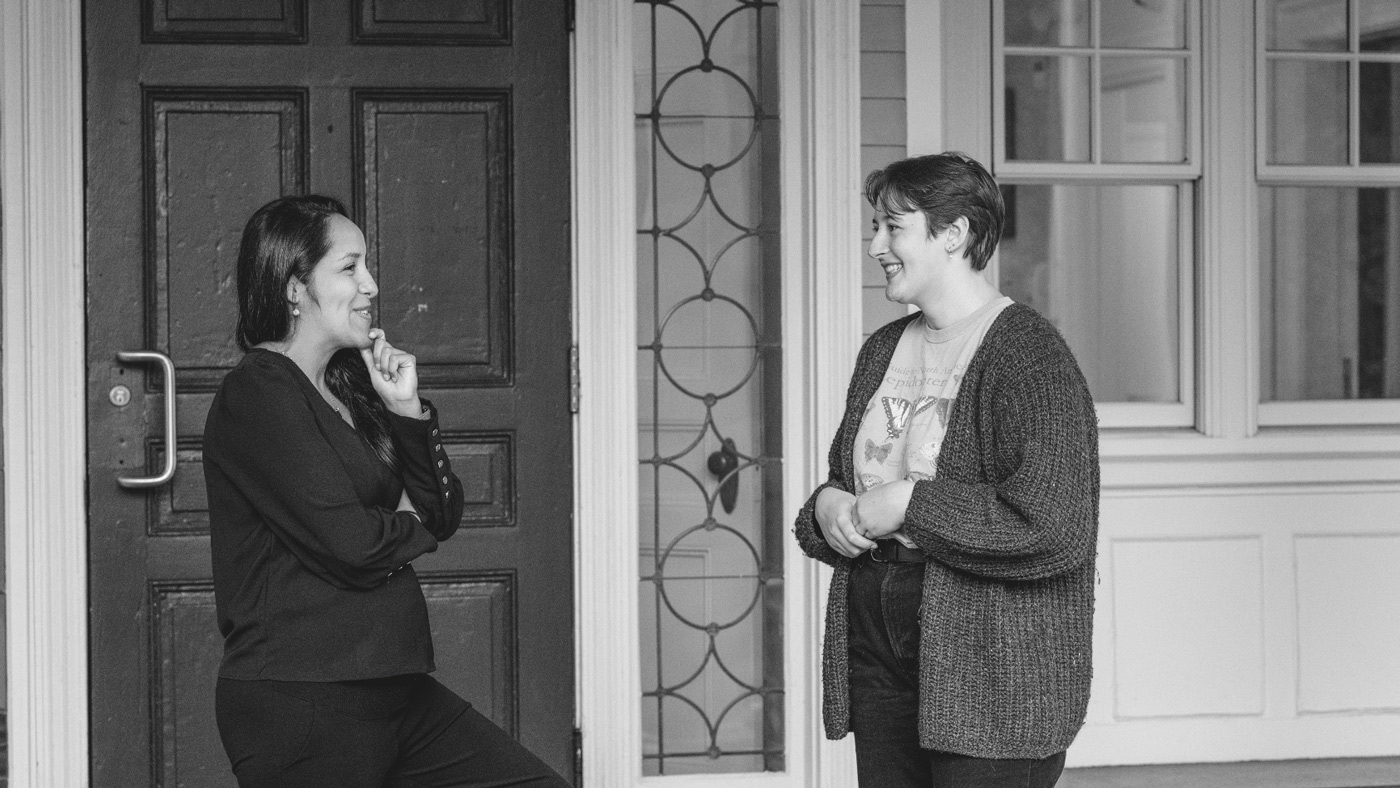 BOWDOIN: You mentioned earlier that the pandemic was especially difficult for international students, but of course, it impacted students everywhere. Are you at all concerned about students' preparedness for college, given the challenges they faced in high school during the pandemic?
MARROQUIN: Yes, absolutely. I think there are a couple of concerns. There's the inequality in different school systems. There are some students who spent two years completely in a virtual space where they may not have been able to interact with their teachers and peers very much, and where the curriculum just had to be truncated to get them through and meet the requirements. But there's also the personal loss students may have experienced, the insecurity, the anxieties, and the ability to be a kid and to have fun. Every year something happens in the world that forces students to grow up a lot faster. I think this generation of high school students had their entire high school experience upended, and that's going to continue for years as elementary and middle school students enter high school. Students who were transitioning into middle school, missed out on some social interactions that might really be valuable, or may have lost a parent early on in life. Preparation for college isn't just about the academic piece. It's really more about the amount of risk-taking a student is willing to take, given all that they've had to take on in the last few years.
BOWDOIN: On an institutional note, another result of the pandemic has been that many colleges and universities that previously required standardized tests have suspended or eliminated that requirement, something Bowdoin did fifty years ago. How has that changed the admissions landscape?
MARROQUIN: In some ways it's made things more complicated, but I also think it has made people realize that who you are as a person matters way more than the numbers. This past year in particular, we saw—even in our pool—students actually being more open and more vulnerable in their applications. There was a lot more expression of curiosity and thinking about larger issues that were taking place both in the world and in their own lives. I think there's this tide that has finally changed, or is changing, where students recognize that who they are matters way more than a number, and that there's only so much a test score can do for you.
BOWDOIN: Traditionally, Bowdoin and other New England colleges have drawn most of their students from the Northeast, a region where demographers expect a decline in young people. How is Bowdoin adapting to that reality?
MARROQUIN: Thankfully, we adapted to that reality years ago. We travel across the country and the world to recruit students, never forgetting, though, that we are an institution in Maine. We have two admissions officers who cover the state of Maine and encourage incredible, brilliant young people to stay within the state. We need them, but we also realize that, as a liberal arts college, we are designed to recruit students from all over. Most of our admissions officers have had a little bit of New England territory, but everyone has territory beyond New England. That makes us really flexible and adaptable and truly versatile in the ways we can talk about the experiences that students are having at Bowdoin and understand what students are experiencing in their own communities.
BOWDOIN: What is Bowdoin doing about the trend of young women outpacing men in applications to college?
MARROQUIN: When we're going out and recruiting at different schools, we try to target places that we know have more male enrollments. Part of that is that young men sometimes aren't, in some communities, given the opportunity to really think about education because they are focused on supporting their families and going into the workforce. But there's the other piece too, of the tables having turned. Bowdoin was an all-male institution until the '70s, and there was intentional work to recruit women at that point. At the end of the day, we are looking to have the best students for Bowdoin here, and the amazing talent within our female applicants cannot be ignored. College-going trends are something we constantly think about, and it is worrisome that there are far fewer males applying to college. And it's not just to Bowdoin, obviously. It's a higher-ed issue, and it's something to keep an eye on.
BOWDOIN: What is the most rewarding part of the work?
MARROQUIN: Getting to meet the students—by far. This year, I'm super excited because I'm going to be a Cub Connector. It's a new program that residential life has introduced. So I will have that opportunity to get to meet with a floor of students more regularly and get to know them. Students are what make this work so rewarding and bring me so much joy. There are many alumni now who have become friends as well. They were students I recruited, and I know so much about their lives and their families now. Being a part of their lives has become something that's just really important to me.
BOWDOIN: What are your near- and long-term goals for admissions at Bowdoin?
MARROQUIN: Last year, I would have said to steady the ship coming out of the pandemic, and there's still a piece of that happening.
A lot continues to change in the world. This upcoming year, there are changes with financial aid and debt forgiveness that was just passed. We're all waiting to see what happens with the Supreme Court decision with Harvard and UNC. So there will be the things that are out of our control that we are shifting and adapting to and trying to uphold Bowdoin values in the way we do our work in a new reality.
As an alumna, I am fiercely proud of this place and so proud of the things Bowdoin has done for students. I want Bowdoin to be known even more across the country, across the world. People should know about institutions that are striving to make education more accessible, so there's the aspirational goal of wanting Bowdoin to be a household name. Then there's the fine-tuning of things. Every year we learn from our students about the world they're going into and how their needs are changing. So we look at how we can continue to best meet those needs while continuing to grow and evolve as a leading college in the twenty-first century.
Doug Cook, director of communications, manages media relations and oversees content on the Bowdoin website and the College's official social media channels.


Photos by Séan Alonzo Harris.


---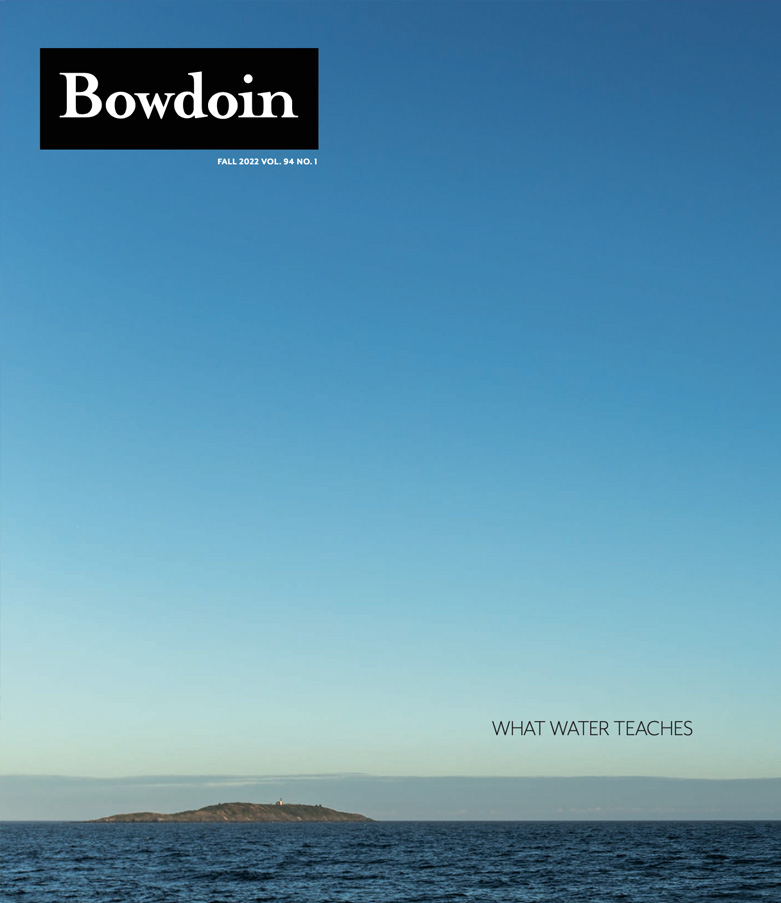 This story first appeared in the Fall '22 issue of Bowdoin Magazine. Manage your subscription and see other stories from the magazine on the Bowdoin Magazine website.