The Bowdoin Prize: Kenneth I. Chenault '73, H'96 Receives College's Highest Honor
Published by Bowdoin News
Kenneth I. Chenault of the Bowdoin Class of 1973, and a 1996 honorary degree recipient, was awarded The Bowdoin Prize—the highest honor the College bestows upon its members—during a special ceremony attended by family, friends, classmates, trustees, and many alumni and parents on November 2, 2022, at The Shed at Hudson Yards in New York City.
Currently chairman and a managing director of the venture capital firm General Catalyst, Chenault served as chief executive officer and chairman of American Express from 2001 to 2018 and has been called "the best CEO of his generation."
The evening's program included a conversation facilitated by Ford Foundation president Darren Walker H'16. In a wide-ranging discussion, Chenault spoke of how his family, his experiences at the College and at Harvard Law School, and his career have inspired him to be what he calls an agent of change.
The conversation with Walker touched on Chenault's relationship with Berkshire Hathaway chairman and CEO Warren Buffett, who has called Chenault "the gold standard for corporate leadership and the benchmark that I measure others against. But the real test of leadership is when you go up the mountain, and your troops follow you. And they follow you because they believe in you. They believe that you see the valley over the top of the mountain. And though they can't see it, they follow."
The terrorist attacks of September 11, 2001, cemented Chenault's reputation for exemplary leadership. Eleven American Express employees lost their lives that day, and the company's corporate headquarters adjacent to the World Trade Center was badly damaged. Chenault had been chairman and CEO for just a few months, but his careful and humane stewardship of the company, its customers, and its employees during that traumatic and demanding period has been written about widely as a textbook example of leadership and integrity in a crisis. Chenault later had to lead American Express through a global economic turndown and the financial crisis of 2008.
In discussing leadership and its qualities, Chenault stressed the importance of values and character and the need to be both compassionate and decisive. "The most important legacy you can have is to make a meaningful difference in people's lives."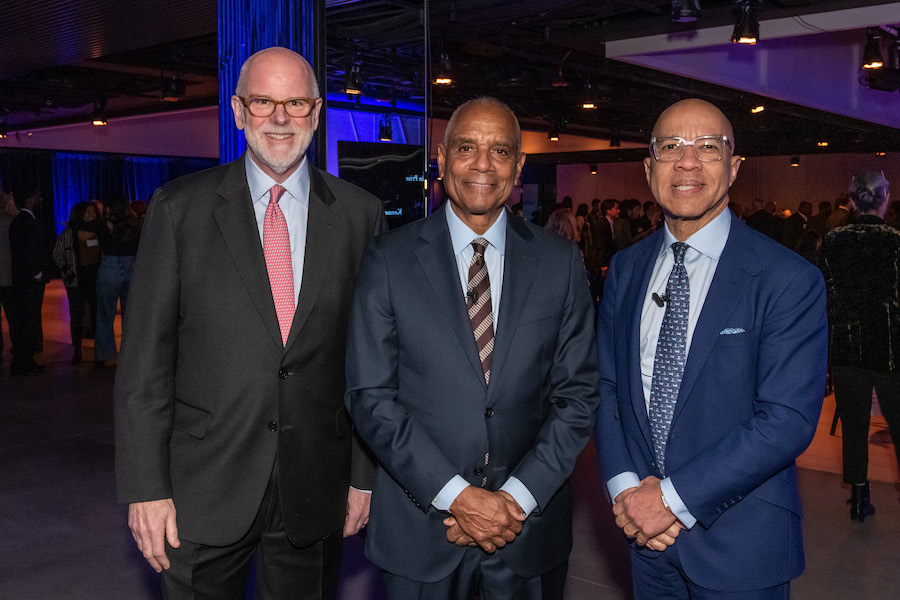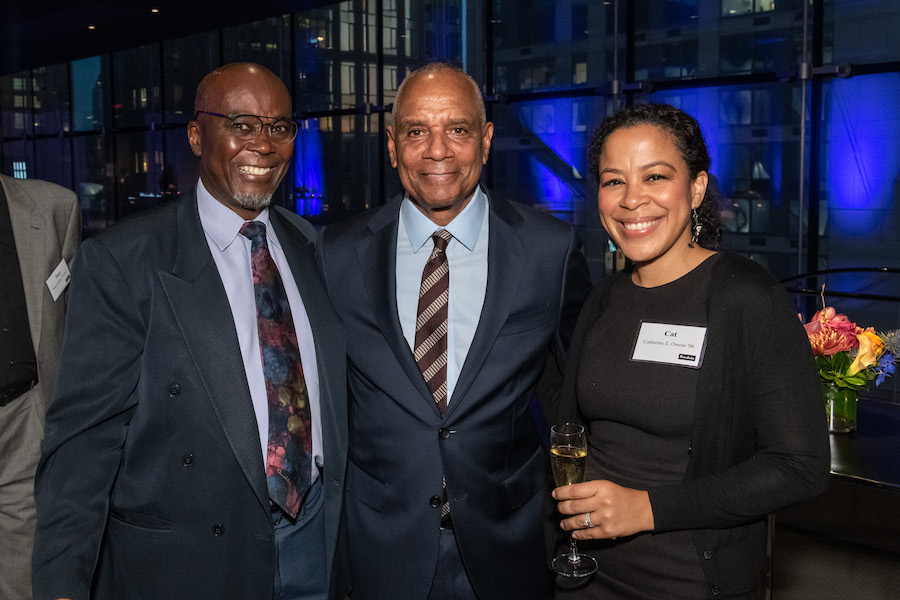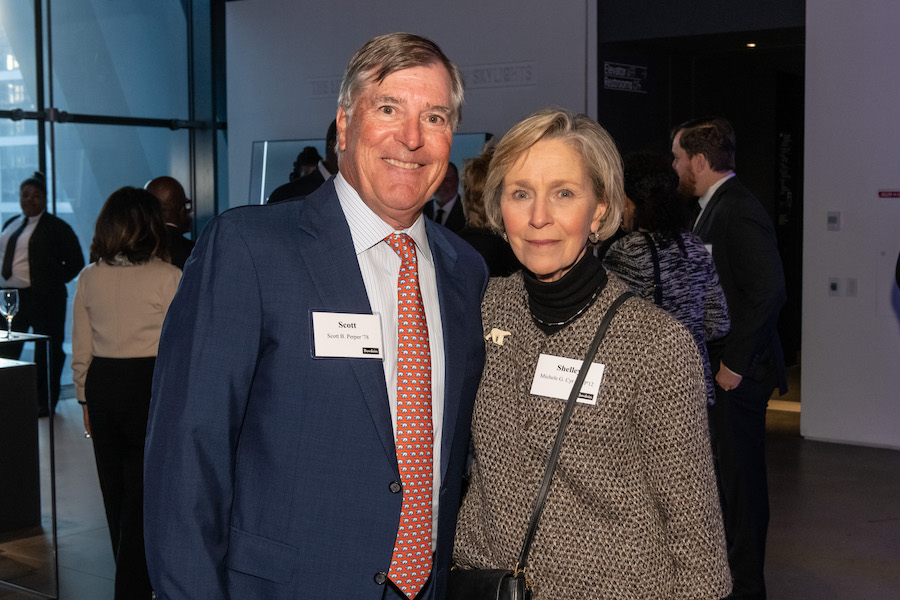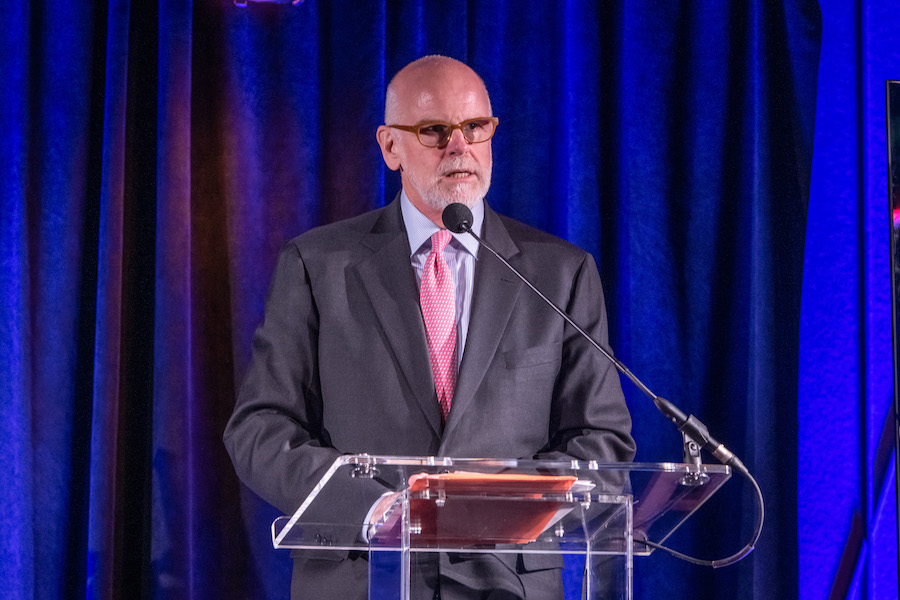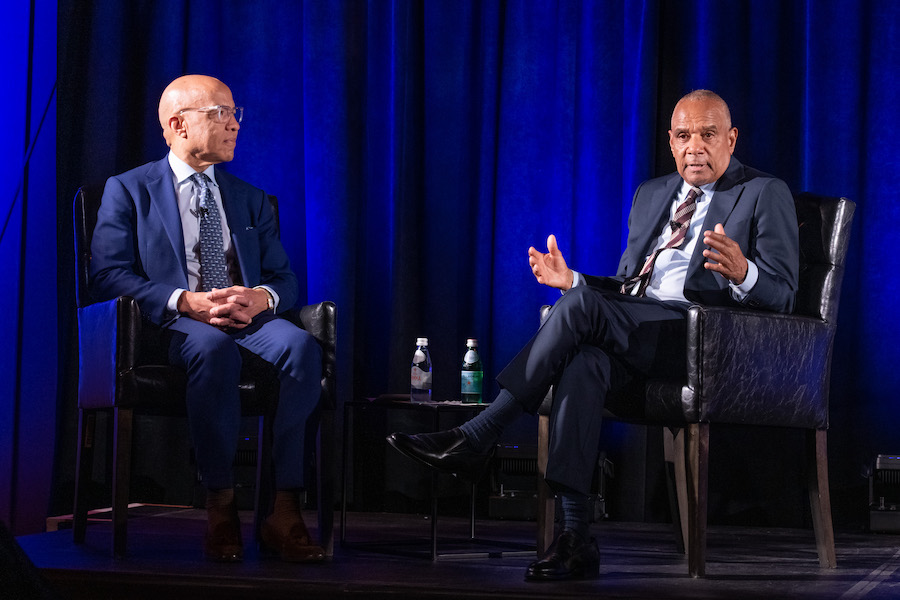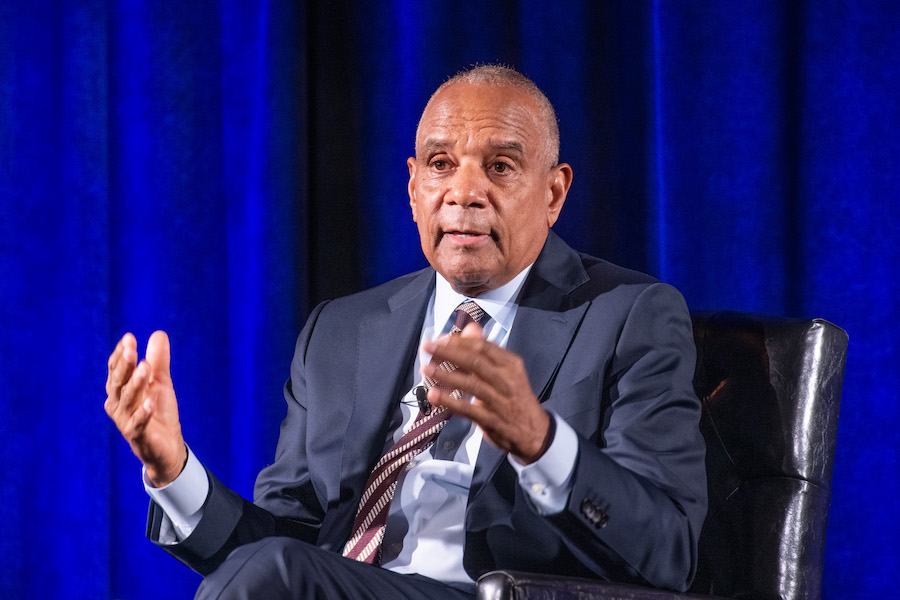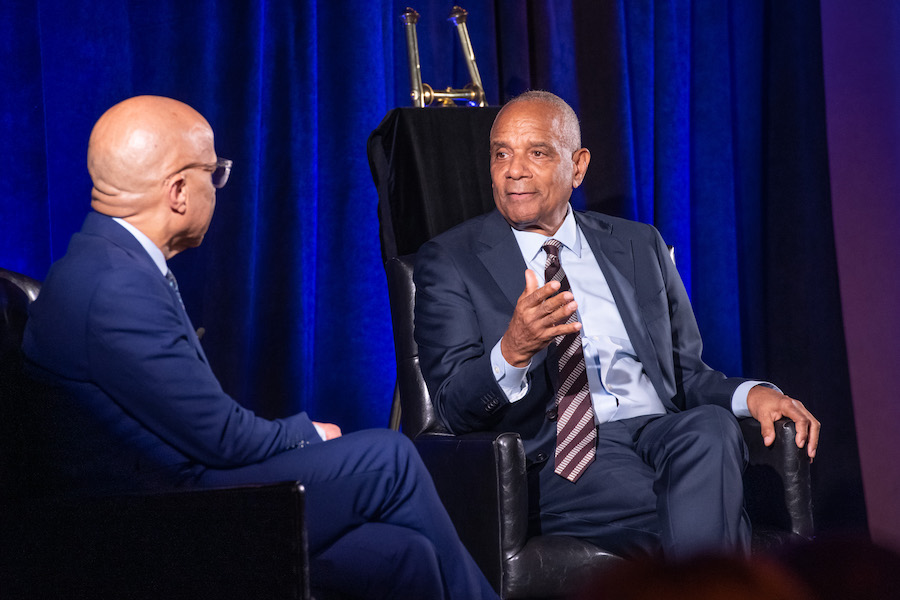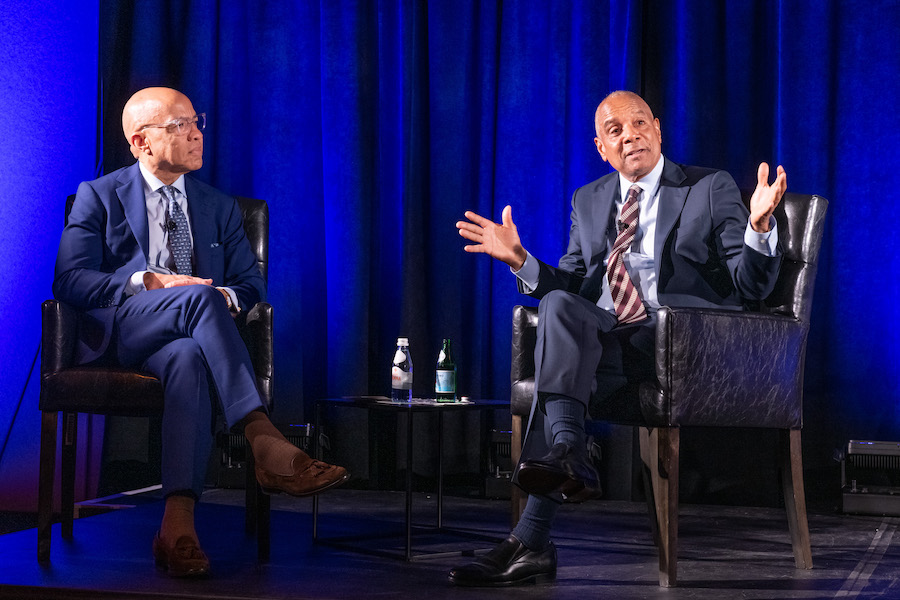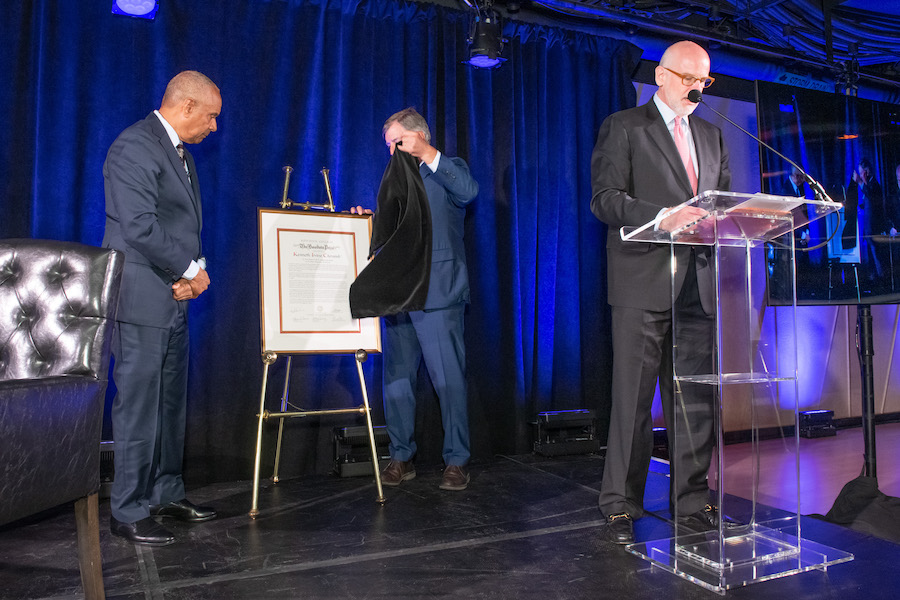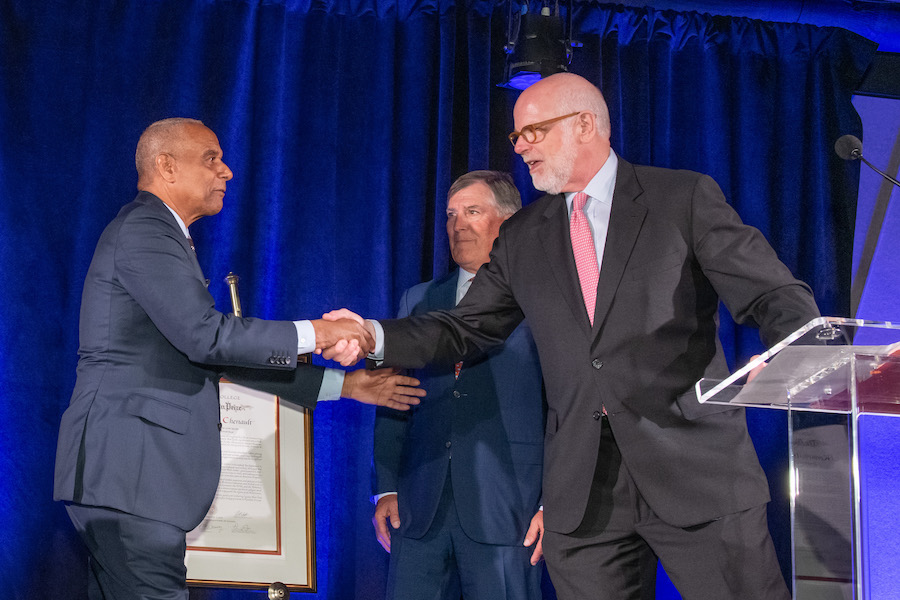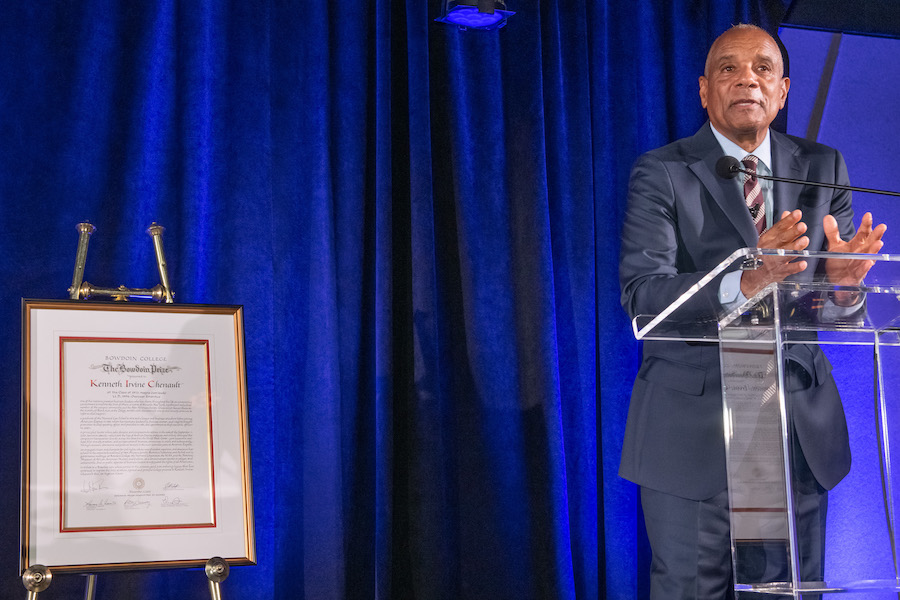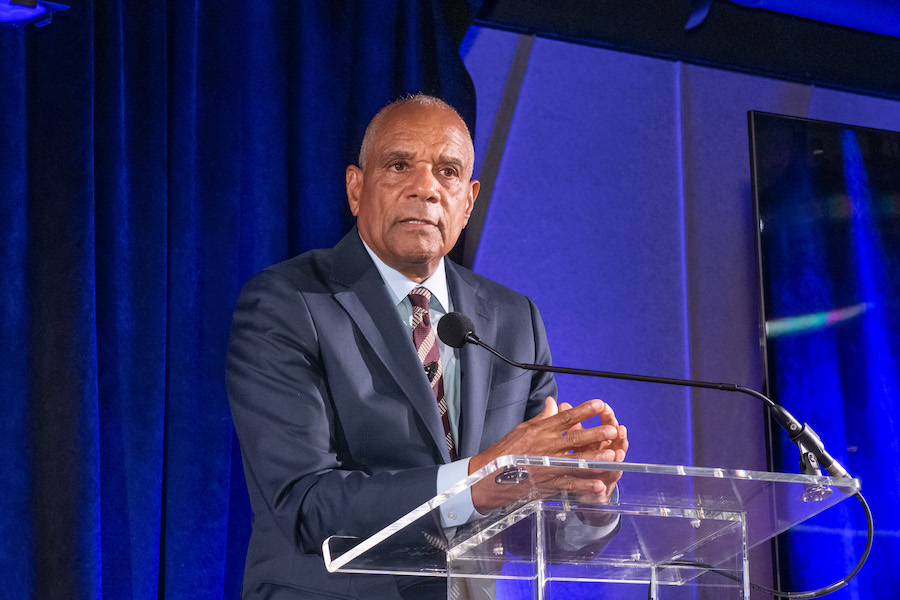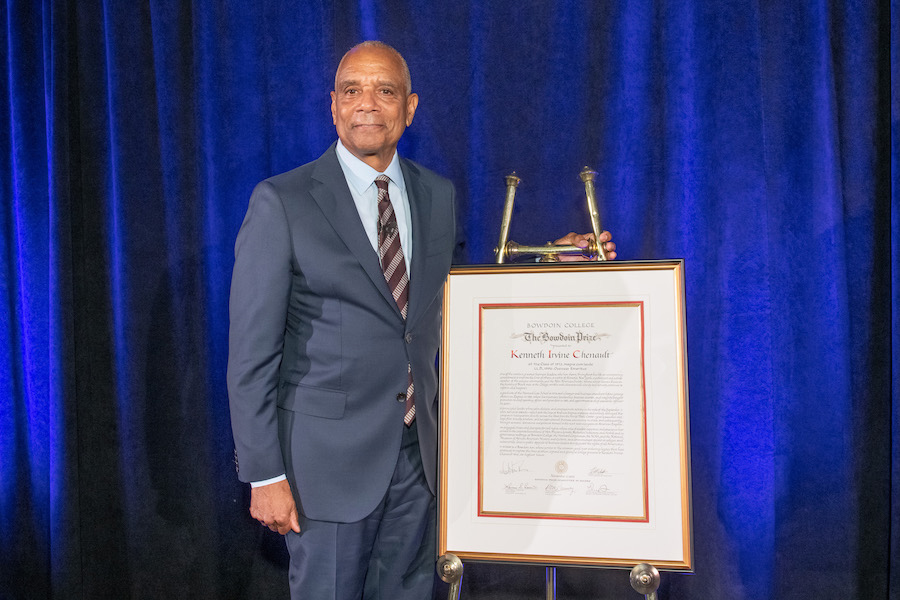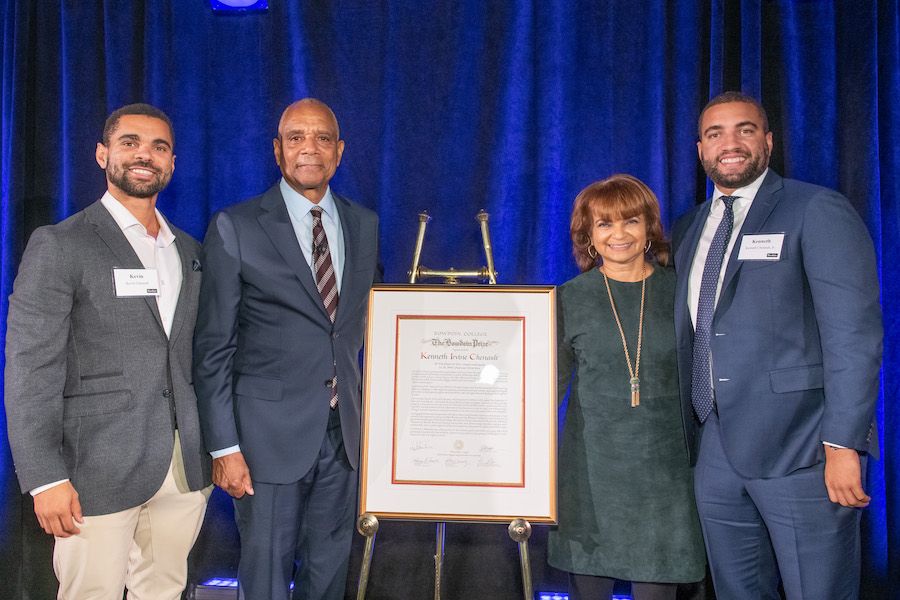 Chenault, along with former Merck CEO Ken Frazier, who attended the ceremony, has led the charge by more than seventy Black business leaders to call on American companies to oppose efforts underway in many states to suppress the vote. "We decided to do something that had never been done before—for Blacks in corporate America to stand up and say, 'We need to fight for the right to vote,'" said Chenault. "This impacts all Americans, but as Black people who are descendants of slaves, and people who were lynched and killed trying to exercise their right to vote, we needed to stand up." He said that corporations owe something to society, "And what's more important than having a vibrant democracy?"
In accepting the award from the chair of Bowdoin's board of trustees, Scott Perper '78, and Bowdoin president Clayton Rose, Chenault thanked his family and the Bowdoin professors with whom he had formed close friendships and whose major impact he says he still feels today.
Earlier in the evening, members of the Bowdoin College Black Alumni Association (BCBAA) had the opportunity to speak with Chenault about their experiences at the College. In accepting the prize, Chenault spoke of the sense of community he had felt as a student. "I want to acknowledge my fellow Black colleagues at Bowdoin, because we were pioneers," he said. "It was a special bond that we formed."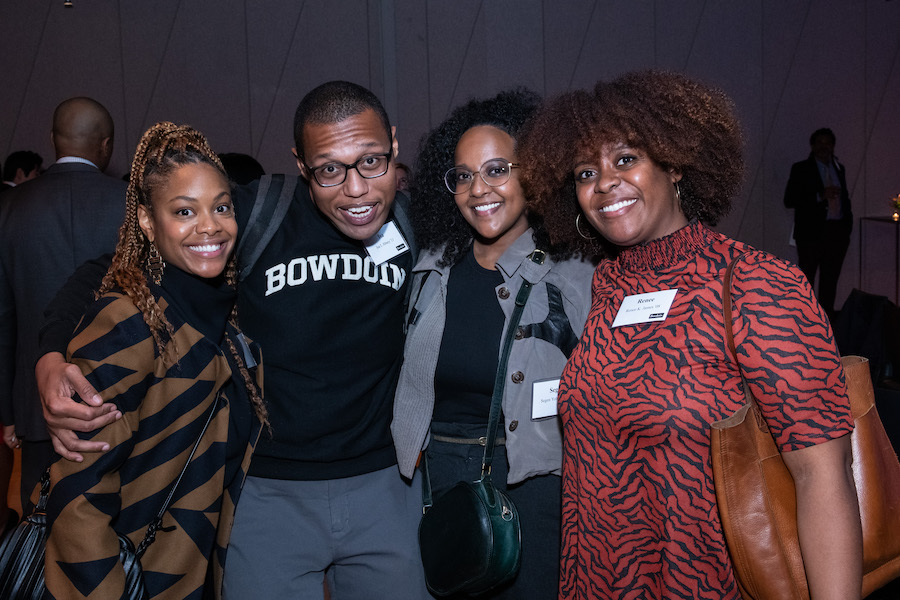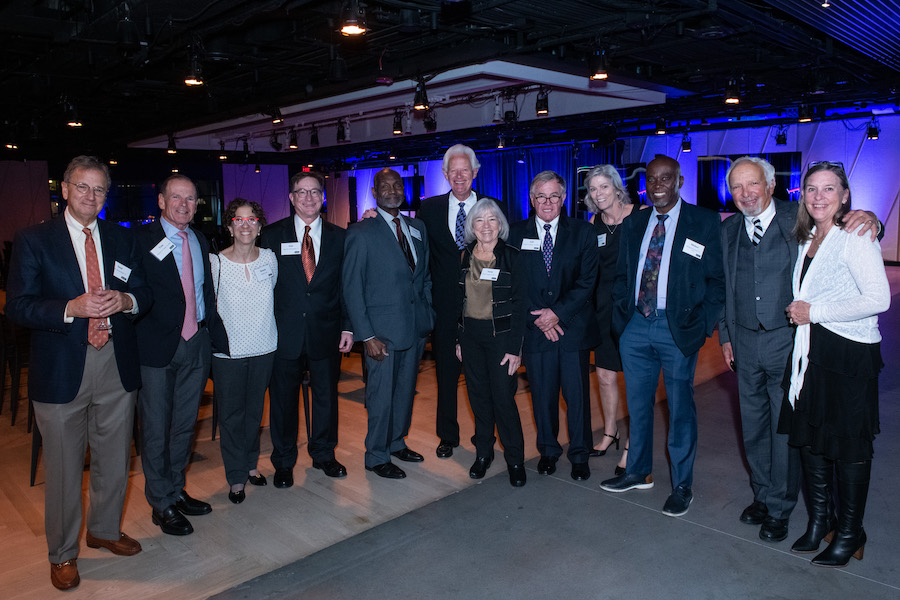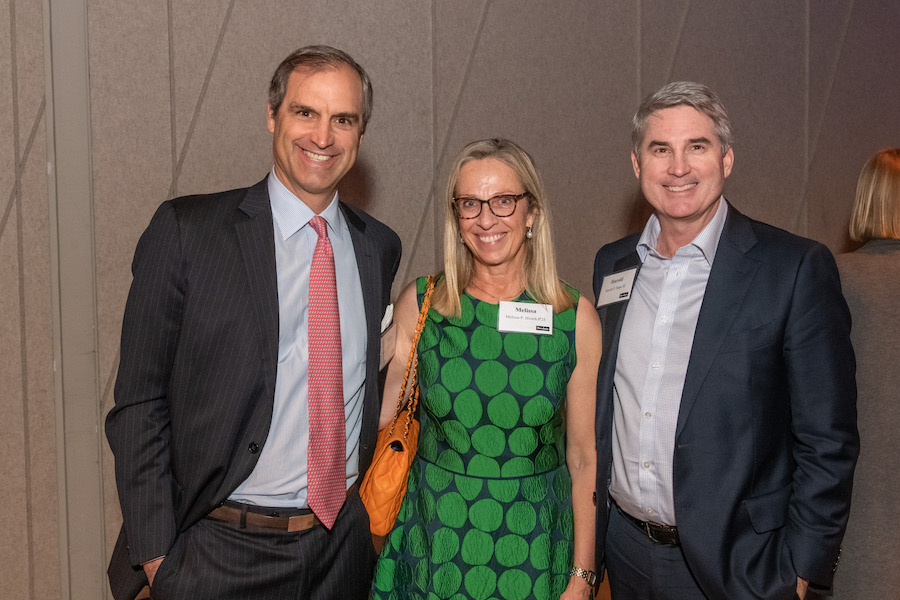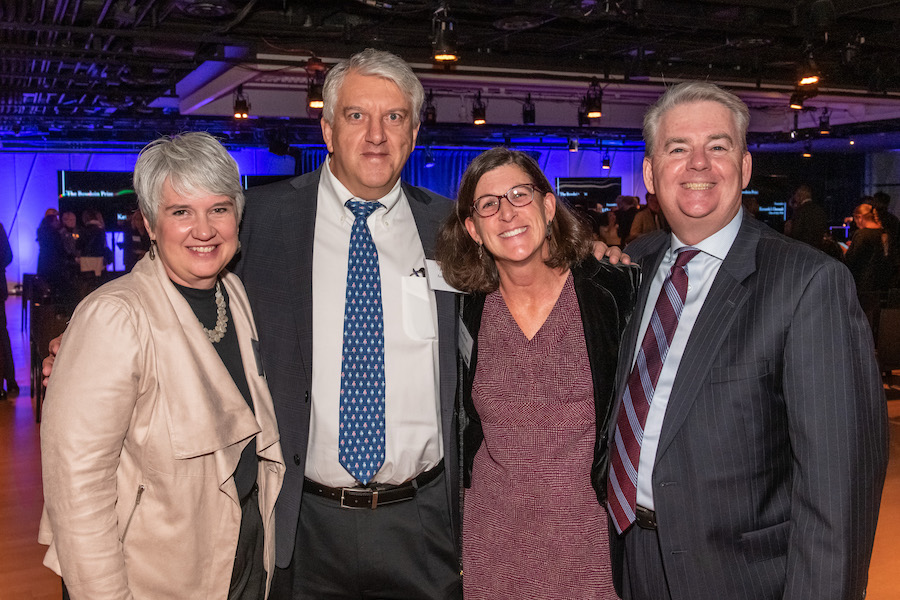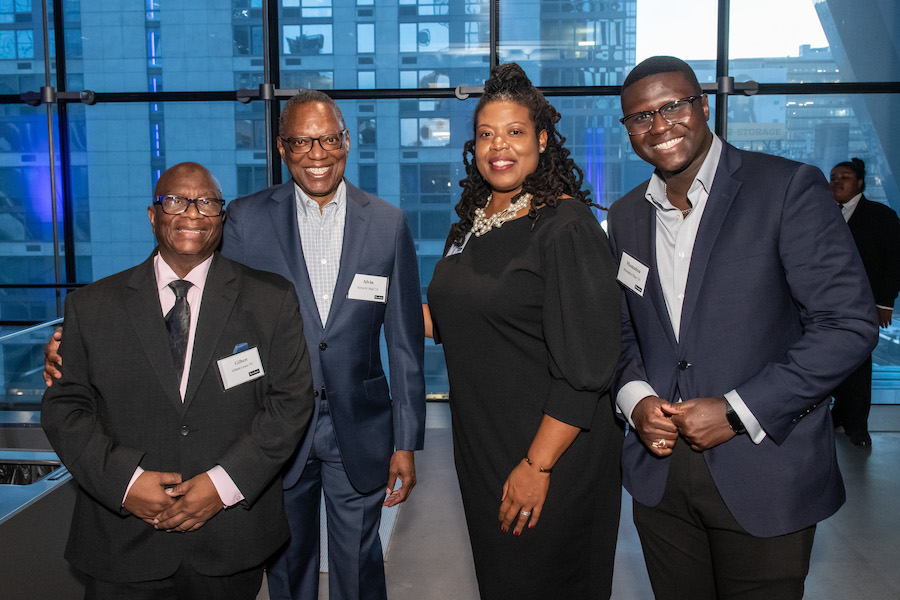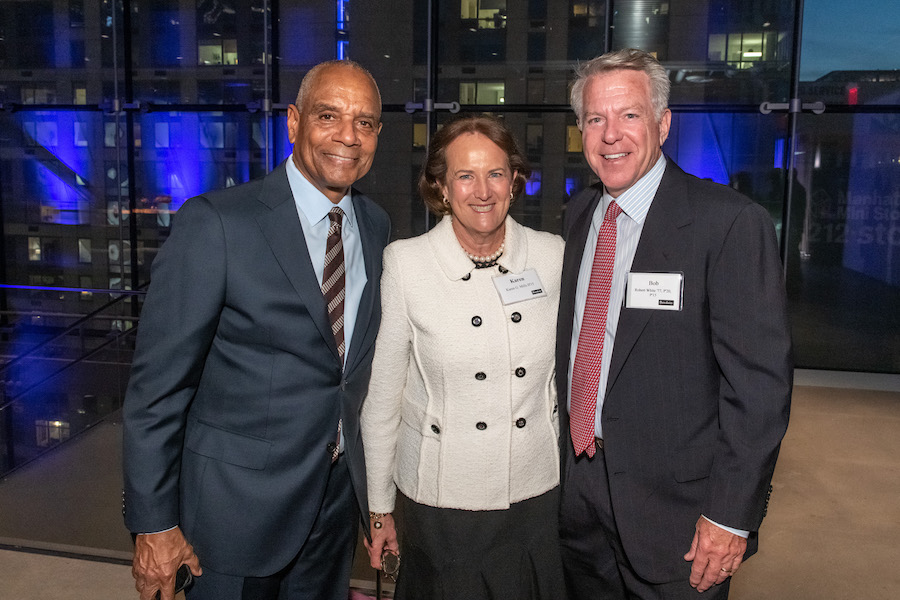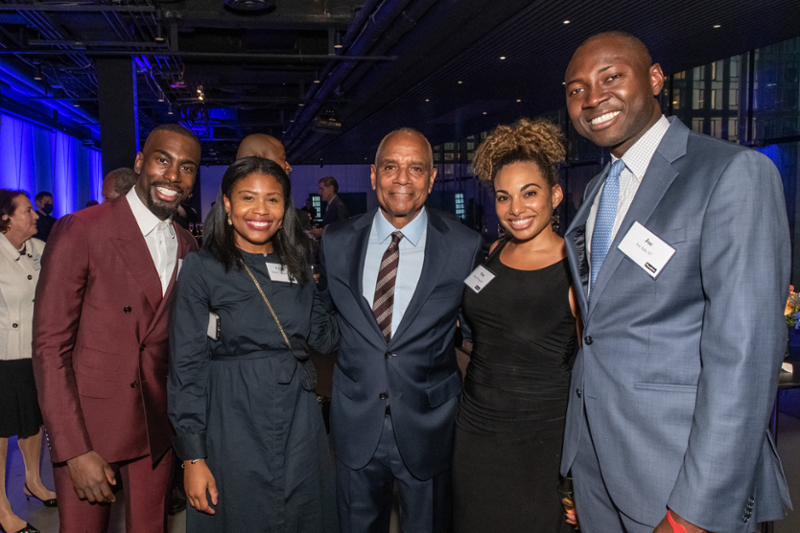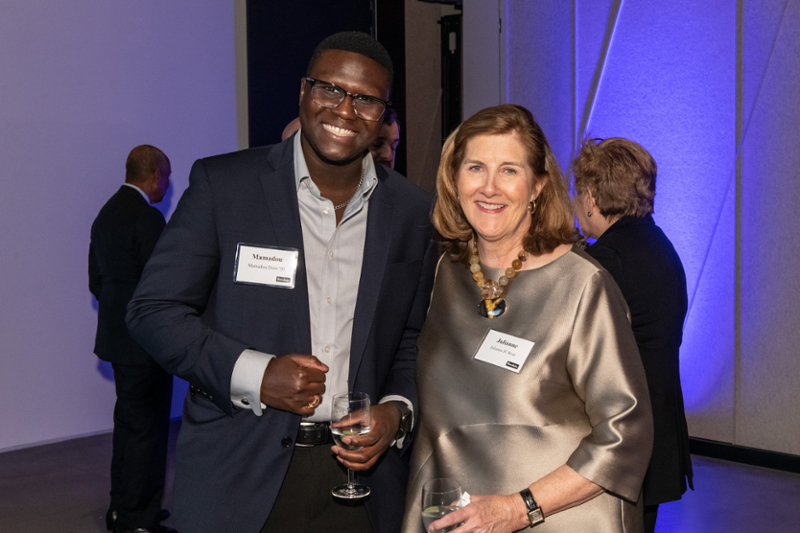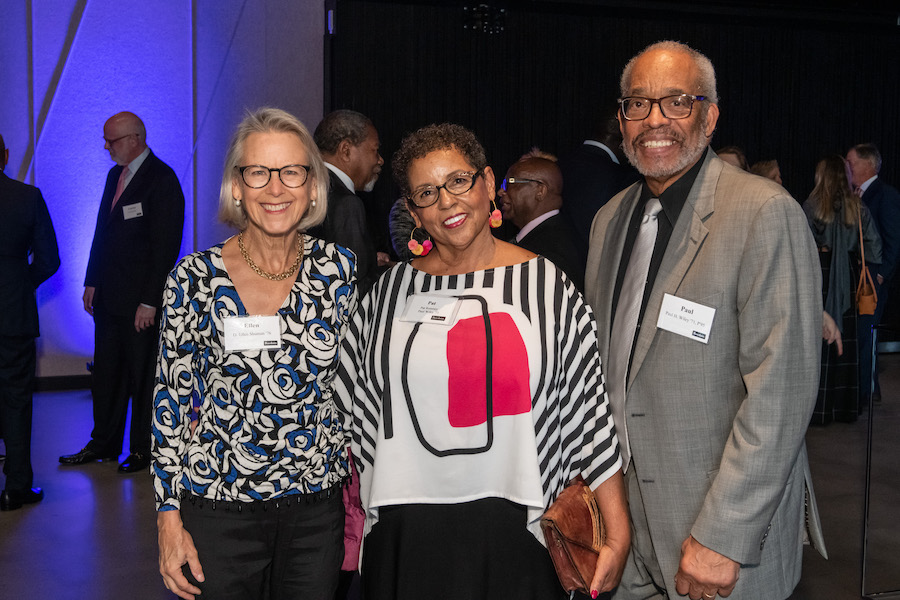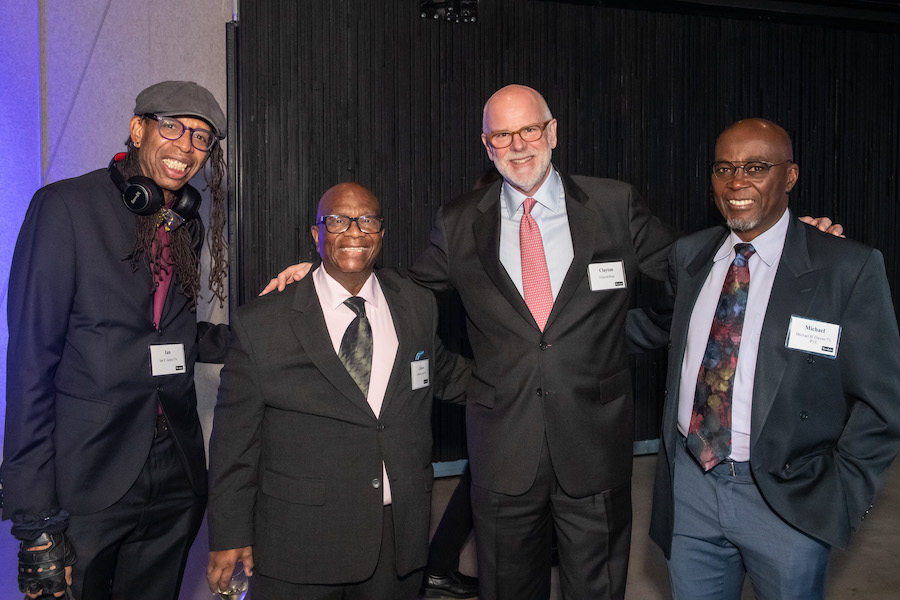 The Bowdoin Prize was established in 1928 as a memorial to William John Curtis, of the Class of 1875, by his wife and children in recognition of "the most distinctive contribution in any field of endeavor." Curtis was a Brunswick native, a prominent lawyer, and a generous benefactor, both to Bowdoin and to his hometown. When he died in October 1927, he was so revered in the town that all places of business in Brunswick were closed for the time of his funeral. And as the New York alumni association said of him at the time, "He loved the College deeply, he believed in it profoundly, he looked forward to its future with confidence, and he gave time and energy and money with unstinted generosity to its service."
In his introductory remarks at the event, Rose shared information that had been "hiding in plain sight"—that William Curtis's father, Captain John Curtis, had direct ties to slavery as a ship-owner and merchant seaman who frequently transported cotton from Mobile, Alabama, to England in the years leading up to the Civil War. Rose noted that Captain Curtis's son William Curtis, while successful in his own right, directly benefited from his father's deep ties to slavery through the station in life into which he was born, the privileges that this provided to him and through his likely inheritance.
"It is widely known, though until recently almost never part of the common historical narrative," said Rose, "that slavery and industries associated with slavery were a vital part of the New England economy in the seventeenth and eighteenth centuries, and in much of the nineteenth century and that prominent people in New England communities accrued substantial wealth and power through these industries and their direct ties to slavery."
Rose noted that the Curtis family history is particularly relevant in the context of an ongoing project at Bowdoin that is initially examining Bowdoin's history with respect to Black and Indigenous communities. The project's first phase is expected to be completed and made available to the Bowdoin community sometime in the spring. As Rose said, it "will help to create a more complete and complex history of the College."
"Why do I raise this, as we gather on this joyous occasion to celebrate Ken Chenault?" asked Rose. "To that question, I would offer the following: because it is a real and an important part of our past and who we are, and one closely connected to this prize. Like other significant parts of our history that have been ignored and never discussed, this is something we need to acknowledge, shed light upon, and add to the reality of our history. We only remain a great educational institution if we live up to our obligation to seek truth, to provide as complete an understanding of our history as we can, to acknowledge and engage this history, and to allow it to inform and shape our future."
Rose said that Chenault had lived this ethos for a very long time. "Some of you may know that his honors thesis at Bowdoin was a history of the experience of Black men at the College, a history that revealed very difficult truths, as well as incredible courage and accomplishment."
When the program had all but ended, Chenault stood up and retook the lectern to commend Rose and Bowdoin for sharing what he called "the full history of Bowdoin College." He added that the impact of slavery is indeed still being felt in this country and said there is redemption in its acknowledgment.
"Truth. That's the oxygen of a healthy society—of a democracy," he concluded.