Published November 01, 2022 by Tom Porter
Russia's War on Ukraine: Culture, Memory, Politics
Moscow's war on Ukraine started in 2014 when Russia invaded Crimea, said Colgate University's Nataliya Shpylova-Saeed, but like all conflicts it has deep-seated historical roots.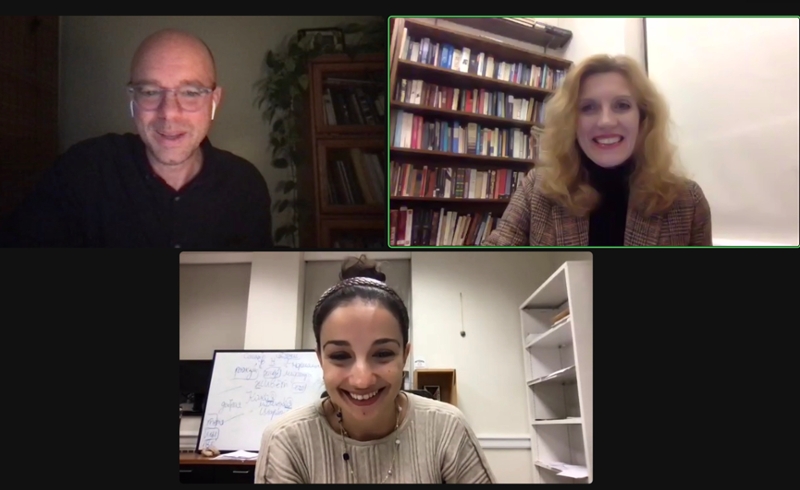 The view of the Kremlin toward its neighbor has long been one that denies it any right to independent statehood, she explained, even though Ukraine has been a sovereign nation since 1990.
"The current war that Russia launched on Ukraine resurrects the rhetoric of the nineteenth century, of the Russian empire, as well as the rhetoric of Soviet Russia of the twentieth century," said Shpylova-Saeed in an online lecture to the Bowdoin community, hosted by the Russian department on October 27. Contemporary Russia, she added, "puts these narratives into the context of the twenty-first century" and perpetuates the Russian attitude "that Ukrainians do not exist and are just a subgroup of Russians."
Shpylova-Saeed, currently a visiting assistant professor in the Russian and Eurasian Studies Program at Colgate University in Hamilton, NY, is a native Ukrainian who this year earned a PhD in Slavic languages and literatures from Indiana University. Her dissertation explores contested memory, focusing on Ukraine and Russia. She also has a PhD in American literature from the Shevchenko Institute of Literature in Ukraine.
"Nataliya Shpylova-Saeed's talk provided critical context around Russia's war on Ukraine, situating it in a long history of attempts to suppress Ukrainian identity and culture," said Senior Lecturer in Russian Reed Johnson, who hosted the event, along with visiting lecturer Mira Nikolova. "Her discussion of how Ukrainian filmmakers have worked to recover the nation's memory of collective tragedies like the Holodomor—an artificial famine created by Stalin that killed millions—also shed light on the broader workings of cultural memory and national identity," added Johnson.
"Today's actions by Russia target the very identity of Ukraine as a distinct nation." Nataliya Shpylova-Saeed.
Future Events
Bowdoin's Russian department is hosting at least two more Ukraine-related events this semester: On November 17, PhD candidate Linda Kinstler will be giving a book talk titled Come to This Court and Cry: Memory and Justice in Ukraine at 7:30 p.m. in Moulton Union.
On December 1, literary historian Leon Kogan from Boston College will give a public lecture called Blame It on Pushkin: Rethinking Russian Culture during the War in Ukraine. That will take place at 4:00 p.m. in Searles Science Building, Room 315.