Published September 13, 2022 by Mira Pickus '25
Back in Germany, Bowdoin Student Helps Ukrainian Refugees
Originally from Munich, Lionel Welz '24 felt a profound need to return to Europe this summer. As a German citizen, he describes "what a horrifying thing it is to be witnessing war on European ground again."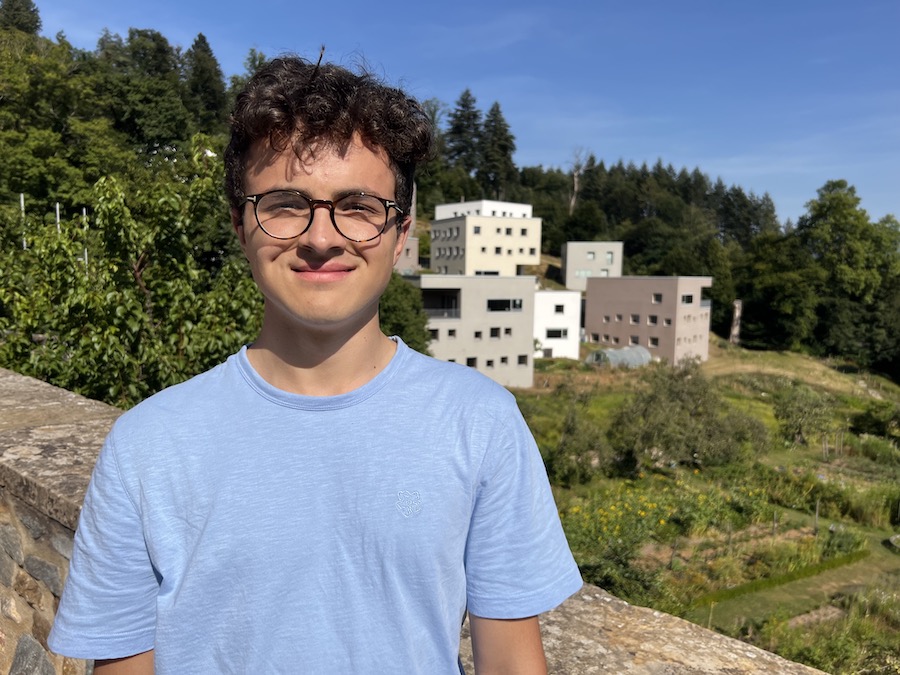 Welz spent his summer making phone calls from Munich.

To be more specific, he spent his summer working 8:00 a.m. to 6:00 p.m., calling German family after German family, inquiring as to whether they could house a Ukrainian refugee for just a few days—or for weeks and months.

As a Bowdoin student with a minor in Russian, Welz grasps a particular understanding of Russian, Ukrainian, and eastern European history and culture. (He is majoring in neuroscience.) His academic and geographic proximity to the war in Ukraine compelled him to find a way to alleviate some of the despair and displacement caused by this cataclysmic event.

And he did find a way.

Welz volunteered for Münchner Freiwillige, an organization that aids Ukrainian refugees in finding housing upon their arrival to the country. He worked long days, his language weaving in and out of German, Russian, and English.
After taking three years of Russian at Bowdoin on top of some initial study in high school, Welz felt ready to engage with the individuals who came through Münchner Freiwillige. Although he did not always completely understand them, he soon picked up on certain important patterns and phrases such as: "Do you have a passport?" or, "What's your ID number?"

Beyond the intense hours and linguistic practice, his job came with gravity and an emotional toll. Welz quickly accumulated countless stories of refugees fleeing violence and mourning the loss of relatives. He described his encounter with a newly orphaned ten-year-old boy who fled with his uncle to Germany. The uncle's Russian and German were so poor that Welz communicated with the child rather than the adult. The boy had taken it upon himself, in his first few days in the country, to learn as much German as he could on the language app Duolingo. He had somehow also managed to enroll himself in school—navigating a foreign system and bureaucracy amid his grief and displacement.

"It was very difficult for me to see this boy who had just lost everything," Welz said. "He had to mature within two weeks. He had to figure out life for himself and his uncle, while simultaneously coping with [the fact that] both of his parents had been killed a couple of days apart."

Welz's position combined basic secretarial work with a practice in empathy. He found that no matter how tedious or heavy, the feeling of finding an individual or a family housing, sometimes within the last hour of a ten-hour shift, made his physical and emotional exhaustion worth it.

Now back at Bowdoin, Welz is appreciative of the Russian department for openly talking about the war and for promoting the study of Ukrainian cities and cultures within the classroom. He also expressed his desire to see more conversations about the conflict and more efforts to aid in the Eastern European humanitarian crisis.