Published September 23, 2022 by Tom Porter
Economist Zorina Khan Wins "Outstanding Book" Prize—Again
Professor of Economics Zorina Khan has cemented her reputation as "one of the world's leading experts on the history of innovation." This assertion is underlined by the fact that both of her books have now won one of most prestigious prizes in the field of economic history.
Back in 2006, her first work, The Democratization of Invention: Patents and Copyrights in American Economic Development (Cambridge University Press, 2005), was awarded the Alice Hanson Jones Biennial Prize by the Economic History Association (EHA). The book, which was immediately deemed "an economic history classic," examines the evolution and impact of intellectual property rights in Britain, France, and the United States during the "long nineteenth century," that is, from 1790 to 1920.
Fast forward to 2022, and Khan's second, and latest, book, Inventing Ideas: Patents, Prizes, and the Knowledge Economy (Oxford University Press, 2020), has achieved the same feat, following a meeting of EHA scholars earlier this month, who decided that this too warranted the prize for outstanding work in American economic history.
Khan's "groundbreaking study" asks why some countries succeed economically and others fall behind. "Inventing Ideas addresses fundamental questions about the sources of economic growth, by closely analyzing the behavior of over 100,000 innovative individuals across place and time," explains Khan. "The novel theory and empirical results in my book challenge many widely accepted conclusions about the law and economics of technological change," she adds. "It is therefore very rewarding to receive this validation and recognition for my work from the Economic History Association. And, of course, I am truly gratified to have been twice granted this prestigious 'once in a lifetime' award!"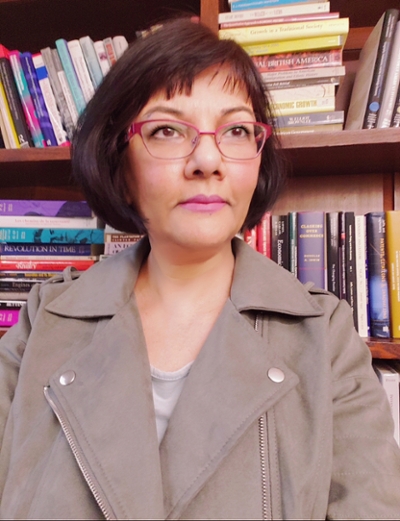 A "monumental" achievement that offers "important lessons for current debates on intellectual property." (Economic Affairs, 2021)
A "significant intellectual contribution to our understanding of both the institutions and incentives for innovation and technological progress. Khan artfully weaves a narrative, provides conceptual clarity, and backs up her propositions with empirical insights to help us understand why certain countries successfully built and executed innovation machines that enabled progress and others did not. A must-read for scholars of innovation and institutional development." (Karim R. Lakhani, Harvard Business School)
 "No nation has achieved economic prosperity without robust technological progress. But what propels innovation? This erudite book makes a powerful case that state administered solutions and elite designs do not work, and the market system underpinned by open access for a broad cross-section of society is the key to technological flourishing." (Daron Acemoglu, Massachusetts Institute of Technology)
Inventing Ideas
sheds light on a wide range of current policy debates, including intellectual property, innovation prizes, climate change, women and diversity, disruptive technologies such as 5G, national security and the role of the state, and the emergence of China in the global economy. This research has been featured in national and international outlets such as the
New York Times
,  
Foreign Affairs
,
Les Echos
, and the
Financial Times
,
as well as podcasts by
Resources for the Future
and the BBC World Service, among others.