Published September 20, 2022 by Jane Godiner '23
Celebrating LHM with Food, Discussion, History, Dance, and Comics
On Saturday, the Bowdoin Latin American Student Organization (LASO) hosted its annual kickoff celebration on the Main Quad to signify the beginning of Latin Heritage Month.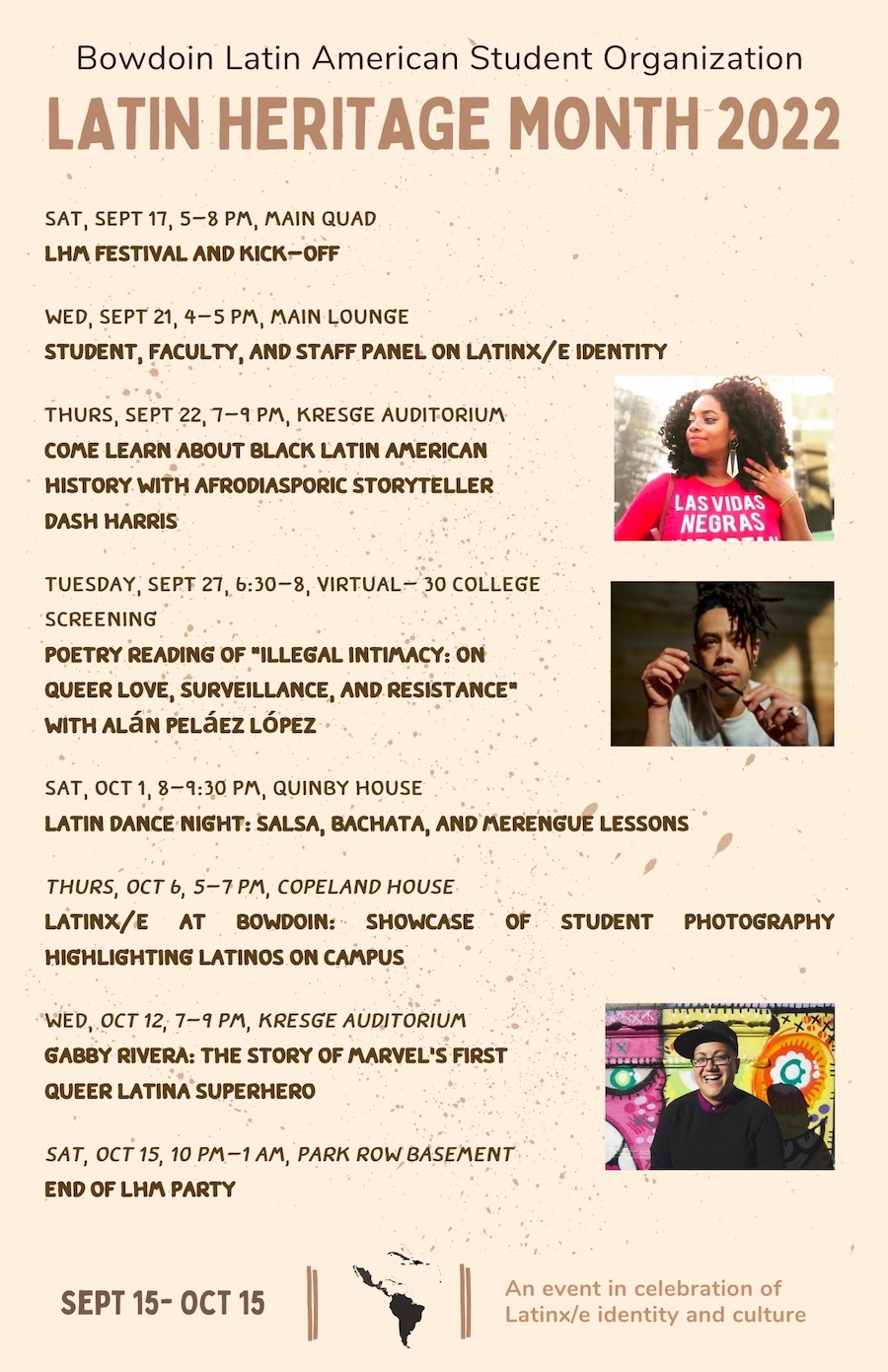 "Our big idea behind the kickoff event was to start the semester off with a big splash," LASO Programming Director Jose Mota '23 said. "We worked hard over the summer to plan important events for all of Latin Heritage Month, and we're really just aiming to let people know what our culture is."
Programming, which will continue through October 15, will allow Bowdoin students to engage with different media and facets of Latin culture: from a poetry reading, to a dance workshop, to a student-run photography installation.
"We want to showcase the richness and beauty of our culture through these events," LASO President Francisco Perez '24 said. "We also want to show how vastly different it is within Latin America, and how [Latinx students] vary so much."
Perez intended that, even at the celebratory kickoff event, this month's programming would be reflective of the diversity of identities within the Bowdoin Latinx community.
"We have Colombian, Salvadorian and Mexican food, we have some games specific to certain countries, and we have a lot of different Hispanic and Latinx candy," Perez added.
LASO Vice President Kellie Navarro '23 also believed it necessary for the kickoff celebration to be as authentic to a Latinx celebration as possible, while still keeping the event open to the entire Bowdoin community.
"We wanted to represent a festival—something that we would be doing in our own communities," Navarro said. "We wanted to bring that to campus."
While celebration was a key tenet of the event, LASO leaders also used it as a platform for fundraising—specifically to bolster early childhood education in rural Peruvian villages.
"We really wanted to bring awareness to the things going on in different countries, as well as having different activities," Perez said.
Assistant Dean of Student Affairs for Inclusion and Diversity and Director of Multicultural Student Life Eduardo Pazos looks forward to the opportunity to welcome Latinx creatives, such as
Gabby Rivera
, the author and creator of the first queer Latinx superhero in the Marvel Universe, to Bowdoin's campus.
"[Rivera] is going to come to campus and talk to us about how creativity can be part of activism and beauty," Pazos said. "There are a lot of activities coming up to celebrate this month."
The members of LASO look forward to not only celebrating Latin Heritage Month among Bowdoin's Latinx community, but to the opportunity to share their enthusiasm with the College en masse.
"We're just trying to let people know that, as a club we're open—we're as open as being on the quad," Mota said. "We're accepting of anyone to come, enjoy our food, and learn more about us."