Published September 13, 2022 by Tom Porter
Bowdoin's Henry Laurence on "The Complicated History of Queen Elizabeth II."
When Queen Elizabeth II died on September 9, 2022, "she was adored and respected by most people in Britain," wrote Associate Professor of Government and Asian Studies Henry Laurence in the Portland Press Herald's Sunday Commentary column. "Yet," he added, "[her] longer-term legacy is somewhat more complicated."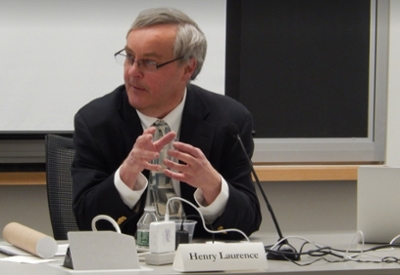 Elizabeth was Britain's longest-serving monarch, whose reign spanned seven decades and fifteen prime ministers from Winston Churchill to Liz Truss, notes Laurence, whose expertise covers UK politics, as well as Asian studies.
He described her Christmas day talks as "moments of national intimacy," as families across the country, including his own, gathered around the television set. "At my grandparents' farmhouse in rural Devon, England, we would have to stand for the opening national anthem then sit very still and listen silently, forbidden from opening our presents until after Her Majesty had wished us all a very happy Christmas," recalled Laurence.
"For millions of Britons," he continued, "she represented a reassuring symbol of national stability and continuity amidst the bewildering political, social, and economic upheavals of the post-war era, ranging from the loss of empire up to Brexit and now COVID-19."
However, Laurence said it's also important to note the more complicated aspects of her long-term legacy. "For many, the monarchy symbolizes the sort of hereditary wealth and privilege that hinders progress toward a fairer, more democratic society and makes it harder for Britain to fully confront the toxic legacies of imperialism." Read more.
This semester Laurence is teaching Disunited Kingdom? The Politics of Identity and Inequality in Modern Britain (GOV 1024).