Hook, Line, and Sinker
Published by Tom Porter for Bowdoin Magazine
Pickard Theater returned to life this spring with a vibrant and beautiful musical based on the myth of a water creature who assumes human form.
Adapting Ondine for 2022, director of the production Davis Robinson says, meant "centering the narrative on the true power of the natural world and the failures of the civilized world to listen to its warnings." Despite its serious theme, its sets and staging were dazzling and wildly creative, and its lyrics and dialogue are full of laughs, heart, and permission to fall "helplessly, hopefully" in love.
After more than four years in the dark, Pickard Theater came back to life as a new musical hit the stage. Bowdoin's department of theater and dance taps a wealth of in-house talent for Hook, Line, and Sinker. Inspired by a European folk tale about a water nymph who falls in love with a human, the piece resonates on many levels, says director and theater professor Davis Robinson.
Hook, Line, and Sinker is a musical adaptation of the French play Ondine, written in 1938 by Jean Giraudoux, which in turn was based on earlier myths about a knight called Hans who falls for a water nymph called Ondine.
The play was translated and turned into a musical by Bowdoin staff member Delmar Small, who, as well as being concert, budget, and equipment manager for the music department, is a talented musician, writer, and theater producer.
Small says the project was born out of a discussion he had with Robinson in November 2019, on the closing night of the Cole Porter musical revue. "I said to Davis I would really like to write a musical, and if I did, would he direct it? He was really keen on the idea and suggested I base it on Ondine."
The result was an energetic two-hour show with a cast of fifteen students who filled a variety of roles. As well as acting, they were also singing and dancing, playing music, and dealing with costumes and puppets. Three years ago, Small was composer-in-residence at the Eugene O'Neill Theater Center in Connecticut and worked with all sorts of puppets.
"It was so much fun," he adds, "that I immediately thought of puppets when I started working on this show, which features shadow puppets, hand puppets, stick puppets, and marionettes." To help with that side of the production, adjunct theater lecturer and puppet designer Libby Marcus came on board. The impressive design team also included Lily Prentice '10, who is responsible for the costumes, and set designer Judy Gailen. "Our highly professional designers have really gone all out to create a wonderful imaginary world and bring this parable to life," says Small.
When it came to composing and orchestrating the score, Small went for a more classical set-up, eschewing the drum kit and double bass typically found in a musical theater pit orchestra.
"The performance is quite ballet-like, with some dance routines included, so I went for more of a chamber group sound, with flute, horn, violin, cello, piano, harp, and miscellaneous percussion. This is my second musical, and it's by far the largest production I've been involved with."
Hook, Line, and Sinker has, quite literally, many moving parts, said Robinson, and is the biggest show to hit the Pickard stage since The Threepenny Opera in 2017. "This was originally supposed to be performed in either the fall of 2020 or the spring of 2021, but, of course, the pandemic happened, and we lost a couple of years!"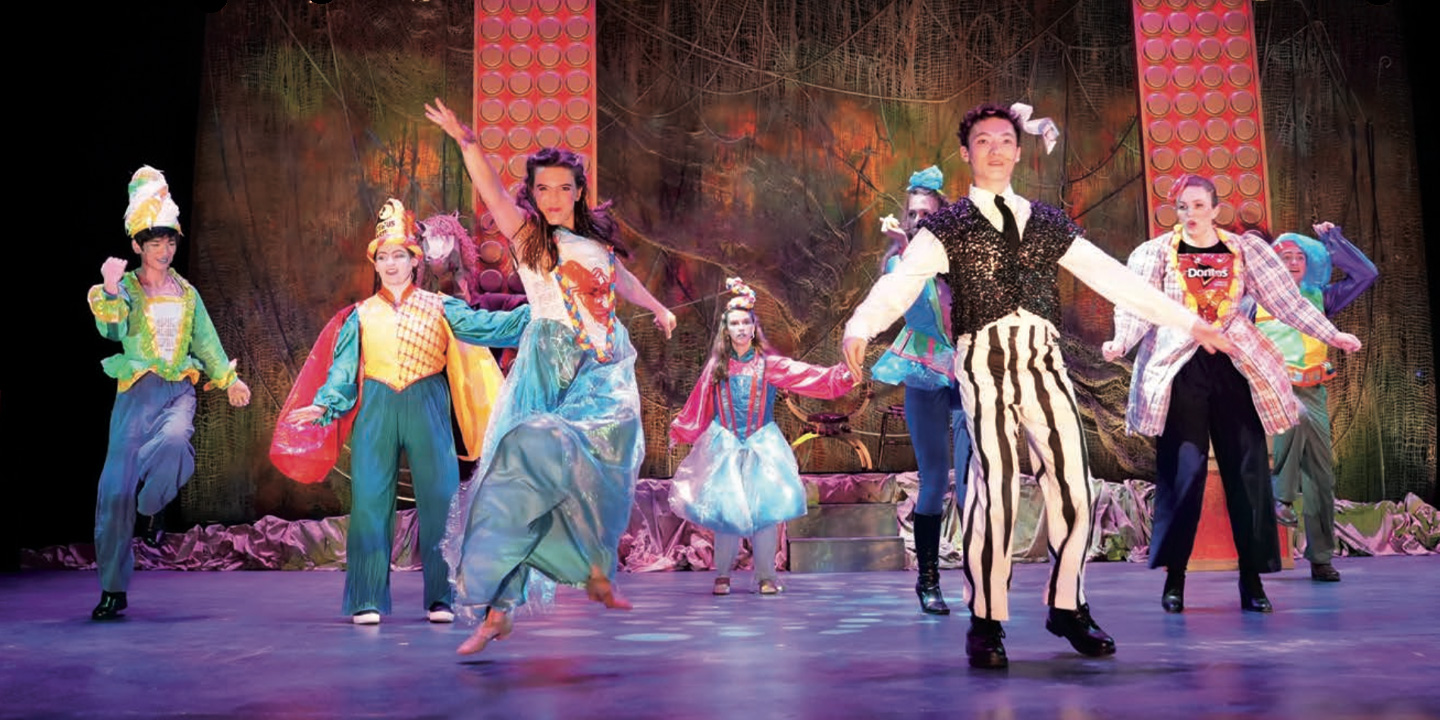 "When you are as old as I am today, you may see that Life is a poorly written play that suffers from a lack of direction."
—"The Chase," Act 1, Scene 4
The legend of the water nymph, known as the "selkie" in Celtic and Norse mythology, can also be found in Greek and Native American myths, says Robinson, as well as more modern iterations on the stage and the big screen.
"There was recently a German expressionist movie, called Undine, that was based on the legend. A few years earlier there was a film with Colin Farrell, also called Ondine, about an Irish fisherman who falls in love with a selkie. Then, of course, there was Splash." Robinson is referring to Ron Howard's 1984 romantic comedy, starring Daryl Hannah as a love-struck mermaid and (very) loosely based on the legend of the selkie. The enduring appeal of the tale, explains Robinson, is the contrast between the purity and innocence of the water nymph and the cynicism and immorality of the human world.
"The relationship between Hans and Ondine is doomed from the start," he says. "On one level, the story is a parable about the human soul. What does it mean to be human? Can nonhumans have a soul?"
This production explores other themes too, he explains, notably the way mankind abuses nature. "It's a perfect parallel for where we are now with climate change. The earth is getting hotter and drier… and the worst thing is that we know it's happening but seem unable to stop it."
Despite such weighty topics, says Robinson, delightful moments of comedy shine through the play, such as a TV game-show scene featuring shadow puppets, an actor in a horse costume, and giant dancing lily pads.
To watch the production, visit bowdo.in/hook.
---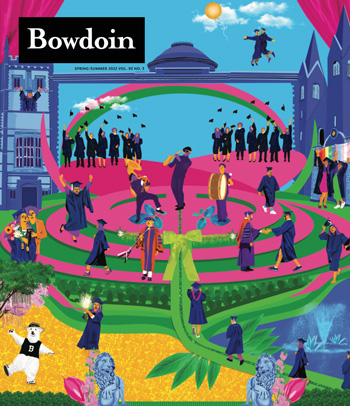 This story first appeared in the Spring/Summer '22 issue of Bowdoin Magazine. Manage your subscription and see other stories from the magazine on the Bowdoin Magazine website.