Published July 20, 2022 by Liddy Berry '75, P'05 for Bowdoin Magazine
Always Looking Forward
Elissa "Liddy" Berry '75 is recognized as having been the first woman to submit a formal application to Bowdoin when the College officially opened to coeducation. In a note dated October 12, 1970, admissions director Dick Moll wrote to Liddy to congratulate her.
Do you remember how you felt when you received the note from Dick Moll about your application? If so, what was it like? Do you have that note still?
I do still have the note from Dick Moll, though it is packed away in a box. Bowdoin has a copy, too. What I remember was the fuss my father (Class of 1945), uncle (Class of 1945), and brother (Class of 1968) made. My father even framed the note. I remember being confused as to why they were making a big deal. For me it was just a next step in my intent to study at Bowdoin. At the time, I did not understand the significance. 
You mentioned feeling lucky to have had a long and rewarding career. Can you tell us a little about that? What have you found rewarding in your work?
After Bowdoin, I enrolled in the master's program in special education at the Peabody School of Education at Vanderbilt University. The Education for All Handicapped Children Act was passed by Congress in 1975 so my timing was perfect to enter the field of working with young children with disabilities, as there were few developmental educators at that time. I have taught young children for over four decades. Currently, I work part-time as adjunct faculty in the education department at Worcester State University supporting the next generation of early childhood educators. There is an opportunity to make a difference every day when teaching. When working with children with disabilities one is forced to be an optimist—you have to believe tomorrow can be better than today. You are always looking forward. 
You have a lot of Bowdoin family members and in-laws! What is that like? Are there a lot of Polar Bear tchotchkes and BCAD attire kicking around in all the Berry/Knight homes? Are there ways in which you all experienced a different Bowdoin? Ways in which the experience was the same, all the way from your grandfather to Carly?
When I was a young child, my father would sing us songs at bedtime. By age ten, I knew all the words to all the Bowdoin songs. We wore Bowdoin sweatshirts and baseball caps, ate on Bowdoin plates, and sat in Bowdoin captain's chairs. My grandfather graduated in 1911 and I do not think he could have imagined a world where his granddaughter and great-granddaughter would be Bowdoin graduates. He would have been so proud. My father's Bowdoin experience was interrupted by Word War II and he only spent two years on campus before entering the accelerated graduation program to join the Marines. He was a proud member of the Class of 1945 and his loyalty to Bowdoin was fierce. I think his Bowdoin years helped carry him through the war. My brother attended Bowdoin during the Vietnam War. While at Bowdoin he prepared to enter the Navy following graduation but was in the same conflict with the Bowdoin community about the morals of the war. The draft ended early in my time at Bowdoin—my future husband's (Roy Knight '75) fraternity threw him a going away party when his draft number was called, only to have the draft end before he had to leave Bowdoin. My four years at Bowdoin had a tremendous focus on the acceptance of and ways to integrate women. Our daughter, Carly, entered Bowdoin in 2001. Three weeks after she arrived, 9/11 happened. Global, domestic, and local events will always impact the campus and Bowdoin experience. These events provide the Bowdoin community opportunities to react, which forces the campus to be fluid, relevant, and responsive. 
You also mentioned that being first kind of inspired you to be open to other firsts in your life. How has that manifested?
I was comfortable in that first class of women. I was the first female recipient of the FDR Cup for my work leading Project Bermuda North while at Bowdoin. Two years into my teaching career in DC, I joined an administrator from my school for a year in Israel training teachers and opening the first day school in Israel for children with autism. Upon my return from Israel, I relocated to Portland, Maine, where I taught the first classroom in the public schools for students with moderate disabilities. Two years later, I helped create and teach in the first program for students with severe disabilities, SHIPPS (Severely Handicapped in Portland Public Schools). Several years later, I helped create and teach in the first integrated preschool program in the Portland public schools. During that time, my husband and I started the first wholesale specialty cut flower greenhouse business in Maine. I learned from my experience entering Bowdoin that something can happen even if it hasn't been done before. 
What are you most proud of? 
Professionally, I am most proud of my two-plus decades teaching on Hanscom Air Force Base for the Lincoln, Massachusetts, public schools. It was a special experience supporting active- duty military families during the wars in Iraq and Afghanistan. Personally, I am most proud of my three children and three grandchildren. They are generations of wonderful humanity who make this world a better place simply by who they are and what they do. 
Is there something you believe few people know about you?
I know sign language. 
What pursuits do you enjoy in your spare time?
I try to get to the gym as many times as I can each week. I love to read historical fiction and nonfiction, especially female survivor stories. I try to be with young children almost every day. Children require you to be in the moment, to move, and to have a sense of humor. 
Is there anything else you'd like to share?
I married Roy Knight '75 in the Bowdoin chapel. Our fathers, both Class of 1945, wore Bowdoin ties. My father's memorial service was held in the chapel. The congregation sang Bowdoin songs in his memory, led by my father-in-law, Lloyd Knight '45. Bowdoin runs deeply through all parts of my life. 
---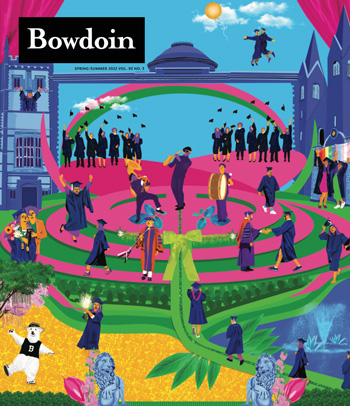 This story first appeared in the Spring/Summer '22 issue of Bowdoin Magazine. Manage your subscription and see other stories from the magazine on the Bowdoin Magazine website.