Published May 09, 2022 by Rebecca Goldfine
'Common Good Grant' Students Donate Record Amount to Local Nonprofits
This year, the Common Good Grant program—which functions essentially like a student-run charity—gave away a record amount to Midcoast organizations. It also had a record number of student applications.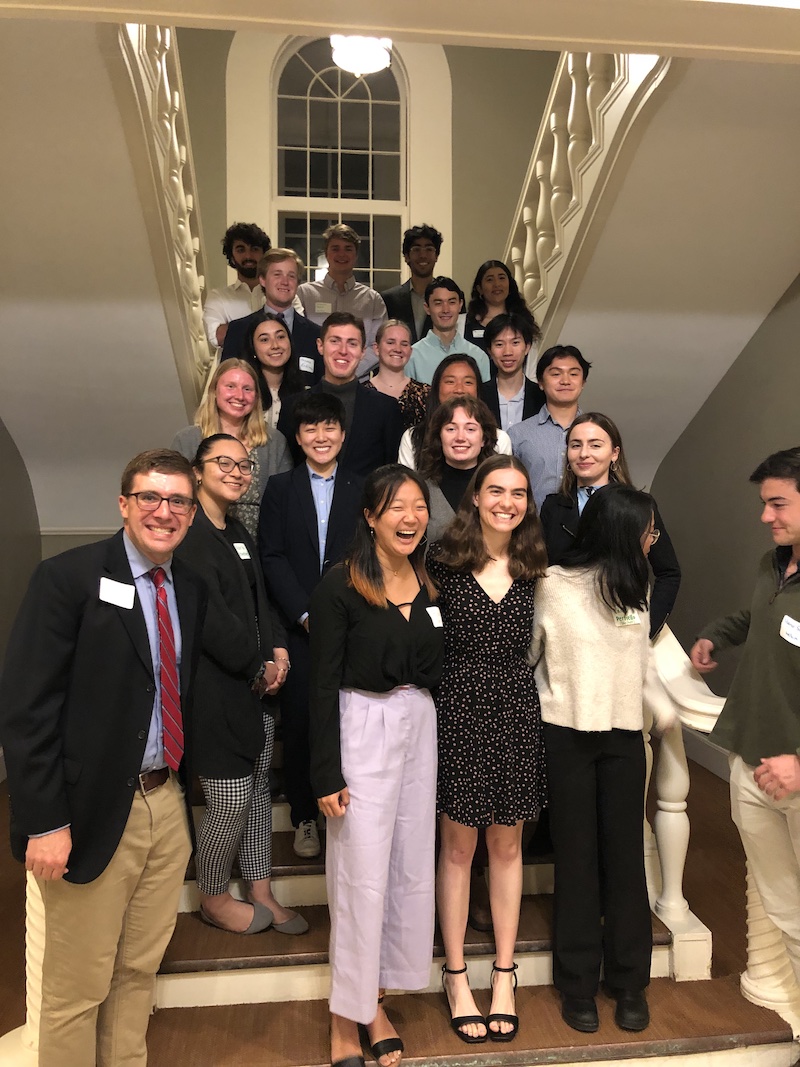 Over the past year, the twenty-four participating students reviewed forty-eight letters of intent, read twenty-seven grant applications, conducted fifteen site visits, and met with thirty-six donors.
In they end, the Grant Committee—comprising half the participants—selected thirteen organizations to receive grants from a total pot of slightly more than $34,000, about $7,000 more than the previous record.
The Common Good Grant program was established in 2001 by an anonymous donor who continues to provide $10,000 annually. In 2004, the McKeen Center added a Development Committee, made up of students who raise money to supplement the $10,000 annual base.
Students on the Grant Committee are responsible for selecting which organizations will receive allocations from this fund. Since 2001, the program has funded 182 grants and awarded over $378,000 to Brunswick-area organizations.
"The Common Good Grant program has not only given Bowdoin students the opportunity to gain experience with grant writing, fundraising, and nonprofit operations, but has also allowed them to connect with their community and with each other," said Jessica Bae '22 at the Common Good Grant awards ceremony held this week in Main Lounge. Bae, with Elise Hocking '22, led this year's program.
To ensure a diverse portfolio of nonprofits are selected, students seek grantees in the following categories: 
Arts, History, and Culture
Health and Basic Needs
Adult and Youth Education and Development
Environment, Agriculture, and Sustainability
Justice, Equity, and Anti-Racism
BIPOC-led Organizations 
2022 Common Good Grant Committee Members
Leaders: Elise Hocking '22, Jessica Bae '22
Grant Committee: Jackson Coyle '23, Tej Dhingra '25, Charlotte Gehrs '24, Jamie Lau '22, Cora Livingston '24, Jared Lynch '24, Emilia Majersik '22, Lailoo Perriello '22, Anisa Pouriet '24, Hayden Redelman '24, Micaela Simeone '22, Ciara Tran '25, Alexander Wu '25
Development Committee: Jane Hirschman '24, Karla Lainez '24, Sophia Li '24, Ryan Ngo '25, Edwardo Perez '23, Aidan Reid '24, Kavi Sarna '25, Arlenys Soler '25, Marco Stix '25
2022 Common Good Grant recipients: 
Student committee members presented the awards at the Wednesday evening ceremony, explaining the mission of the nonprofits and the specific projects the Bowdoin grants will fund.
Downeast Institute (DEI): "The mission of DEI is to improve the quality of life for the people of Downeast and coastal Maine through marine research, marine science education, and innovations in wild and cultured fisheries," said Aidan Reid '24. "With the support of [its Common Good Grant], the DEI plans to execute a clam predator-protection project in the community of Sipayik...home to the members of the Passamaquoddy tribe."
Home to Home: "Founded in 1996, Home to Home...makes supervised visitation accessible for Maine families, providing opportunities for children to have positive, safe, conflict-free access to their noncustodial parents during periods of transition and helping to protect families that may be caught in domestic abuse cycles," said Lailoo Perriello '22. The grant will be used for a new fund that covers a significant portion of the transportation costs for parents unable to secure or afford transportation.
Hurricane Island Center for Science and Leadership: "The organization supports access to environmental education for students at the Nobleboro School and empowers students to become future leaders, researchers, and agents of social and environmental change," said Jamie Lau '22. The grant will provide financial assistance to students enrolled in its summer programs.
In Her Presence: "The organization impacts over 500 women and families through its mission of empowering immigrant women and girls to achieve their career goals and ensure financial security," said Karla Lainez '24. "What I love about In Her Presence is that it is an organization created by and for women from immigrant minority communities in Maine." The Common Good Grant will help establish a "job-targeted language training and tutoring program that will offer customized and site-specific teaching."
Maine Community Integration "helps New Mainer girls and their families [refugees and immigrants] settle into their new communities across Androscoggin County while also respecting and preserving the cultural diversity and richness these families bring," said Tej Dhingra '25. "Our grant will help launch their new Gatekeeper Training Project, which will take a specialized, multi-generation approach to help new Mainer parents better support and understand suicide prevention." 
Maine Boys to Men "seeks to end all forms of male violence and self-harm while advancing gender equity," said Jackson Coyle '23. "Our grant this year will help Maine Boys to Men expand to our very own community of Brunswick."
Midcoast Youth Center "works tirelessly to provide a range of programs and services to improve the lives of youth and advocate for young people experiencing homelessness in their community," said Ciara Tran '25. "With this Common Good Grant, Midcoast Youth Center will continue to provide essential items for youth experiencing homelessness in Sagadahoc County, Brunswick, and Harpswell."
New England Arab American Organization: "The NEAAO was founded in 2016 by Zoe Sahloul with the intent of helping Maine's Arab population integrate into their new cultural environment," said Jared Lynch '24. "Our grant will fund an initiative called Trash to Treasure...With the help of an Iraqi artist, students will gather trash from cleanup initiatives and their own homes to repurpose it as a series of art pieces that will be displayed at Bowdoin." 
Oasis Free Clinics: "Oasis is a nonprofit, no-cost primary care medical practice and dental clinic that provides exceptional, patient-centered care to uninsured members of our community," said Marco Stix '25. "The grant will be used to purchase an instrument to detect diabetic eye disorder, blood pressure monitors, a cordless handpiece to use for dental procedures that will increase their efficiency and reach, and an evacuator system to reduce airborne particles." 
Sexual Assault Support Services of Midcoast Maine: "SASSMM was founded in 1983 and is dedicated to advocacy for those affected by sexual violence as well as prevention of sexual violence through education and outreach," said Jane Hirschman '24. "SAASMM will use this grant money to further their goals of preventing sexual violence through education in grades K-8." 
Sunlight Media Collective "organizes events and provides video and written news coverage of environmental threats to the Wabanaki communities and their homelands that affect each and every one of us," said Emilia Majersik '22. The funding will help the Collective continue getting tribal sovereignty bills passed in the Maine legislature.
Wabanaki Public Health and Wellness:"Established in 1996, Wabanaki Public Health and Wellness provides 'community-driven, culturally centered public health and social services' to Wabanaki and Indigenous individuals across Maine," said Charlotte Gehrs '24. "The Common Good Grant will go toward its Wicuhkemtultine, or Helping All, program, which provides support for individuals living in its recovery homes," transitional housing for people with substance use disorder and mental health struggles.
Youth-LED Justice: "Youth-LED Justice is a youth-led restorative justice program that diverts and supports youth aged eleven to eighteen who are in trouble with the law, school, or community," said Sophia Li '24. "This grant will go toward supporting a total of 170 total individuals over the grant term, including the cost of training youth volunteers and connecting youth respondents to clinical services."