Remembering a Colleague and a Friend
Published by Tom Porter
It's the perfect spot for a memorial flower bed, said Director of the Bowdoin College Library Marjorie Hassen. Nestled between the sidewalk and the large windows of the Hawthorne-Longfellow Library's reading bay, it can be seen from inside and outside.
"The reading bay was particularly treasured by Judy," she added, "and now we know that, in the spring, students who are working in this coveted spot will be able to see the early signs of spring out here, so that's particularly heartening."
Hassen was addressing members of the library staff, including a number of retirees, who had gathered to dedicate a flower garden to the memory of Montgomery, who was killed in an automobile accident last year along with her husband. Montgomery retired as associate librarian in 2017 after thirty-eight years of service to Bowdoin College.
 "I can think of no better way to pay tribute to Judy's memory than for all of us to be here today," said Hassen. As she and others thought about ways to remember their colleague, Hassen said "it became clear what we needed to do was to create a garden bed, which would bring together Judy's love of both nature and gardening."
The garden contains a combination of perennials, including astilbe, columbine, dahlias, and pansies. As Hassen reminded everyone, a garden is a constantly changing organism, and soon to be added to this one will be a variety of daylily called, appropriately enough, Judy Judy. Within the flower bed is a plaque, remembering Montgomery as "librarian, beloved colleague, and treasured friend whose 'generous enthusiasms'* made the world a more beautiful place."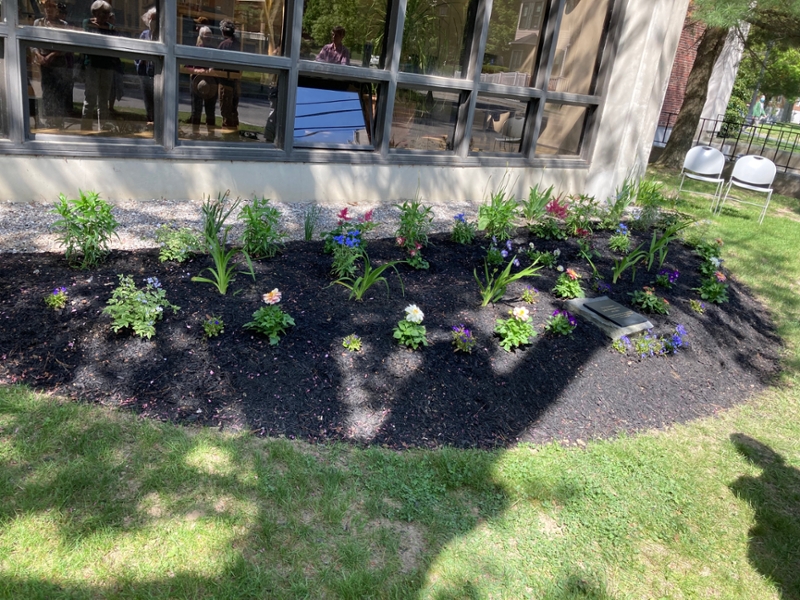 *The phrase "generous enthusiasms" is taken from the Offer of the College:
"To lose yourself in generous enthusiasms
And cooperate with others for common ends—
This is the offer of the college for the best four years of your life."