Published May 03, 2022 by Jane Godiner '23
More than Sixty Students Completed Bowdoin's New Social Justice Leadership Institute
The Office of Inclusion and Diversity in Student Affairs recently wrapped up the final workshop of its new Social Justice Leadership Institute, which examines social issues that have the power to bring us together or divide us.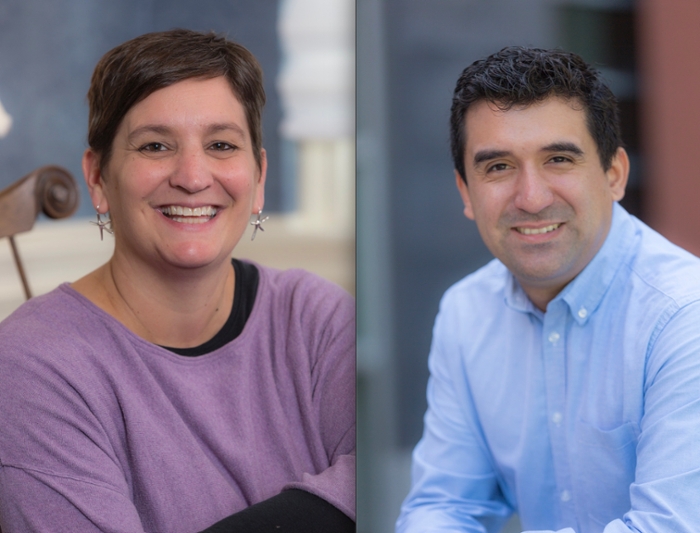 Last fall, Kate Stern and Eduardo Pazos piloted the Social Justice Leadership Institute for the first time with approximately twenty students. This spring, they offered the voluntary program again, and sixty-three students participated.
The Leadership Institute's curriculum focuses on a new theme each week. In January, it began with classism, followed by disability, religious pluralism, feminism, citizenship, genders and sexualities, and intersectionality. On the final evening, students were given a chance to reflect and think about next steps.
Stern and Pazos said the program incorporates elements of past programs they've run, but offers a more holistic approach to thinking about identity and community in today's world. 
"We really wanted to work together to create something that had a more intersectional approach and covered issues more broadly, as opposed to one issue here and one issue there,"  Stern said. "We wanted to let students come together, be in community, and learn."
Pazos said students not only studied and discussed complex social issues, but were able to consider how they personally could contribute to making Bowdoin a more welcoming place for everyone. He said he loved seeing students have "aha!" moments as they spoke with one another. "It is always a lot of fun to see students engage with the material by learning and talking to each other. For an educator, that is always the most gratifying part of all," he said.
Abby Bennitt '23 found herself experiencing one of these moments during the session, "Feminism Applied: From Theory to Practice" in late March.
"We were talking about professional sports and how the men's games and the women's games are very different and very differently attended," Bennitt said. "I hadn't even thought about that and of who we think of as athletes. Carving out those two hours was really powerful for me."
While Pazos and Stern were two of the principal organizers of this program, they asked students to take the lead as they navigated topics both familiar and unfamiliar to them.
"It's really exciting to me that students can come and share what they know, and learn from each other as well," Stern said. "The goal is to have people who were, at different points within the workshop series, the experts in the room." 
Staff members from the Student Accessibility Office, the McKeen Center, and the Center for Multicultural Life also assisted.
At the conclusion of the program, students are recognized for their hard work. "When students complete the program, they earn a virtual badge," Pazos said. "They're able to link that badge to their LinkedIn account so they can display their participation in the Social Justice Leadership Institute with their other skills, certifications, and accomplishments in a professional setting."
Pazos and Stern look forward to developing the Institute in the coming years.
"We are hoping that this becomes a really important part of a student's experiences, especially a foundational part for those who want to become more involved with student leadership," Pazos said. "We hope they would consider starting with the Social Justice Leadership Institute as a way to understand the importance of anti-oppressive pedagogy to create a more welcoming Bowdoin for all."