Published May 09, 2022 by Bowdoin
McKeen Center Recognizes Those Who Give Their All to Others
Each spring, the McKeen Center for the Common Good awards those in the Bowdoin community and larger Brunswick area who thoughtfully dedicate themselves to helping others.
McKeen Center staff—Sarah Seames, Samantha Cogswell, Monica Bouyea, Tom Ancona, and Avery Friend—presented awards to twelve students and one community member on Friday afternoon on campus. President Clayton Rose also attended the ceremony to congratulate the awardees, as he has done every year.
Below are lightly edited transcripts of what the McKeen Center presenters said about each recipient at the ceremony.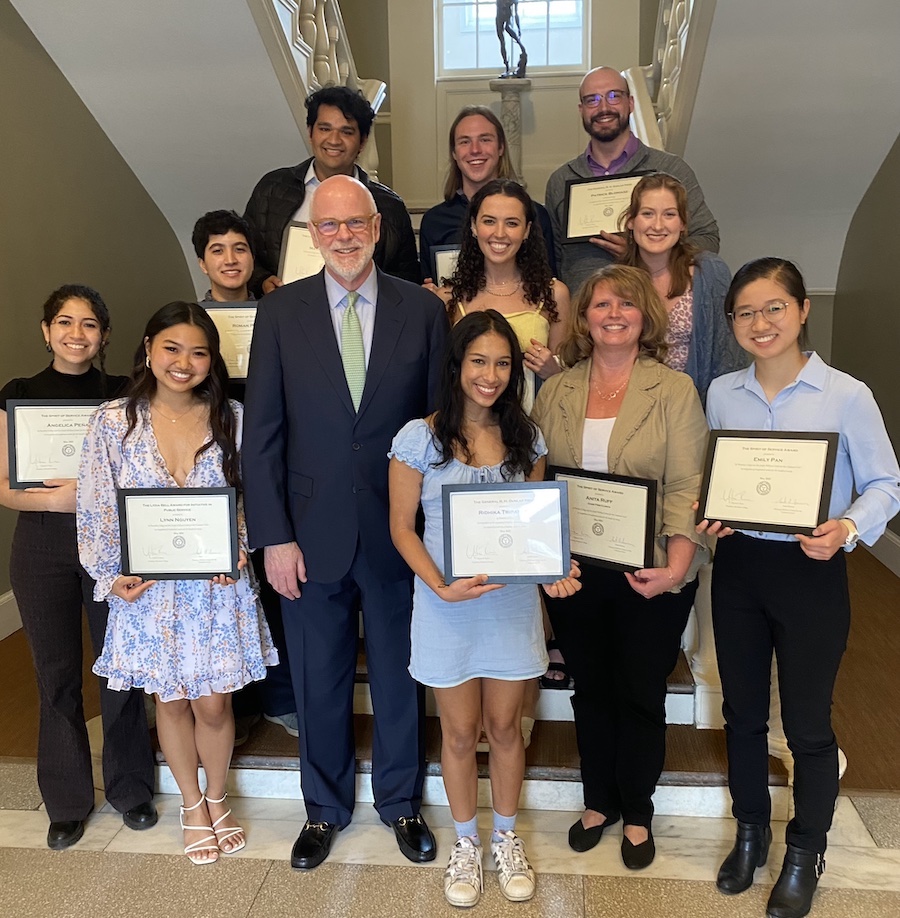 Lydia Bell Award for Initiative in Public Service: 
The Lydia Bell Award for Initiative in Public Service is presented annually to a Bowdoin senior or seniors who exhibit the energy, enthusiasm, and commitment necessary to initiate and lead opportunities for others to effect change, influencing the Bowdoin culture in the process.
Nina Badger '22, Maynor Loaisiga '22, and Liam McNett '23
Badger, Loaisiga, and McNett all knew that they would need energy, enthusiasm, and commitment to lead the Bowdoin Public Service in Washington cohort through an intensive and invigorating weeklong experience in Washington, DC, in March 2022, the first time the program had included travel since 2019. All three contributed to the planning, logistics, and group-building for the cohort in the time leading up to the trip.
Upon arriving in Washington, DC, a positive COVID-19 test in the group within the first twenty-four hours prompted them to bring even more energy and flexibility than anyone initially anticipated. The trio were instrumental in efforts around risk mitigation for the group, navigating group dynamics, and essentially re-planning the entire trip on the fly.
There is no doubt that their leadership by example positively impacted the participants in the trip as well as the leadership culture in BPS for years to come. The nimbleness, optimism, and drive they all demonstrated in this role embodies the leadership qualities that the McKeen Center strives to cultivate.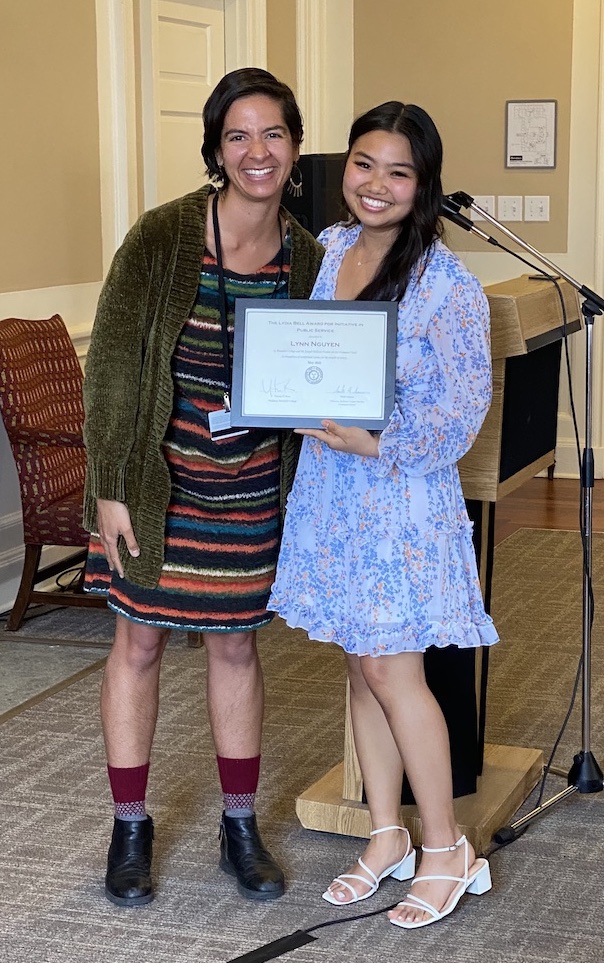 Lynn Nguyen '22 and Sophie Lewis '21
Despite the obstacles this year has posed, Nguyen and Lewis led the Alternative Spring Break program to its first successful launch of seven student-led trips since before the start of the pandemic. The pandemic necessitated finding new and creative ways of engaging with communities, and their commitment to not just sustaining, but also enrichening a long-running program, truly stands out.
They found innovative ways to make elements like ever-evolving COVID protocols engaging and community-centered, and have forged a program that has proved to be stronger and more sustainable through these difficult times and circumstances. 
Nguyen and Lewis formed a partnership that brought critical reflection, authenticity, connection, and humor to the Bowdoin community. They empowered their peers to strengthen and trust their own leadership skills, explore and share their passions, and navigate challenges.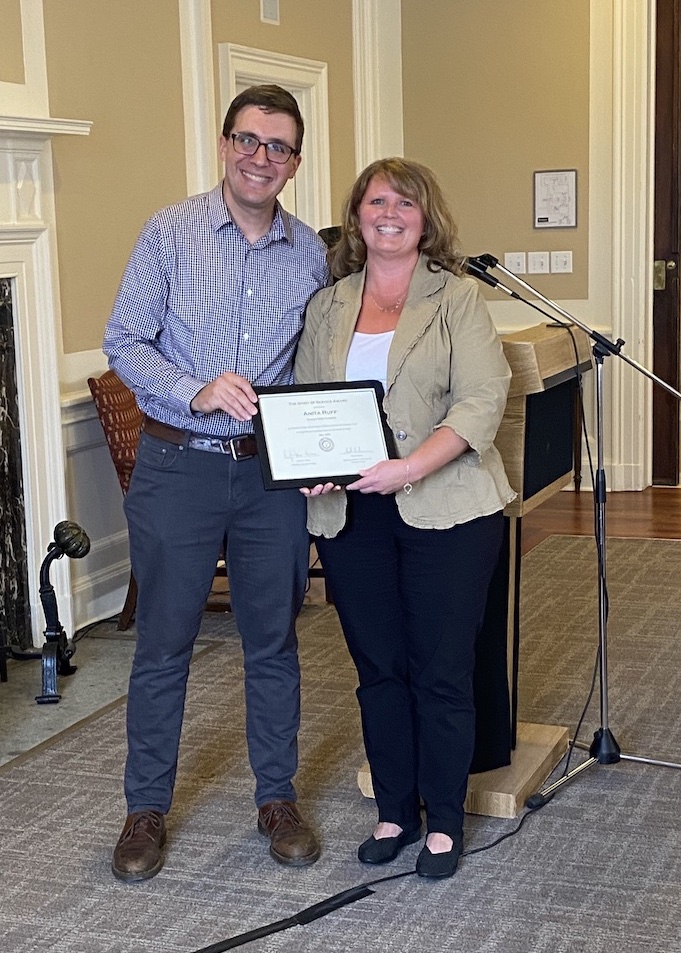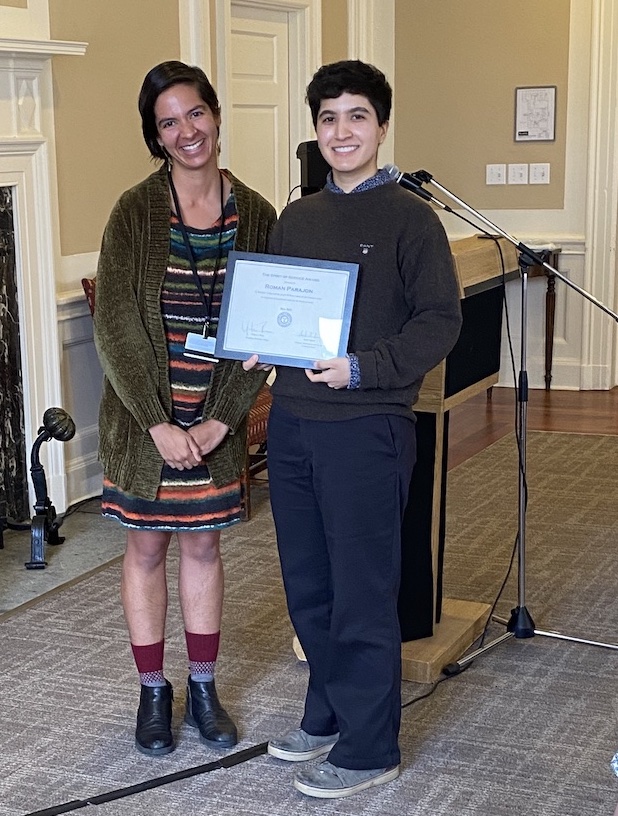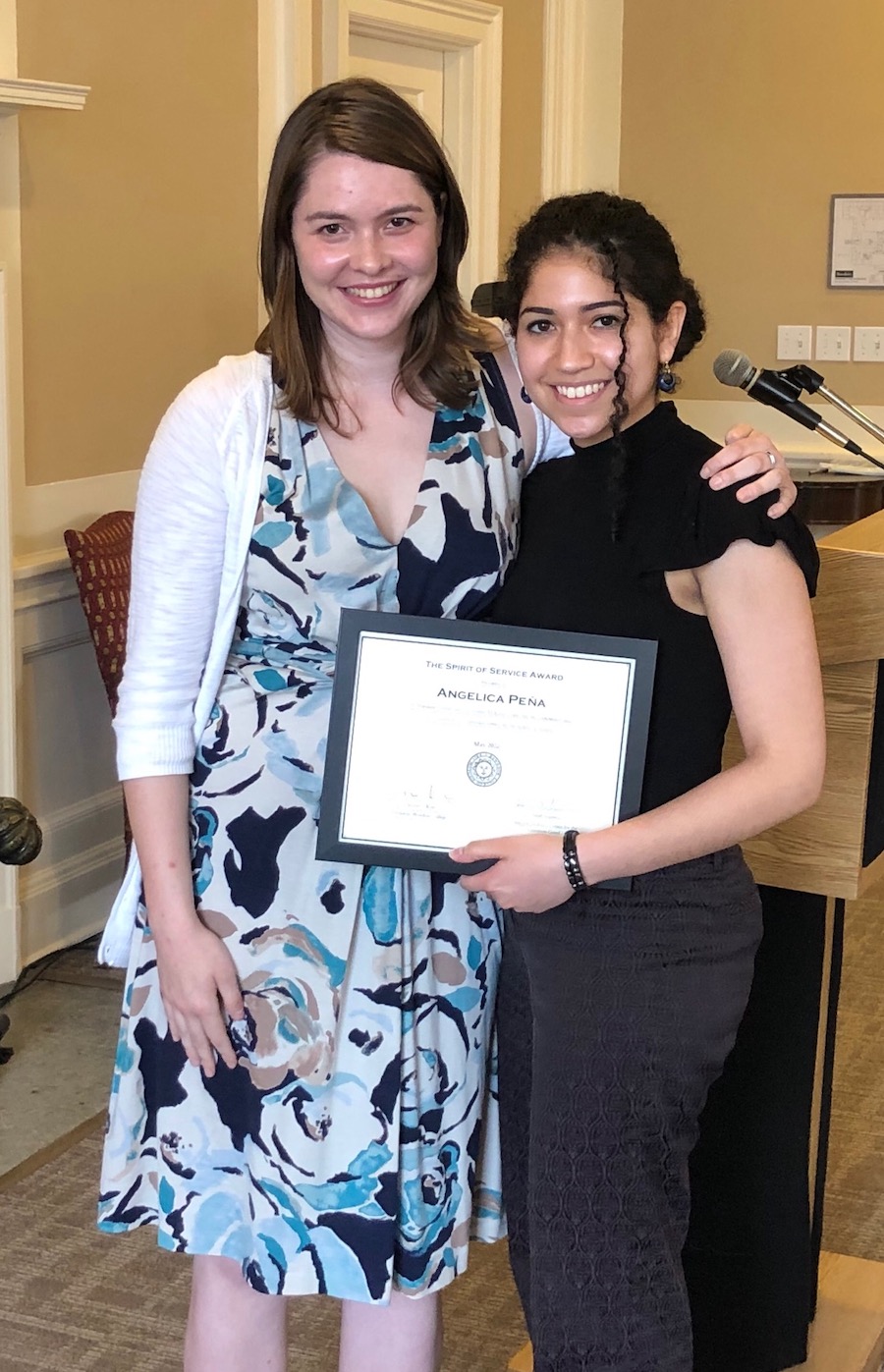 The Spirit of Service Award: 
The Bowdoin Spirit of Service Award is presented annually to a Bowdoin senior and a community member or organization who embrace a genuine commitment to improving the lives of others through service, their actions speaking strongly while they remain humbly quiet.
Anita Ruff
During her eight years as executive director of Oasis Free Clinics, a free primary care medical practice and dental clinic for uninsured adults with low incomes in midcoast Maine, Ruff has worked tirelessly to build capacity and allow for the expansion of offered services, including for new Mainers [immigrants and refuges who settle in Maine]. Under her leadership, Oasis has provided opportunities for Bowdoin students to volunteer and intern, launching students into careers in public health and medicine where her mentorship will make them strong advocates for those who have fallen through the cracks of our medical system.
When the pandemic hit, Ruff oversaw vaccination clinics for the midcoast region and worked to meet the new and evolving needs created by COVID-19. Her commitment to all aspects of health and well-being is rooted deeply in compassion and action, and we are delighted to honor her for the integral work she has done with Oasis and beyond to support the midcoast community. 
Emily Pan '22
Throughout her time at Bowdoin, Pan has found countless ways to pursue the common good, including stepping into leadership roles to support her peers in pursuing meaningful community engagement. She has participated in and led multiple Bowdoin Volunteer Corps groups, ranging from the Public Health Club to the Multilingual Mainers program working with youth to instill a love of language learning. She also took on a leadership role with the Bear Buddies Volunteer Group, requiring a tremendous degree of coordination, creativity, and both independence and collaboration, as student leaders fully orchestrate weekly programming for youth with disabilities and their siblings.
Pan is reliable, trustworthy, and committed to serving her communities in ways that are extraordinary and admirable, and often go unnoticed. She is a deep listener and works to ensure everyone's voice is heard and valued.  During her senior year, she co-led an Alternative Spring Break trip where she connected Bowdoin students to organizations working and organizing on the ground with migrant families.
Pan is the type of leader who fosters opportunities for her peers to build their own meaning and connections to service, demonstrating by example what it means to align her passions and strengths to help support every community she is a part of.
Roman Parajon '22
Parajon always says "yes" to helping others, whether it is stepping up to support McKeen Center staff, Bowdoin students, or the broad network of community partners he has engaged with locally, nationally, and globally. He has participated in countless community-engaged opportunities and civic engagement efforts on campus, including serving as the McKeen Center's Bowdoin Volunteer Corps Fellow and on the Bowdoin Votes Advisory Group, and he received both the Global Citizens and Denning Fellowships.
In all of his roles, Parajon is constantly thinking about ways to center equity and access to resources. During his senior year, he co-led a community-engaged Alternative Spring Break trip to the US-Mexico border called "Lessons from the Border." His thoughtful leadership grounded in deep care, respect, and intentionality made him the ideal leader to bring his peers into an immersive experience facing the direct impacts of US immigration policies.  
He is committed to using his skills, strengths, and passions to positively impact those around him in ways that are lasting and meaningful, while also being respectful and sensitive to the complexities of communities and social issues, and the need for community-driven solutions. Parajon represents what it means to center equity and inclusion in community service work and quickly gains the trust and admiration of everyone he works with.
Angelica Pena '22
Pena's time at Bowdoin has been driven by her curiosity, unwavering commitment, and passion for the topics that she has chosen to explore. She brings a natural empathy to all of her many roles on campus, which have included serving as a THRIVE mentor, as a tutor and learning assistant, and as the America Reads and Counts Fellow.
Her intellect and hunger for learning and change show up in different ways, but are always rooted in a fundamental desire to strive for equity, particularly in education. Both her academic trajectory and experiences with community engagement reflect this drive: she developed an Alternative Spring Break trip centered around Digital Literacy and Equity in Maine, and in 2021 was awarded a Bowdoin Public Service Fellowship to research the state of equity in Maine after-school programs through the Maine Afterschool Network.
Pena's ability to connect with others is magnified by her contagious enthusiasm, her willingness to be vulnerable in her work, and her eloquence both on paper and in conversation. It is a privilege to work with her and a joy to know her; she will leave a mark wherever she goes, and Bowdoin is better for the time she has spent with us.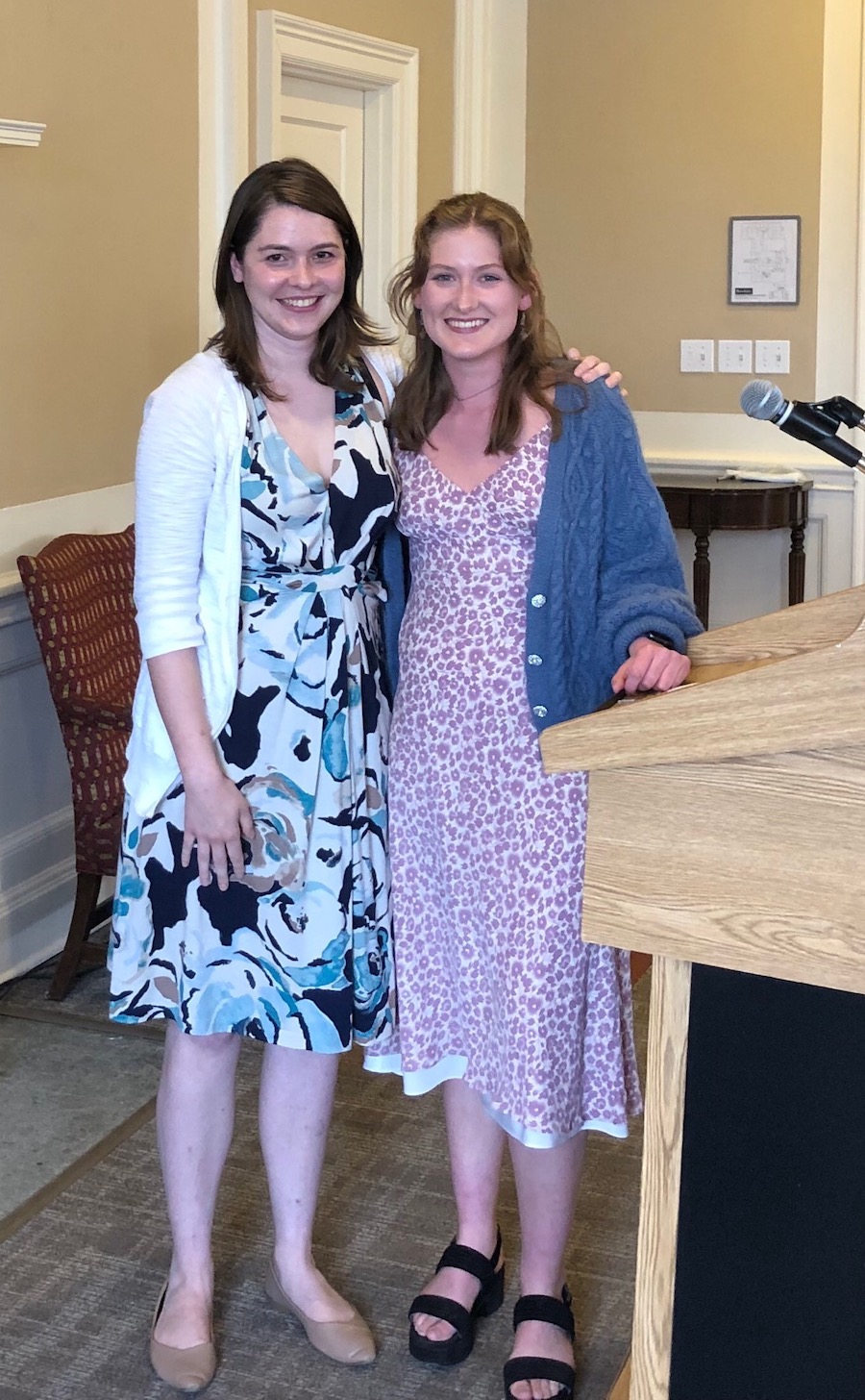 The Maine Campus Compact Student Heart and Soul Award: Penny Mack '22
Each year, Maine Campus Compact recognizes six undergraduate students who have been actively involved in turning their campuses and communities into places of democracy with the Heart and Soul Award. These students have raised their voices on issues of local and global importance through civic engagement efforts.
From her first moments on campus, Mack has committed herself to furthering the common good at Bowdoin and beyond through her efforts to promote a healthier democracy. Since the fall of 2019 she has served as the Election Engagement Fellow for the McKeen Center, leading the nonpartisan Bowdoin Votes program, and she has played a critical role in expanding the program to reach more students and community members.
She has also had a keen focus on building a coalition across campus to make the electoral process accessible to all students. Her contagious passion and astonishing commitment has been an extraordinary draw for the program. She has a professionalism far beyond her years and her outreach across campus has been truly all-encompassing as she consistently thinks about who might not be at the table when election engagement planning is taking place.
Through her engagement with our office and outside of it, Mack has proven to be motivated, charismatic, driven, and decisive. She challenges both herself and those around her to continue to learn about and engage in the democratic process at all levels, truly understanding the importance and the power of American democracy and working tirelessly to preserve it.
The Henni Friedlander Student Prize: Journey Browne '22
The Henni Friedlander Student Prize was established in memory of Henni Friedlander who survived Nazi Germany to immigrate to the United States, where she was an inspiring example of how joy of life can lift the human spirit and enable us as a society to promote the common good. This Prize is awarded to a Bowdoin undergraduate who has similarly overcome adversity in their own life and gone on to contribute to the common good.
Journey Browne has committed her Bowdoin career to an exploration of justice and her own interpretation of the common good. A member of the Conduct Review Board since her sophomore year as well as the newly formed Program for Non-Violence and Conflict Resolution, Browne has also served in leadership roles within the Black Student Union and Bowdoin Student Government.
She has dedicated summers to understanding the criminal justice system through an internship with the Bronx County's District Attorney's Office and a Bowdoin Public Service Fellowship with the Vera Institute of Justice. During the fall of 2020, she served as a Team Leader for Students for Justice, leading a team that sent out over 600 voter registration postcards nationwide.
She placed a particular emphasis on recruiting and working with students of color at Bowdoin who, in her words, "felt slighted by the political process." This year, Browne has served as the Antiracism Fellow in the McKeen Center, conducting a program-by-program review to determine how the center is currently incorporating antiracism into leadership training and student experiences and how these efforts can be improved. Browne's time at Bowdoin is marked by determination and an unwavering pursuit of equity, inclusion, and justice.  
The General R. H. Dunlap Prize: 
The General R. H. Dunlap Prize was established by Katherine Wood Dunlap in memory of her husband, Brigadier General Robert H. Dunlap, USMC. This prize is awarded to the student who composes the best essay on the subject of service in addition to having demonstrated a personal contribution to service.
Patrick Bloniasz '22
In his Dunlap essay, Bloniasz described how, over the course of his four years at Bowdoin, his view of the 'Common Good' has been refined from vague ideas of personal service to the greater community toward a notion of community engagement as "complex, messy, and epistemologically challenging."
He talks about how his first-year experience in the McKeen Center's Leading for the Common Good series 'problematized service' by critically thinking about it through a variety of lenses. He's explored these ideas as the director of education for Aeon for Ocean, where he designed environmental science curriculum for K-12 students to empower students to drive action around ocean conservation, and by serving on Bowdoin's Curriculum and Educational Policy Committee.
Bloniasz's challenge—to himself and to all of us—is to view service as "not merely nonprofit acts in the public sphere, but to recognize that rather we are all constantly participants in working toward the good."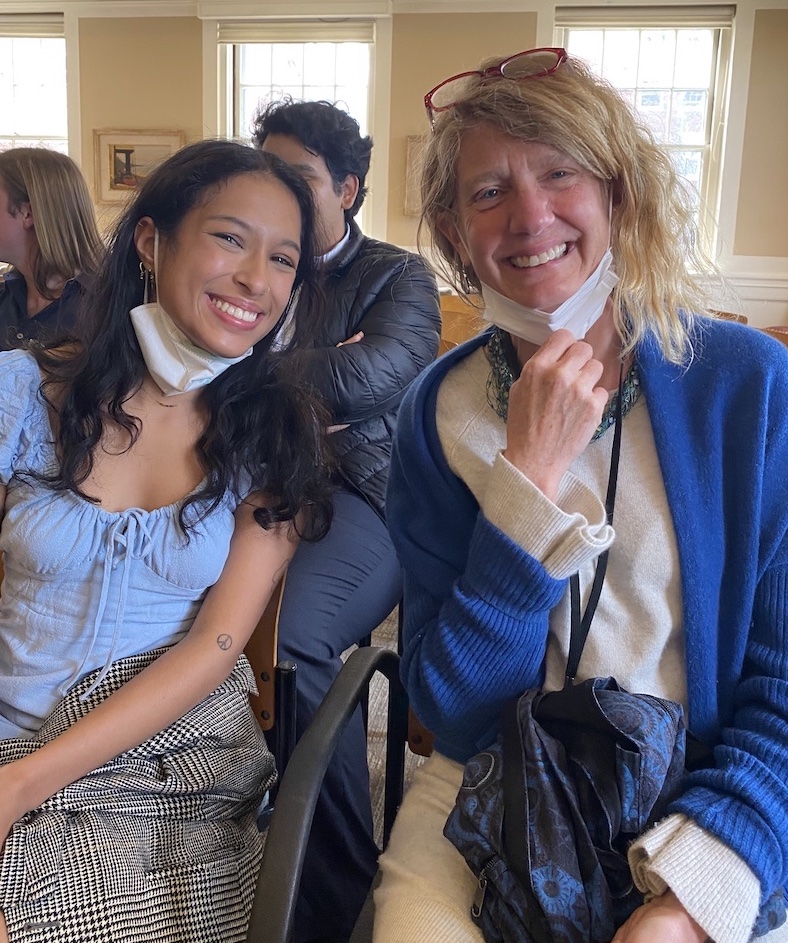 Ridhika Tripathee '22
Tripathee beautifully opens her Dunlap essay with the following quote: "The desire to be of service and to partake in service doesn't always come from wanting to help others or help the world. It can also come from wanting to help yourself."
At Bowdoin, she engaged with service in a number of ways, including her work with the Sustainability office, her role as a peer mentor, and her leadership roles with the Active Minds, Bowdoin Public Health Club, and for two McKeen Center Orientation Trips. During the COVID-19 pandemic, Tripathee found that her work as a crisis text line counselor provided reciprocal support: "I learned that the strangers I was texting helped me as much as I helped them. I started making sense of all my feelings from my previous and current service experiences and realized that I feel my best and most at peace when I am able to share with others."
Through four of the most unsettled years in Bowdoin's history, Tripathee's message that community service is reciprocal and supports us as we support others is one well in line with the ideals of The Dunlap Prize.