Published May 13, 2022 by Tom Porter
Actor John Turturro P'23 Shares Movie Clips with Film Students
It's not every day you have a bona fide movie star coming into your classroom, but that's exactly what students from Professor Tricia Welsch's cinema studies class experienced earlier this semester.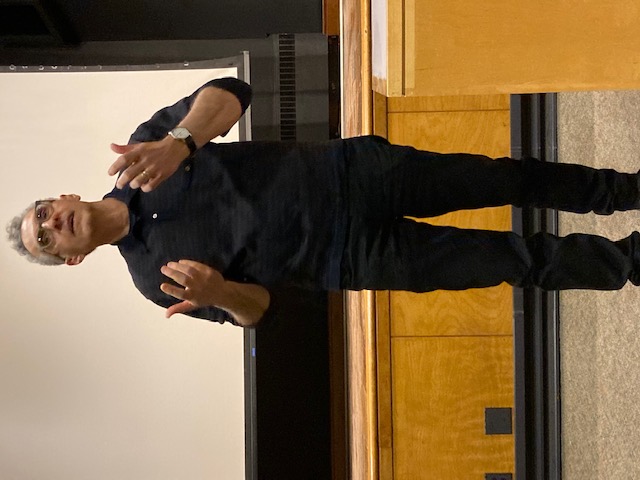 Award-winning actor John Turturro P'23 joined the class one afternoon in April to talk about the techniques of film acting and directing.
Turturro has appeared in more than sixty movies, alongside such names as Robert Redford, Adam Sandler, Robin Williams, and Robert De Niro. He has worked multiple times with legendary directors like Spike Lee and the Coen brothers and is known for his contributions to the independent film movement. Turturro, however, can also be regularly seen on Hollywood blockbuster movies such as the Transformers franchise and, more recently, The Batman.
The actor hand-picked scenes from a number of films, made between the 1930s and the 1970s, to talk about with the class, each clip depicting the on-screen chemistry between leading couples:
In The Lady Eve (1941), a screwball comedy directed by Preston Sturges, the class observed Barbara Stanwyk's con artist turn her seductive charms onto an unsuspecting Henry Fonda, who plays the naïve heir to a brewery fortune. "In this scene she's seducing him in a way he's unaware of," said Turturro, "which is what makes it a great scene."
Like many performers from that era, he explained, Stanwyk was a great mover. "In older movies everyone developed a walk because there weren't all these closeups." For example, consider James Cagney, Bette Davis, or John Wayne.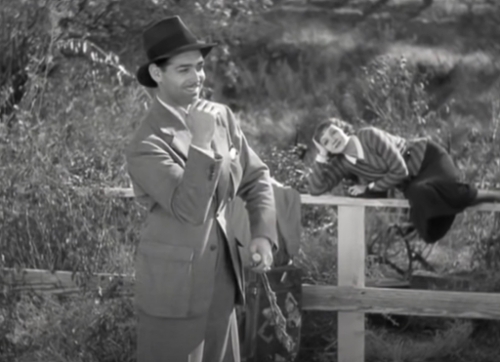 The famous hitchhiking scene from the 1934 Frank Capra comedy It Happened One Night was chosen to demonstrate, among other things, how to use a prop. In this case it was a carrot consumed by Clark Gable, who plays a roguish journalist opposite Claudette Colbert's spoiled heiress.
When people have activities to do, explained Turturro, it helps with the delivery of the words and can reveal a lot about the character. "It's such a simple scene with such economy to it."
It was not all comedy, however. Turturro also discussed the intense chemistry between Marlon Brando and Vivien Leigh in Elia Kazan's A Streetcar Named Desire (1951). "There's so much physicality in this scene," he said. "Like a butterfly, she never stops moving. He moves a lot too."
The social realism of pioneering independent filmmaker John Cassavetes was also on display as the class watched a clip from his 1974 family drama A Woman Under The Influence. ("It really shows how people can struggle to communicate.")
Students watched Robert De Niro and Liza Minnelli perform a scene of improvised dialogue in Martin Scorsese's musical romance New York New York (1977), which bombed at the box office. "The movie is kind of too long but there's something about it that I think is really, really good." Turturro was particularly struck by the way the two leading actors riffed off each other. "It's real 'moment to moment acting,' with one actor reacting to the other as they speak. Something very alive is going on between them."
The final movie clip the actor chose was from the great Japanese director Akira Kurosawa's take on Shakespeare's Macbeth, Throne of Blood (1957). Here, the main character's wife (the Lady Macbeth figure) talks with her Samurai husband following the prophesy that he will one day be king.
"The dynamics between the two characters go back and forth, although she dominates. She knows what she thinks."
Professor Welsch said to have an actor of the stature of Turturro talk to her class about what he values in film performances was a "priceless" experience.
"He could easily have focused on his own impressive career, but it is typical of John to shine a light on others' work. What a wonderful gift to have a master class on acting from—as it turned out—a master teacher."
Sebastian de Lasa '22 was impressed by how engaging Turturro was, in conversation with both Professor Welsch and with the students. "He was curious to understand what we were seeing in the scenes of classic films that he presented, in a way that felt equally encouraging and insightful. Honestly, if I didn't know he was a professional actor I wouldn't be surprised if he were a visiting professor.
Jack Nelson '22 was struck by Turturro's emphasis on the physical aspects of an actor's performance as much as on the dialogue or background. "My main takeaway was that it is just as important for a filmmaker to consider how their characters look while they move and how they sound while they talk as what they actually do and say."