Published April 19, 2022 by Jane Godiner '23
Student's Poetry Inspires Chamber Orchestra Performance
Weatherspoon, a nineteen-year-old first-year student at Bowdoin, recently returned to their home city of Cleveland, Ohio, to watch their poetry set to music by CityMusic Cleveland, a professional chamber orchestra.
Weatherspoon is a published author and has been writing poems since they were twelve. Hearing their words played by a string quartet and sung by a soprano, however, was a first.
"I've never before in my life felt so understood by someone's interpretation of my work," Weatherspoon said after joining the musicians on stage for the first of two live performances in Ohio. "Working with these beautiful people is a wonderful experience." 
CityMusic Cleveland, founded in 2004, performs traditional classical works as well as explores innovative projects and contemporary social issues. Its 2021–2022 season is based on the themes of justice, equality, and hope.
Violinist Miho Hashizume organized the show "to showcase Weatherspoon's raw and powerful words that evoke the stress and trauma experienced by many families in Cleveland," CityMusic Cleveland President Ronald Stauss wrote in the program.
After being approached by Hashizume, composers Jessica Meyer and Jasmine Barnes wrote the score for several poems in Weatherspoon's book, To, Too Many Children: A Collection of Moments, which was published in 2020 when Weatherspoon was seventeen. 
"I was immediately struck by how visceral the words are and how powerful the imagery is that comes through quite clearly," Meyer said in a pre-performance talk. "I think we're all in agreement that we can't understand how a seventeen-year-old wrote it."
Weatherspoon said it was gratifying to see the performance even while acknowledging that their life has changed since writing the poems.
"I had this moment where I was like, I'm not in this place anymore emotionally, but I feel like I'm looking back on the past with more tolerance for it," Weatherspoon said. "The composers took the fear in adolescence and the fear in uncertainty, and they just made it so beautiful sonically."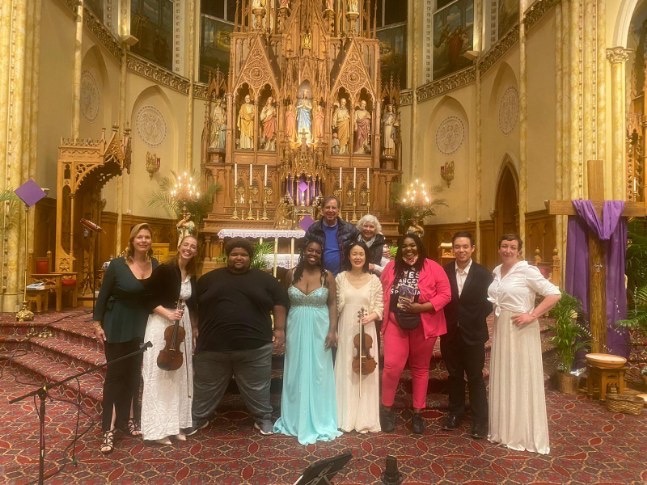 Weatherspoon
On October 31, 2014, when Weatherspoon was placed into the foster care system at age twelve, they wrote their first poem. (Weatherspoon prefers to be known only by their last name.)
"My love for poetry came through my sixth-grade English teacher, because I moved around a lot as a kid just due to me being in foster care and having an unstable home life. And I was truant for a lot of my early education," Weatherspoon said. "It was an online school, and I didn't always have the internet to go to class, but she said, 'You have a gift for writing.' School wasn't my strong suit growing up, but she gave me art, and it saved my life."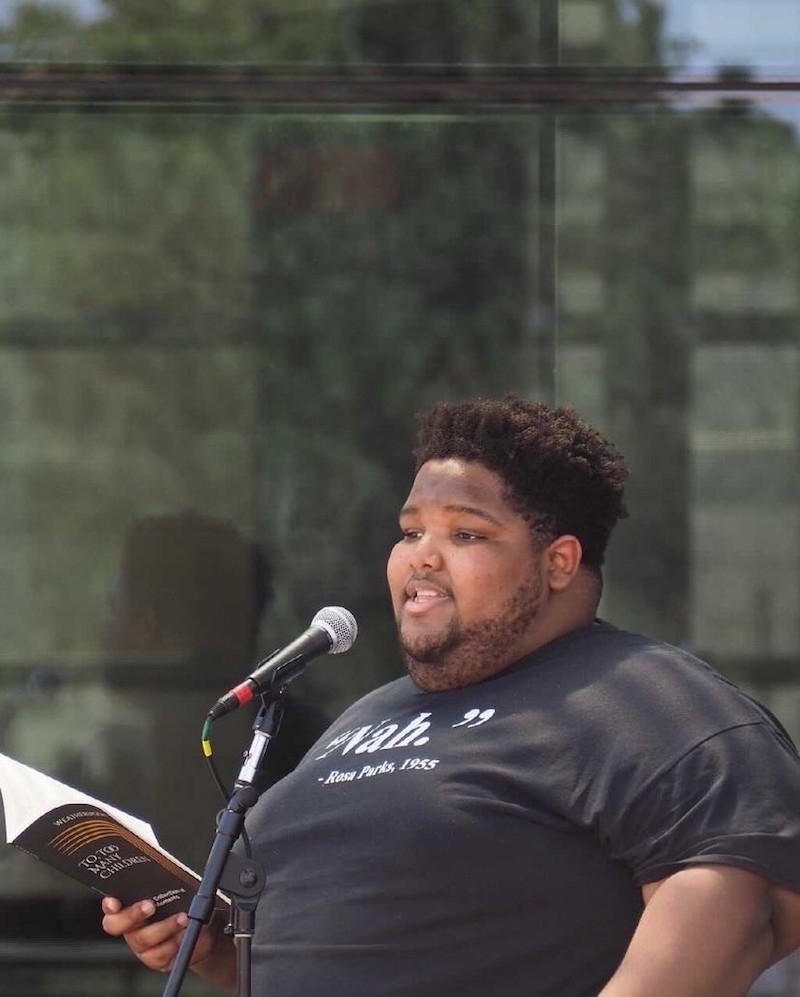 Weatherspoon won their first poetry competition in eighth grade. Not only did the recognition inspire them to continue poetry, but it also propelled them back into the classroom.
"I was like, 'Wow, this is so cool,' and I wanted more of that feeling. So I decided it was time to go back to a physical school," Weatherspoon said. "I applied to an independent school in Ohio [Hawken School], and I got in with a full ride. I was really happy, and I really connected with the humanities teachers there."
Weatherspoon continued working on their writing, and from sixth grade on, made it their mission to write ten pages a day.
"I just had to really hone my craft, because I knew this was what I wanted to do, and I wanted to be good—like, I wanted to be really good," they said.
In high school, when Weatherspoon became a member of the school's speech and debate team, they found a new purpose for powerfully spoken and written words.
"[The team] took me all over the country to speak at colleges, and, in speaking and formulating speeches, I gained a different affinity with words," Weatherspoon said. "It was expressive still, but less artistic and more analytical and more in the way of advocacy."
Weatherspoon's world changed again when they became homeless at the beginning of the COVID-19 pandemic, but it was during these months of housing insecurity that they wrote and published their first poetry collection To, Too Many Children.
"When I was younger, I had a lot of near-death experiences as a result of poverty and violence and and the communities I grew up in," Weatherspoon said. "A lot of my debut poetry collection was about inner city, underfunded life." 
Today, Weatherspoon continues writing poetry—and is preparing to publish another book—as well as being a musician in their band, Little Little Kids.  
Weatherspoon encourages members of the Bowdoin community who want to explore the art form of poetry to attend "Write Above It: Poetry Concert" in Kresge Auditorium featuring ten student poets, at 8:00 p.m. on Friday, April 22.
"The title is 'Write Above It' because I feel like a lot of writers start writing to transcend a difficulty that they're having," Weatherspoon said. "I think the event is going to be really special."