Published April 12, 2022 by Rebecca Goldfine
New Spindleworks Art Brightens the McKeen Center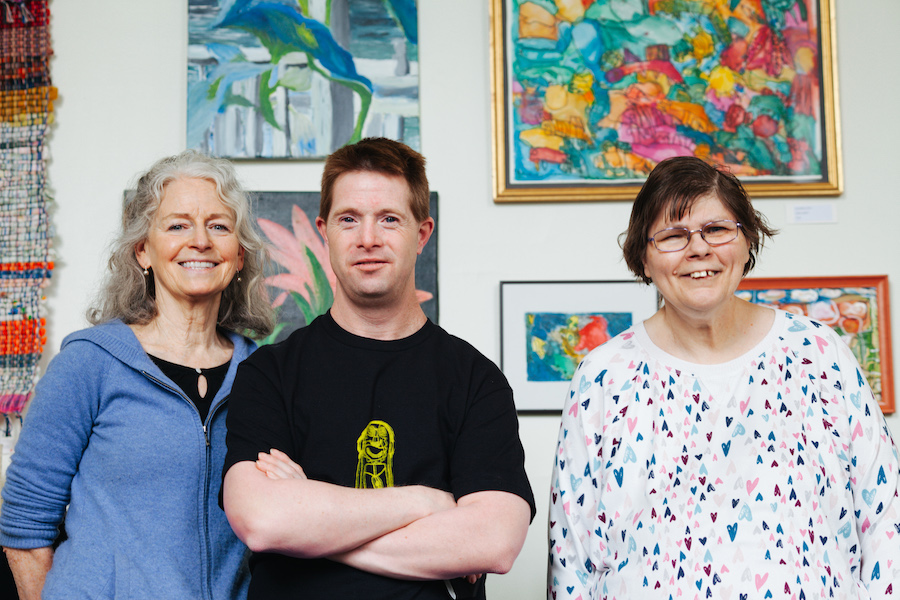 The McKeen Center's location in Banister Hall, which also houses the Chapel, means its common room has a soaring ceiling and lots of wall space. In other words, it's an ideal place to show art.
And for some time now, the McKeen Center has taken advantage of the room to hang pieces by Spindleworks artists. Spindleworks has studio space in downtown Brunswick where participants can spend the day making art.
The artists are invited to show their work in Spindleworks' adjacent Whatnot Gallery and Store—as well as at local and national galleries. If they sell a piece, they receive 75 percent of the sale price with 25 percent returning to the program to purchase supplies.
"Art livens up every space, but it's really special to have such a tangible representation of our community reflected in the McKeen Center," McKeen Center Administrator Avery Friend said. "Often students will purchase pieces at the end of the year, or as they graduate, to keep that community connection with them wherever they go next."
A couple of the Spindleworks artists visited the McKeen Center recently to check out the show, which features multiple creations by ten artists.
Karen McGann, who's been an artist at Spindleworks for eight years, said she loves painting animals. "I grew up in the city, then I moved to Yarmouth, then I moved again to Freeport, and I had all kind of animals—birds, ducks, geese, turkeys, and cats, and dogs."
When asked about how it feels to see her artwork in public spaces like here at Bowdoin, she answered, "It's pretty exciting."
Mitch Pfeifle, who's been making art at Spindleworks for about a decade, appeared delighted to see his pieces and said he enjoys all forms of art, including theater. (He also enjoyed being photographed by Symone Marie Halloway '22, and struck a few poses.)
The artists were accompanied by Deirdre Barton, an artist mentor, who curated the current McKeen show. 
Photos by Symone Marie Halloway '22. Reporting by Avery Friend.