Published April 11, 2022 by Jane Godiner '23 and Rebecca Goldfine
La'Shaye Cobley '12: Urban Ecologist and Air Pollution Policy Expert
La'Shaye Ervin Cobley '12 recently returned to Bowdoin to give two public talks: one about women in science, and another on how studying the nitrogen cycle in cities can reveal income disparities.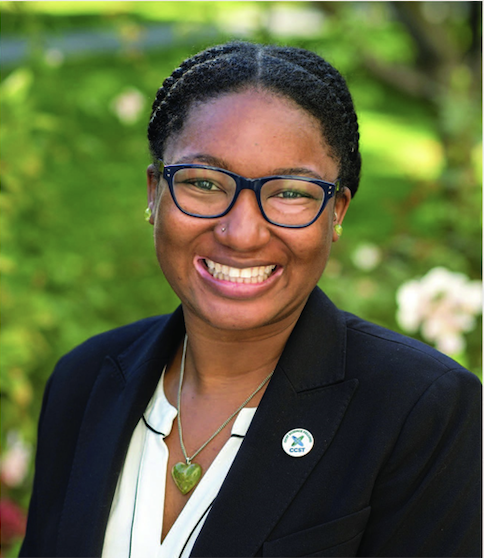 Cobley majored in biology and Africana studies at Bowdoin before earning her PhD in ecology and evolutionary biology from the University of Utah. She currently works at the California Air Resources Board, where she helps the state clean its air through "strong regulations grounded in science," she said.
During her two days on campus, Cobley first sat down with Sara Nelson '22 to speak about her experiences as a graduate student, teacher, and climate policy analyst. Her interview served as the kick-off to a new College series, "Meet the Bowdoin Women of STEM."
In their discussion, Cobley touched on many topics, including how to break into science and environmental policy, the role of socioeconomics in urban ecology, and her personal experience navigating the science world as a Black woman.
She said she understands why people of color, women, and queer folks seek the comfort and familiarity of homogenous clusters, especially in academia. And she added, "it is not wrong to seek out those spaces." At the University of Utah, for instance, she worked in an all-female laboratory.
As her career has unfolded, however, she said the issue of homogeneity in science has felt more nuanced to her because of her experience as a Black woman.
"I will say that some of my biggest allies and biggest supporters have been white men, and I will say some of my biggest adversaries and people who I have had to jump through hoops to prove myself were also white men," Cobley said. "I think it's a bit of scoping the scene."
Barry Logan, Bowdoin's Samuel S. Butcher Professor in the Natural Sciences, was an important supporter of her work while she was an undergraduate. He advised her "clever and cool" honors thesis (Logan's words), in which Cobley used genetic signatures to find out where endophytic, or parasitic, plants were located inside the branches of its hosts.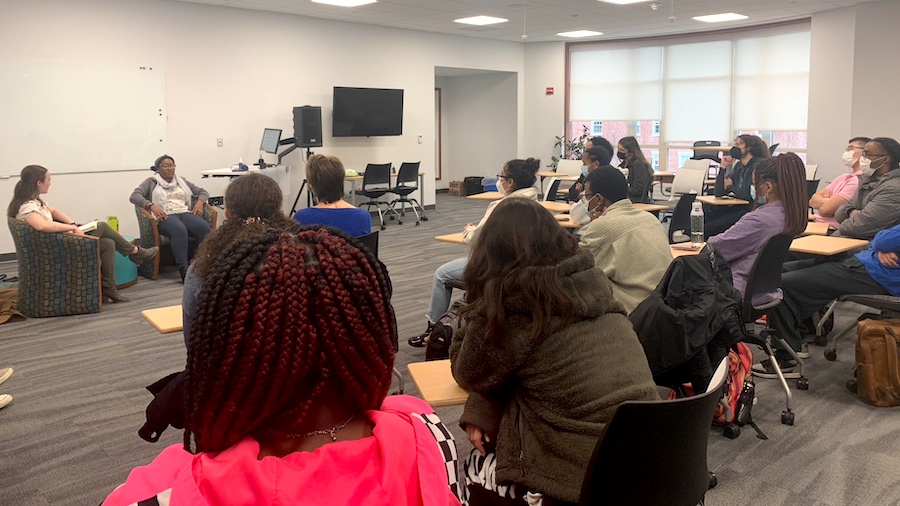 Cobley said her Brooklyn upbringing—during which she had limited access to the natural world—as well as being raised with the Rastafarian principle of respecting nature, shaped her desire to protect the environment and keep it healthy, clean, and accessible for everyone.
In the year she spent teaching seventh-grade science in Utah, she was reminded of how easy it is for people to feel disconnected from the outdoors. "It was interesting to me that these lower-income students were surrounded by mountains, and yet the mountains were not a part of their existence."
She continued: "When people can feel that connection to nature, there's a sense of protection that comes along with it too, and a sense of ownership of that space. As we think about things like climate change, I think that the more people that can feel connected to nature, the better."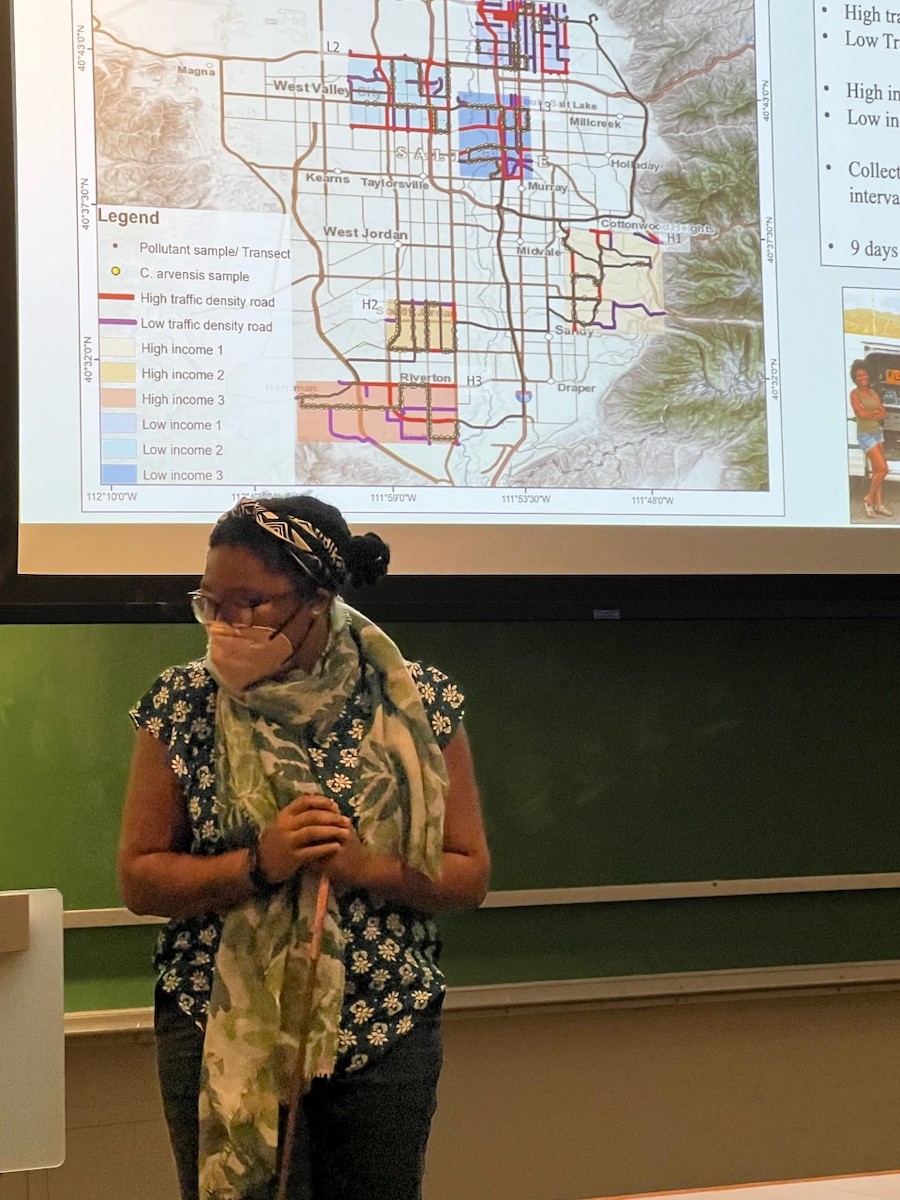 "A Tale of Two Sources: Responses of Urban Vegetation to Vehicle Emissions and Fertilizer Application"
The following day, Cobley was invited to give a seminar talk hosted by the biology department for scientists from outside Bowdoin. In her presentation, she made a case both for studying urban ecology and for recognizing the role that class and income play in ecological studies. 
"A lot of times ecologists study pristine environments or do controlled studies in greenhouses," she began. But more than half the world's population lives in crowded, polluted cities, a number that is only likely to grow. And many are moving to arid or semi-arid cities, like Salt Lake City and Los Angeles, which is where Cobley conducted her research.
She also made a case for studying plants. "They tell us about the environment, and reflect what is happening over space and time. Each tree can me tell a story," she said. Indeed, plants are a much more "cost-effective way to do research on air quality" than expensive gadgets and monitors.
Cobley's doctoral research, which had her driving a "nerd mobile" equipped with loads of instruments through the streets of Salt Lake City, looked at the presence of nitrogen in tree leaves. Nitrogen is a life-sustaining element, but in high quantities, it can have deleterious effects on organisms.
Her mission was to find the major sources of nitrogen—such as tailpipe emissions of fertilizer applied to the ground—for vegetation in Salt Lake City and Los Angeles. Additionally, she wanted to see whether tree leaves would reveal varying nitrogen levels in low-income and high-income neighborhoods.
After her measurements indicated trees in low-income neighborhoods had different leaf nitrogen characteristics than trees in high-income neighborhoods, she determined that the busy interlocking streets of lower-income areas were the biggest culprit of nitrogen pollution. "You can't just look at one road and how trees are affected on that road," she said. "It's the network of roads around you."
Scientific studies like hers that consider social factors as well as empirical data are important, she continued. Air pollutants, for instance, can have a big impact on disadvantaged neighborhoods. "As ecologists, you have to look at income and socioeconomic factors, and you have to take into account the effect of people on the environment," she said.
Policymakers, too, have to consider both science and sociology in their decision making. "When I have my policy hat on, I say, 'Hey, when we're thinking about pollution in low-income neighborhoods, we can't just think about highways, we have to also think about people in the inner city" and others living in congested areas.