Published April 26, 2022 by Jane Godiner '23
KAYR Advises Students about the Road to Success
Kevin "KAYR" Robinson '05 told students in a recent campus talk that financial capital, intellectual capital, and social capital were all necessary to achieving "transformational wealth."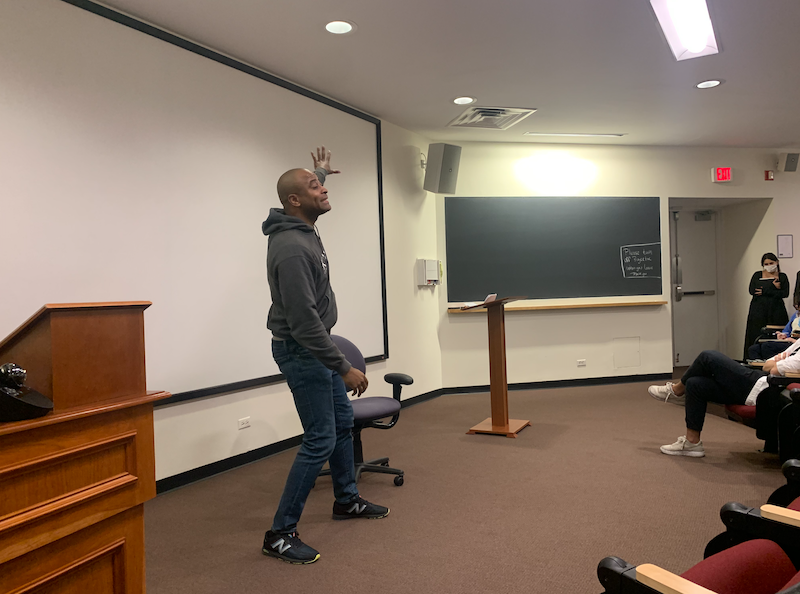 Last week, Bowdoin's Office of Career Exploration and Development (CXD) invited KAYR—founder of KAYJAY consulting, licensed real estate agent, member of the Homeowners Association of Philadelphia, and life coach—to share his wisdom in a talk titled, "How to Achieve Financial Independence."
KAYR covered the scope of his life—from his humble beginnings struggling with financial, food, and housing insecurity to owning a multimillion dollar real estate investment company.
"I was very little, but I remember this like it was yesterday: we were in our living room, but I could see the stars," KAYR said. "Our entire third floor was missing, because at the time we were homeless and our house had burned down."
"I started to change the way I thought about things, and so I went from that knucklehead in public school to valedictorian of my high school," he continued. "I started to turn around from being a C student and missing thirty-plus days every school year to going to high school and saying, 'Look, I want to do something different. I'm not going to become a victim of my circumstances; I am going to be a victim of my dreams.'"
KAYR told the students that being "a victim of his dreams" is what ultimately led him to access the opportunities that propelled his career forward. He discussed his acceptance to the Tuck Business Bridge Program at Dartmouth College, which he attended during his sophomore year at Bowdoin despite its cost.
"I want y'all to be courageous and reach your dreams—worry about the money later. When I needed to come up with $10,000 for the program, it felt like anytime I went one step forward, I was pushed back," KAYR said. "President Mills [Bowdoin College] put me in touch with the financial aid office, and they were able to give me the majority of the money."
Not only did KAYR's Tuck Bridge story underscore his ambition and perseverance, it also paved the way for other low-income Bowdoin students with a professional passion for business.  
"I convinced the financial aid office that this should be something that they do for Bowdoin students all the time," KAYR said. "And now I hear that every year at least one person from Bowdoin will get a full scholarship to go to the Tuck Bridge program."
From this initial professional experience, KAYR began adopting a similar attitude when navigating internships and full-time jobs, and, consequently, found similar success. Through his demonstrated desire to explore what he calls the "finance food chain," he forged personal connections with people who would soon become his professional advocates. It was these connections, as well as the continued support of his family and friends, to which he attributes his accomplishments.
"Don't let people determine what you want to become," KAYR told the audience. "I've worked hard. I believe in myself and find people that pour into me, because I'm not self-made; I'm community-made. That means that all of the people that invest in you—whether they're praying for you, caring about you, or looking out for you—they're investing in your development." 
KAYR rounded off his discussion by offering students tangible advice for gaining capital and financial literacy, both in professional and practical contexts.
"I want to hit you with all of the details and share as much as I know. Eventually, you want to have different kinds of capital, so that you can affect change in people's lives," KAYR said. "I realized that with the three Cs—financial capital, intellectual capital, and social capital—I was able to achieve transformational wealth."
After a conversation spanning everything from the American Dream, to "rainy day" funds, to proactive budgeting, KAYR said he hopes his lessons will be transferable and valuable to Bowdoin students.
"This conversation is to get you woke," KAYR said. "I want to get you excited."